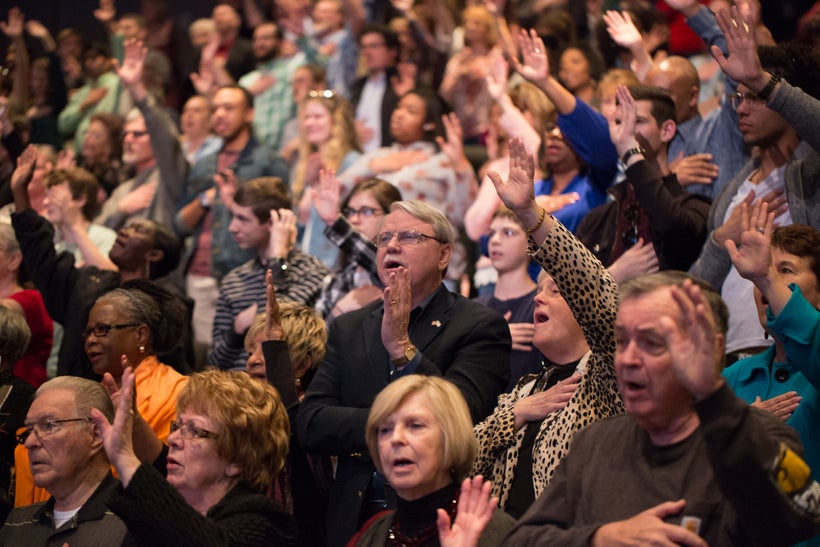 Our nation is at a political, moral and social crossroads. And God needs to be in the mix of how we heal. That seems to be the clear message of The Reconciled Church movement which is committed to working to shift the racial atmosphere of the nation by healing the racial divisions in the church. This faith based rallying cry started by Bishop Harry Jackson of Maryland held its first conference in January 2015 in the wake of police killings of unarmed black men in Ferguson, Missouri and Staten Island, New York. Since then, such incidents have become increasingly common. And divisive of every day people, even inside the church.
Bishop Harry Jackson (a former College football star and Harvard Business School graduate) along with his cohorts Bishop TD Jakes and TV/LifeToday Evangelist James Robison have crisscrossed America since 2015 spreading a message of racial reconciliation in the church writ large. They have enlisted an Army of male and female ministry leaders, black and white, Hispanic, from all over the world who believe that what will heal America, and indeed nations around the world is God's love shown through his people to one another.
We all know that Sunday morning worship is the most segregated time in America. Blacks worship with blacks. White with whites. It is rare for churches like "Free Chapel" to exist and thrive with mixed race people attending and worshiping together each week. I attend a similar such church in Ashburn, Virginia "Community Church" Pastored by a young dynamic white Pastor Charlie Whitlow. (See link: Community Church )
This movement consists of well known men (and women) of faith, black and white who have come together to try and heal our national divide around race, racial experiences, class, and how it all impacts our great nation for better or worse. I have attended several of these events as a journalist over the past two years, but on March 19th, at Free Chapel Church in Georgia, I had an opportunity to participate as both a speaker and a journalist in this powerful movement of faith and purpose. I talked about America and our Founders' and how despite the way in which America began as half slave and half free that our Founding Fathers chose a national motto, "E Pluribus Unum: Out of many, One," that would come to be America's greatest virtue. We are always better as Americans, when we work together.
I was struck most by the opening words of host Pastor Jentezen Franklin when he opened the overflow event of 2,600 and with over 100,000 people watching on LIVESTREAM (WATCH: Jentezen Franklin Charge):
"As a Pastor of a multi-cultural church, I love my people. I love all of my people. I don't care what color. I don't care how much money or lack thereof. If one of them is mistreated the pastor in me will come out quick. You don't need to be in ministry without love for people. I became extremely concerned after this last election as I watched something happen in my church (in all churches) that broke my heart—this divide is real—this hurt is real. And I am tired of putting band-aids on it, and ignoring it and pretending that it is not there. And it is not that we all have to agree. We may never agree on somethings. I am here tonight because I care. I am here to say your experience matters, I need to hear it so that it can shape who I am. As long as we stay polarized in our little camps we are never going to find the middle ground. I love the Hispanic people in my church. And I don't care if they are legal or illegal. We gotta have laws and we gotta have borders but we gotta have love too. I need to understand that I don't know what it is like to be profiled or pulled over because of the color of my skin. I have never had people look at me strange when I walk into a restaurant. And I need to be sensitive to these real issues."
I think he spoke for many of us, when he said that we need more "love". The event was a powerful reminder to the faithful and the unchurched that we must model what we profess as Christians. And racial healing must start with the church.
The event was attended by many other prominent Christian and urban leaders, including gospel singer Judy Jacobs Tuttle, Bishop Wellington Boone, author, speaker and evangelical leader; Dr. Mike Hayes, founding pastor of Covenant Church in Dallas; Dr. Alveda King, pro-life advocate and niece of Dr. Martin Luther King Jr.; Dallas philanthropist & founder of Operation Blue Shield Toni Brinker Pickens (wife of T Boone Pickens); Dr. Lance Wallnau, business and political strategist; Dr. Sharon Nesbitt, founding pastor of Dominion World Outreach Ministries; and Lynne Jackson, great-great granddaughter of Dred Scott, a slave who unsuccessfully sued for his freedom in one of the landmark Supreme Court cases of the 19th century. The event will be rebroadcast in full on Daystar and TBN networks. Check local listings for broadcast times.
Calling all HuffPost superfans!
Sign up for membership to become a founding member and help shape HuffPost's next chapter
This post was published on the now-closed HuffPost Contributor platform. Contributors control their own work and posted freely to our site. If you need to flag this entry as abusive,
send us an email
.