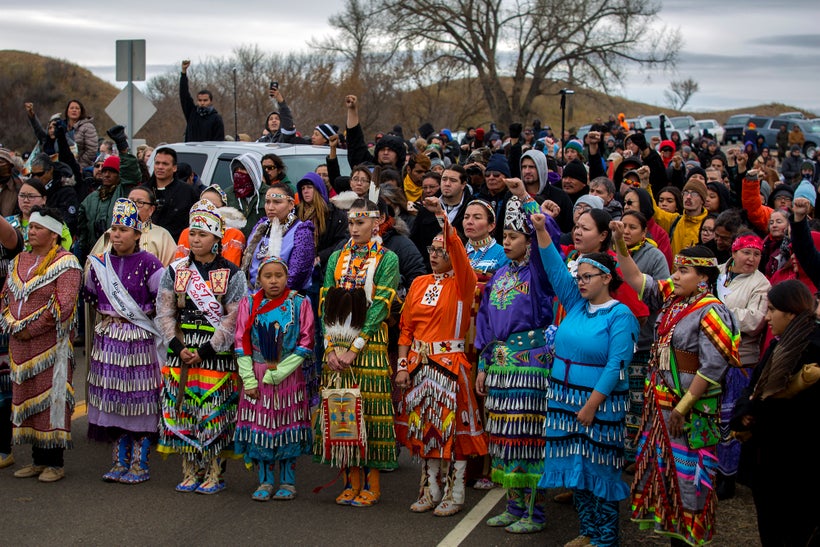 Erin Tapahe is a student at Brigham Young University majoring in News Media and minoring in Native American Studies. She is also a member of the Native American Journalists Association (NAJA) and has participated in numerous NAJA Student Fellowship programs. This is her account of her first visit to the Standing Rock reservation in North Dakota.
When the water protectors endured LRAD cannons, rubber bullets, pepper spray, mace, Taser guns and batons on October 27, I sat at home, crying and feeling hopeless. While watching live feeds of the cruelty and brutality of my fellow Native American people, all I could do to help was to share their stories on social media outlets. I wanted the world to know that the police, Dakota Access Pipeline (DAPL) security and US National Guard raided the Treaty/Sacred Ground camp and to witness the devastation of a peaceful prayer gathering.
I felt so frustrated. I'm currently in college learning the history of Native American people and their struggles and adversity, and at the same time studying journalism. I couldn't believe a historic event was happening right now, right in front of me. But I also couldn't keep reading anymore, I knew I had to see it for myself.
At the same time, my dad, Eugene Tapahe, was feeling the same way. He was already in discussions with my mom. My dad, knowing of my interest and strong desire to help, asked my mom if he could take me to Standing Rock. At first, she worried about my safety, about my well-being and if I'd come back, but she knew in the end that I had to go and experience it firsthand.
When my dad told me we were going to Standing Rock, joy filled my heart. I would finally be able to share the unity and strength of the people. Along the 12 hour drive, my mind and heart were anxious. I wished I could magically snap my fingers, so I could quickly be there.
We arrived at the Oceti Sakowin camp in the morning of October 29. As we stood on "Facebook Hill," hundreds of people walked to the front line of the Treaty/Sacred Ground camp. We followed the people north, not knowing what or where they were going. Initially, my dad asked me to go up on the hillside, away from Highway 1806 and the gathering of people, for my safety. As I looked from the hillside, I noticed the barricade, burnt cars, military Humvees, police, DAPL security and the US National Guard. I was afraid – in a way I had never been before in my life. I could see all the military weaponry up close as I looked through my binoculars. It was intimidating and scary. I thought about the people who were face-to-face with this army just a couple of days ago. I couldn't even imagine their fear.
As I looked back, the people formed a circle around the drum and began praying. After the prayer, my dad felt it was okay and waved for me to come down so I could join the prayer ceremony. As I entered the prayer circle my thoughts of the weaponry and army disappeared. I was filled with emotion as we all prayed and sang together.
I heard Chief Arvol Looking Horse, Keeper of the Sacred C'aunupa Bundle of the Lakota/Dakota Nation, address the crowd, saying many veterans and people were experiencing Post Traumatic Stress Disorder (PTSD) and nightmares from the recent raid. To help, there would be a traditional reconciliation ceremonial prayer and a sacred Jingle dance that hasn't been used since the old days. The prayer was to restore balance among the people, not just us, but also the police, the other side, because we all experienced the violence together, he explained. The sacred ceremonial Jingle dance was for healing.
Before the ceremonial prayer, Chief Looking Horse, asked for all recording devices to be turned off. This prayer has never been recorded because of its sacredness, he said. After the prayer was over, the Jingle dancers aligned and prepared to dance. But just before it started, an elderly woman stopped the dance. She encouraged Chief Looking Horse to let the public record the dance. She said, "We are not the only one's hurting here. The world is hurting. The world needs to heal with us." An unbelievable special opportunity unfolded in front of me: I would be able to share such a sacred ceremonial Jingle dance with my family and friends.
As the drumming began, the Jingle dancers formed a circle and began to sway in harmony with the beat of the drum. Many people in the crowd cried, sang, prayed and hugged each other.
Through the dancers' grace, I could feel the love and respect they had for their culture. Tears streamed from my eyes. I could feel myself healing, not just from the raid of the Treaty/Sacred Ground camp but other sadness, confusion, anger and self-doubt. As I walked back to the Oceti Sakowin camp, I felt at peace.
After the ceremony, the wise words of the elderly woman compelled me to upload my video of the ceremonial Jingle dance to Facebook (See video below). I am a simple person, with no established name or with many followers on social media, but for the first time, I made one of my Facebook posts public, so the world could heal, like I did. I felt like all the people's faith in that prayer and dance circle made the prayer very powerful. Within two days, my video went viral, getting over 2 million views with thousands of comments, likes and shares. A majority of the comments testified of this healing and were positive, but some comments were ignorant, racist, political and just right out mean. But, that didn't change the spirit of the video. The video truly did what it was intended to do, heal the world.
When I went to Standing Rock, I thought my purpose was to document the event and people, but really it was for me. I needed to heal, my heart and mind. I needed to personally witness the sacred ceremonial Jingle dance, so I could hear and feel the drum and prayer.
As we drove home, I felt torn and scared because I didn't want to leave the safety and spirituality of the prayer camp. I didn't want to reenter the harshness of today's world. But, I knew my ancestors, my people, and my future children need me to do so. I left rejuvenated, empowered – and with a newfound understanding of the true meaning of being a strong Diné (Navajo), woman.
Calling all HuffPost superfans!
Sign up for membership to become a founding member and help shape HuffPost's next chapter
This post was published on the now-closed HuffPost Contributor platform. Contributors control their own work and posted freely to our site. If you need to flag this entry as abusive,
send us an email
.