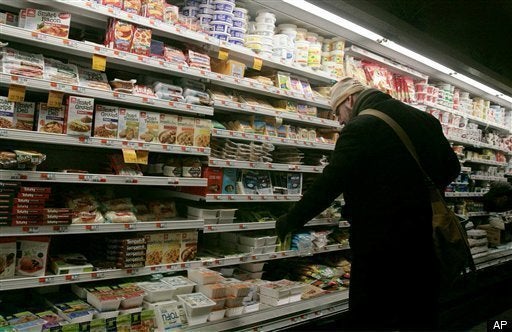 I love black beans generally and black bean soup in particular. Filling and inexpensive, beans are high in dietary fiber, low in unhealthful fats, and hospitable to garlic, onion, red pepper, and spices. If you were having lunch at a restaurant, black bean soup could be the healthiest thing on the menu.
Or, it could be a bowl of stroke du jour.
If you're at all skeptical of whether the federal government should regulate the amount of sodium in processed or restaurant food, consider Chili's. A bowl of black bean soup at Chili's contains 1,480 milligrams of sodium. For fully 70 percent of the adult population-- including those of us over 40, African-Americans, and people with high blood pressure--that's basically all the sodium they should eat in an entire day.
Chili's Jalapeno Smokehouse Burger, with Jalapeno Ranch dressing and a side of fries, certainly doesn't have the same kind of healthy halo that black bean soup has. Everyone knows that plate will have too many calories and too much saturated fat. But seriously: Would anyone expect a burger and fries to have 6,460 mg of sodium, or more than four days' worth?
A weekly meal of that sort at Chili's--plus similar horror stories at restaurants or at home-- is likely to set even healthy people on the path to hypertension. And for an elderly person, a meal with thousands of milligrams of sodium could be enough to trigger congestive heart failure.
Chains like Chili's are basically vandalizing the food supply.
Happily, a long-awaited report from the Institute of Medicine has alighted on the desks of top officials at the Food and Drug Administration and the U.S. Department of Agriculture. Ordered up by Congress at the behest of Senator Tom Harkin (D-IA) and Representative Rosa DeLauro (D-CT), the report confirmed what many in the medical community have been saying for years: Americans are eating too much salt, which raises blood pressure and promotes heart disease, stroke, and other ailments. And the first recommendation made by the IOM is that the FDA "expeditiously initiate a process to set mandatory standards"--in other words, limits--"for the sodium content of foods."
Limiting salt in packaged and restaurant foods is perhaps the single most important dietary improvement that the Food and Drug Administration could bring about. Cutting sodium levels in packaged and restaurant foods in half is predicted to save 100,000 lives and tens of billions of dollars in health-care expenses each year.
The IOM recommends that reductions be phased in stepwise, giving Americans' palates, now accustomed to overly salty foods, a chance to readjust to safely seasoned foods. Though an unnamed FDA source speculated that such a transition could take 10 years, some foods have two or three times as much as competing products, suggesting that there's a lot of low-hanging fruit that should permit faster action.
In anticipation of the IOM report, companies such as Kraft, Campbell's, General Mills, and PepsiCo have all issued press releases in recent months indicating that they will take steps to reduce the sodium in their products by various percentages. I'm glad they're doing that. And I hope more companies follow suit, particularly restaurant chains. But it won't be enough. As the IOM report unambiguously points out, 40 years of voluntary action by manufacturers and restaurants to reduce salt intake has been a dismal failure.
As if on cue, the Salt Institute, the industry trade association, said that reductions would be "immoral," based on poor science, and that high-sodium diets actually benefit some people. And the Tea Party crowd huffed that the prospect of limits on salt is "the nanny state gone wild." But those of us who really care about culinary liberty know that limits on salt actually restore power to consumers, who could be set free to add as much or as little salt to their black bean soup as they want.