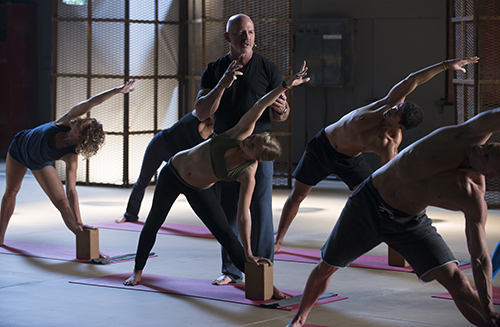 As the holidays and family bear down on us, as we turn our attention toward 2014 and moving forward and advancing our practice, I have compiled, with tongue firmly planted in cheek, a list of reasons to continue to unfurl your mat, body and mind.
It's nearly Christmas, which means in addition to hopefully getting a few days off, we're going to be facing the stress of family chaos, holiday cookie temptation, and coming up with those damn New Year's resolutions.
Here are the top 10 reasons why now is not the time to take a break from your yoga practice.
10. Keep those calories in check.
With all the holiday parties you'll be attendin' and cakes you'll be eatin' and eggnog you'll be swillin', a 90-minute dynamic flow class will help you drop calories and water weight.
9. Give yourself a break from that family reunion.
As a serious yogi, you've got the perfect exit strategy when Aunt Alice is looking for her kiss under the mistletoe. "I've got a class to get to Aunt Alice, maybe later!" you yell as you grab your yoga mat and skedaddle out of there.
8. Keep your cool during the gift exchange.
Sure, your cattle rancher cousin gave you a gift certificate to the meat-of-the-week club for a full year (even though you're vegan) and your mom bought you an eHarmony membership, but you'll be able to stay Zen after holding half moon for five minutes in yoga class that morning.
7. Use your flexibility to play Santa.
Someone's gotta bend over and retrieve the presents from under the tree... why not show off your flawless forward fold?
6. Put your gifts to good use.
Chances are, being the super yogi that you are, someone got you some yoga clothes for Christmas. Why not put them to use right away? Hell, with time off, the holidays are the perfect time to double up on your class load, making your hot new yoga duds even more essential.
5. Feel at home even if you're alone.
Are you a holiday orphan without family close by? Are you an atheist, anti-capitalist or anti-consumerist who thinks Christmas is a load of @$? Well, there's a community just waiting to sweat it out with you so you don't have to be alone while the city shuts down.
4. Close your year by honoring your practice.
You put in a year of work to get where you are, whether it be a less green beginner or a yogi badass. Just because it's Jesus' birthday that doesn't mean you get a free pass. Honor the holy one by dedicating your Warrior Two to him all week long.
3. Give your body some post-retail therapy
You got trampled during Black Friday buying gifts for everyone you love. Yoga's the best way to heal your injuries (and dignity) so you can start the new year strong.
2. Online yoga exists now.
"I can't find a class to fit my schedule," and "The studio is closed," and "The class is full," are no longer viable excuses.
exist, and they are pretty damn cool. Fit in your practice when you want, even if it's between Christmas dinner and desert.
1. Get a jump on those 2014 resolutions.
The number one reason to stay consistent with your yoga practice during the holidays is that it'll be that much easier to start 2014 strong. If you take two weeks off, chances are you'll spend the first few weeks of January recovering from your holiday debauchery. Don't start your year with guilt and regret over resolutions that you won't keep. Let continuing to practice yoga over the holidays be your New Year's resolution. That's what Santa would want for you.
Related