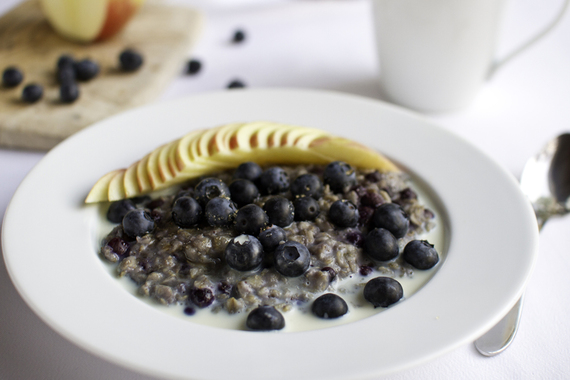 by Carra Richling

It's been well-documented that breakfast is the most important meal of the day in regards to its impact on our health and our daily well-being. Skipping meals, especially breakfast, has been associated with excess body weight, hypertension, insulin resistance, and elevated triglycerides and cholesterol.
Breakfast has been the focus of many science-based studies including a study published in Circulation, the journal of the American Heart Association, that examined the association of eating breakfast and the risk of heart disease. The findings showed that those who skipped breakfast had a higher risk of heart attack or death from heart disease compared with those who did not.
Healthy Breakfast Choices
Oat consumption has been associated with cholesterol reduction. Studies show the intake of at least 3 grams of soluble fiber from oats can reduce LDL cholesterol by 5-10 percent. The primary cholesterol reducing effects of oats comes from β-glucan, a soluble fiber found in oats. In 1997, The United States Food and Drug Administration (FDA) approved a health claim for β-glucan soluble fiber from oats for reducing plasma cholesterol levels and risk of heart disease. The soluble fiber, β-glucan from oats, has been shown to also have a positive impact on blood pressure and blood sugar, benefiting the treatment of diabetes and associated complications.
Beyond the health-promoting benefits of β-glucan, oats are rich in nutrients such as manganese, potassium, magnesium, B-vitamins and antioxidants with a good boost of plant-protein, all supporting a healthy start for your mind and body. A half cup uncooked (dry) oats has over 4 grams of total fiber with 1.65 grams of soluble fiber and 6.6 grams of protein.
This Blue Oat Meal for a Bright Day is a delicious way to enjoy the cholesterol reducing properties of oats along with juicy lipid lowering, health-promoting blueberries (see more on berries below).
Start your day off to a healthy start with whole grains that provide a good source of sustainable energy. This includes whole grain toast or whole grain cereals. Whole grains are rich in complex carbohydrates, fiber, and vital nutrients such as B vitamins, iron, zinc, magnesium, potassium and health promoting antioxidants.
This Spinach and Mushrooms Egg White Scramble is heart-healthy version of scrambled eggs that omits the cholesterol, fat and choline-laden yolks. Egg yolks have been associated with heart disease, but the whites provide a rich source of protein to get your day off to a healthy start. This study, along with other studies with similar results, showed that a protein-rich breakfast led to less hunger throughout the day and saw favorable changes in the hormones and brain signals that control appetite. This Egg White and Vegetable Frittata is another outstanding way to get in a protein-rich breakfast. This recipe is great to make in batches; just freeze the extras and then pop them in the microwave for a quick and easy breakfast.
The current recommendation for daily produce intake is to strive for five or more servings a day based on your individual needs. By including nutrient rich produce in your breakfast, you have a running start on achieving your daily produce goal of five or more. Compelling evidence that fruit and vegetables promote health and prevent chronic disease such as heart disease continues to prevail. A high consumption of produce is associated with a lower risk in all causes of mortality, particularly for cardiovascular disease.
This Amazing Greens Smoothie is another way to kick off your day with nutrient-rich greens and health-promoting produce. It is also perfect for those whose time is limited in the morning. Just blend a few quick handfuls of heart-healthy produce together, and for an easy boost of morning protein you can include a serving of nonfat Greek yogurt, silken tofu or a scoop of protein powder.
Do you eat breakfast every day? If yes, what is your favorite breakfast to fuel you through your morning?
Popular in the Community