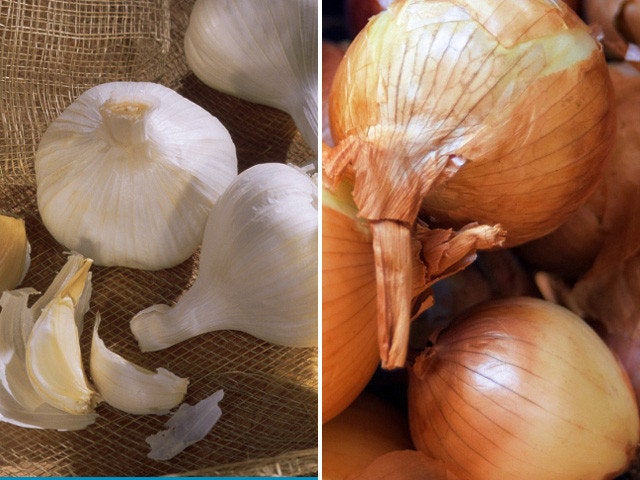 When talking about aromatic onions and garlic, we might as well get right to the question:
Would you be willing to smell a little worse to feel a little better?
Of course, for fans of these vegetables, the answer is a resounding "yes."
Since ancient times, onions, garlic and scallions have been prized around the world for their culinary uses. Because of their durability, onions have been shipped and traded across long distances. According to a study from the UK, when it comes to horticultural crops, onions are the second most important after tomatoes.
Now scientists from the U.S., England, France, Italy and other countries are confirming the outstanding health benefits of allium vegetables such as onions, garlic and scallions. Research has looked at how these vegetables help to facilitate detoxification and act as powerful antioxidants, stimulate immune responses and reduce inflammation.
What Makes Onions and Garlic Special?
Some scientists believe the components in onions and garlic called allyl sulfides and bioflavonoids may be key to the research observations of generally lower incidence of cancer and heart disease in people who consume large amounts of garlic and onions, compared with those who eat less.
Nutritional Support for Cancer Prevention
Garlic and Onions for Detoxification
Many cancers are thought to be caused by damage to DNA, often induced by environmental toxins. A study conducted at the Fred Hutchinson Cancer Research Center in Seattle found that eating a teaspoon of fresh garlic and a half cup of onions per day increases the levels of a key enzyme for removing toxins in the blood cells of healthy women. The authors of this study believed that men would require a higher dose on average for the same effect, because of their larger body size.
Another study, conducted in Scotland, found that eating sautéed onions increases the resistance of the blood cells to DNA damage.
While a highly publicized clinical trial at Stanford University found that garlic did not lower cholesterol levels in healthy people with moderately elevated cholesterol, previous studies have indicated that garlic is more likely to produce beneficial effects on cholesterol in women than in men, and in patients with diabetes or heart disease than in healthy individuals.
News reports of this negative trial failed to recognize that the cholesterol-lowering effects of garlic are not the same for all people and that any trial containing a large percentage of healthy men could miss an effect that might be found if the people studied were patients with diabetes or heart disease.
In addition, while there is so much focus on the connection between cholesterol and heart disease, the benefits of garlic in preventing heart disease are probably due to factors other than changes in cholesterol.
In particular, clinical experiments have shown that regular consumption of garlic decreased calcium deposits and the size of arterial plaque in coronary arteries, prevented unhealthy blood clotting and improved the circulation of the subjects who were studied.
How to Add Garlic and Onions Your Day
The minimum effective amount is generally two teaspoons a day of garlic or two tablespoons of onions or scallions, chopped or crushed.
When shopping, look for the freshest bulbs. Onions should be very firm with an intact outer layer. For garlic, look for a bulb with tightly packed cloves. Pick scallions that are bright green and skip any that are wilted.
In the kitchen, chopped onions or garlic are the starting point for many cooked dishes. They also add robust flavor to main courses, soups and omelets. A sprinkle of chopped scallions or chives makes a perfect garnish to add flavor to dips, sandwiches, salads and grilled dishes. Cooking does not diminish the protective effects of garlic, onions or other alliums.
For a savory side dish my son Jonathan Galland wrote this simple recipe for caramelized onion.
Simply slice one large onion and sauté slowly in a half teaspoon of olive oil on medium heat, stirring frequently. Season with salt and freshly ground black pepper. Cook until the onion turns soft and golden, which brings out the natural sweetness. For more delicious ways to enjoy onions and garlic, visit www.fatresistancediet.com.
I hope you enjoy the healthy pleasure of onions and garlic now and throughout the year.
Now I'd like to hear from you:
Do you enjoy onions or garlic?
Where do you shop for them?
How do you usually eat onions or garlic?
Please let me know your thoughts by posting a comment below.
Important: Share the Health with your friends and family by forwarding this article to them, and sharing on Facebook.
Leo Galland, MD is a board-certified internist, author and internationally recognized leader in integrated medicine. Dr. Galland is the founder of Pill Advised, a web application for learning about medications, supplements and food. Sign up for FREE to discover how your medications and vitamins interact. Watch his videos on YouTube and join the Pill Advised Facebook page.
References and Further Reading

J Natl Cancer Inst. 2002 Nov 6;94(21):1648-51. "Allium vegetables and risk of prostate cancer: a population-based study." Hsing AW, Chokkalingam AP, Gao YT, Madigan MP, Deng J, Gridley G, Fraumeni JF Jr. Division of Cancer Epidemiology and Genetics, National Cancer Institute, Bethesda, MD 20892-7234, USA.
Eur J Nutr. 2000 Oct;39(5):213-23. "Absorption and DNA protective effects of flavonoid glycosides from an onion meal." Boyle SP, Dobson VL, Duthie SJ, Kyle JA, Collins AR. School of Pharmacy, The Robert Gordon University, Schoolhill, Aberdeen, Scotland.
J Nutr. 2001 Mar;131(3s):1027S-31S. "A historical perspective on garlic and cancer." Milner JA. Nutrition Department, The Pennsylvania State University, University Park, PA 16802, USA.
Environ Mol Mutagen. 2009 Apr;50(3):247-65. "Biological properties of garlic and garlic-derived organosulfur compounds."Iciek M, Kwiecień I, Włodek L. Chair of Medical Biochemistry, Jagiellonian University, Medical College, Kraków, Poland.
Crit Rev Food Sci Nutr. 2009 Jun;49(6):538-51. "Garlic: nature's protection against physiological threats." Butt MS, Sultan MT, Butt MS, Iqbal J. National Institute of Food Science and Technology, University of Agriculture, Faisalabad, Pakistan.
Environ Health Perspect. 2001 Sep;109(9):893-902. "Allium vegetables and organosulfur compounds: do they help prevent cancer?" Bianchini F, Vainio H. Unit of Chemoprevention, International Agency for Research on Cancer, Lyon, France.
Amino Acids. 2011 Jun;41(1):103-12. Epub 2010 Mar 6. "Allyl sulfur compounds and cellular detoxification system: effects and perspectives in cancer therapy." Melino S, Sabelli R, Paci M. Department of Sciences and Chemical Technologies, University of Rome "Tor Vergata", Italy.
J Agric Food Chem. 2007 Dec 12;55(25):10067-80. Epub 2007 Nov 13." Onions: a source of unique dietary flavonoids." Slimestad R, Fossen T, Vågen IM. PlantChem, Saerheim Research Centre, N-4353 Klepp station, Norway.
Phytother Res. 2002 Nov;16(7):603-15. "Onions--a global benefit to health."
Griffiths G, Trueman L, Crowther T, Thomas B, Smith B. Department of Plant Genetics and Biotechnology, Horticulture Research International, Wellesbourne CV35 9EF, UK.
Full Text: "Diet and Inflammation" Leo Galland, MD, Nutr Clin Pract December 7, 2010 vol. 25 no. 6 634-640
Recipe by Jonathan Galland from The Fat Resistance Diet © 2005 Leo Galland, M.D., Reprinted by permission of the author.
This information is provided for general educational purposes only and is not intended to constitute (i) medical advice or counseling, (ii) the practice of medicine or the provision of health care diagnosis or treatment, (iii) or the creation of a physician--patient relationship. If you have or suspect that you have a medical problem, contact your doctor promptly.
Related