I woke up early this morning and made a nut sculpture. Not to brag or anything, but its legs and arms are jointed and can move up and down. Its head can turn. Why did I do this?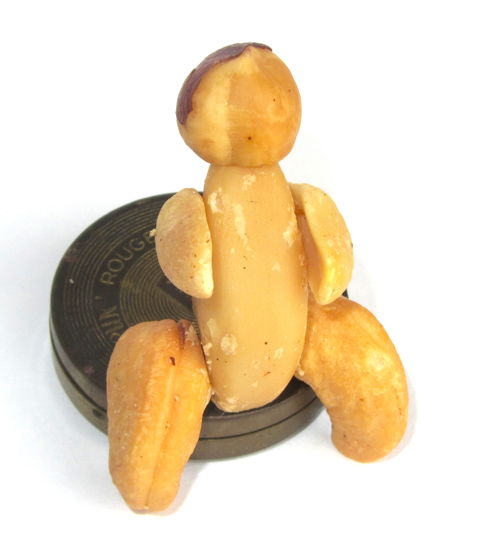 Because nuts might save our lives.
While attending a Steve Martin concert this week at Wente Vineyards in Livermore, California, I savored a mixed-nuts starter so crunchy-velvety and spicy-sweet that I wished my walls and furniture and computer were stuffed with it so that I could reach out and eat handfuls of it all the time.
I grew up being told that nuts were dangerous, that they would make me fat, that nuts were an outrageous self-indulgent luxury to eat in secret or in shame and very seldom -- a status they shared with marshmallows, chimichangas and Mystic Mints. I grew up believing that nuts exuded evil otherworldly powers of enchantment: Eating one would force me to eat more. Nut alert. Danger: nuts.
But that has changed, given all the new studies -- even just over the last few months -- suggesting that nuts can stave off Alzheimer's and neurological decline, that almonds can reduce diabetes symptoms and pistachios can lower blood pressure. Brand-new studies also suggest that nut consumption can reduce obesity and that almonds actually have 32 percent fewer calories than was previously believed.
To welcome nuts into my life, I created a nut sculpture, using real nuts and wire. Here is the nut sculpture having lunch with his friend, the toy soldier: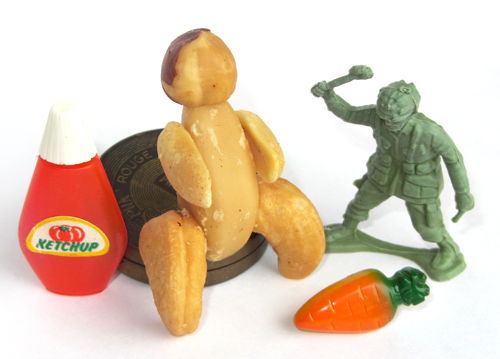 And here is the nut sculpture on vacation in Easter Island: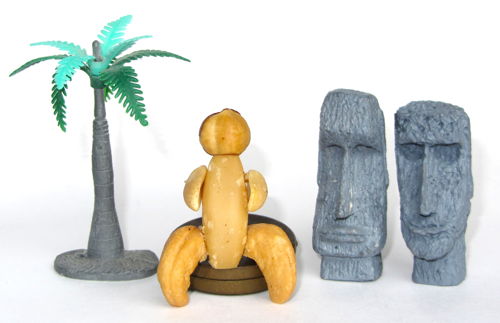 Wente's executive catering chef Jeff Farlow told me that recipe for the mixed nuts accompanying the dinner served before the concert comprises "pecans, walnuts and almonds that have been roasted with a slurry of maple, cayenne and herbs like rosemary, lavender and sage," and that it appears in The Casual Vineyard Table by Carolyn Wente and Kimble Jones.
As previously mentioned, it was a Steve Martin concert, at which Steve riffed hilariously and played blazing bluegrass banjo with the virtuosic Steep Canyon Rangers. Here is a picture, taken during that concert, of the real Steve Martin: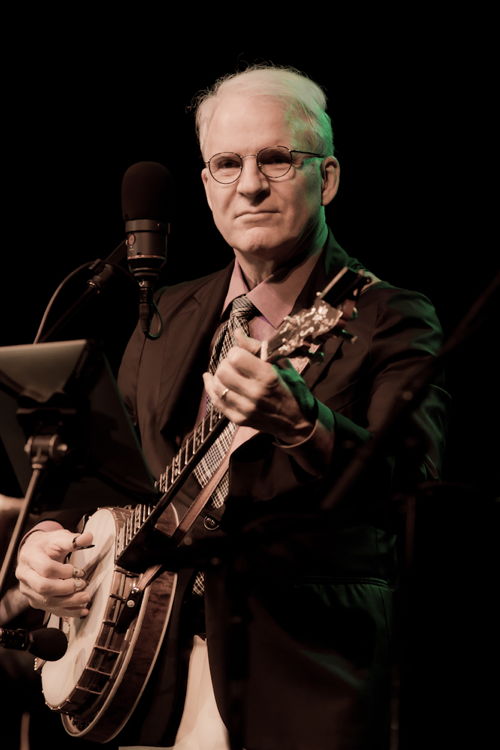 And here is my nut sculpture portraying Steve Martin: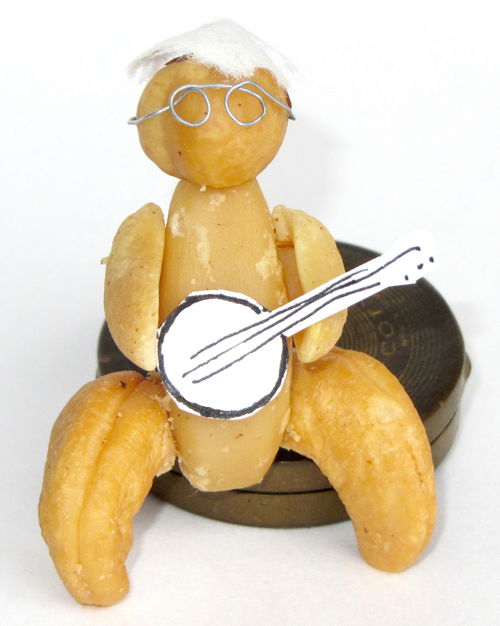 More and more chefs are using nuts these days as the main ingredient in luxurious, protein-and-antioxidant-rich starters, sides and snacks. At Boulevard Restaurant in San Francisco, Pam Mazzola serves a black quinoa and walnut brittle. House Smoked Almonds (see recipe below) are a popular snack at Corners Tavern in Walnut Creek, California -- a new venue from restaurateurs Mitch and Steve Rosenthal and Doug Washington, who are also behind San Francisco's highly acclaimed Town Hall, Salt House and Anchor & Hope, and Portland's Irving Street Kitchen. Vegan chef Barry Schenker uses tree nuts instead of milk, cream and eggs to form the silky foundation of his 100 percent vegan gelato, Genuto.
With the sole exception of that hippie classic, the nut loaf, have nuts spent too long as mere extras? How long must we wait before nuts become the main ingredient in main dishes too? Yes, they're expensive, but so are salmon and lamb. I pray for a day that is rife with nut paté, nut soup, nut shakes, nut cocktails and nut "steak."
Corners Tavern Smoked Almonds
For the lime salt:
Zest 10 limes with a microplane zester. Mix with 2 qt kosher salt.
Store in a sealed container.
For the seasoning mix:
3 Tablespoons paprika
1 Teaspoon ground cumin
1 Tablespoon sugar
2 Tablespoons lime salt
Roast almonds at 300F until golden brown.
Then transfer to a smoker and smoke almonds with pecan chips at 180F for 2 hours.
Right after the almonds come out of the smoker, toss them in a bowl with just enough of the seasoning mix to coat. Top with a small squeeze of lime right before serving.
Nut-sculpture images courtesy of Kristan Lawson, used with his permission; Steve Martin image courtesy of Eli Photography/Wente, used with permission.