Sweeteners are normally solely associated with sweet things, baking or desserts, but we can use sugars for making healthy savory food as well. Welcome to the world of seacuterie.
The Harvard School of Public Health reviewed existing studies that looked at the health effects of eating fish -- and recommended eating up to two portions of fish per week. It found that eating fish could mitigate the risk of heart disease caused death by a third. The most beneficial fish in this context is oily fish such as salmon or mackerel. Fish are a great source of omega-3 fatty acids that can alleviate ailments such as cancers, depression, and inflammation. Plus, good quality fish is just incredibly delicious to eat.
A fun was to eat it is fish, especially salmon, is cured through the use of sea salt and unrefined sugars. Below is a recipe of Salmon Pastrami that has been cured for days. Incredibly delicious, and great for breakfast on wholegrain rye bread; alongside a beet salad for lunch; or as an appetizer for a summer party.
Using unrefined sugars like evaporated cane juice and molasses, plus lots of cilantro and peppercorns, this Salmon Pastrami is incredibly fresh tasting and has a natural sweetness that gets brought out by the depth of flavors of the sweeteners and sea salt.
Get going on this fun summer project -- it does take four days to make and cure, but definitely worth every bite!
South Florida's PB Catch Seafood & Raw Bar inspired this amazing cured salmon recipe.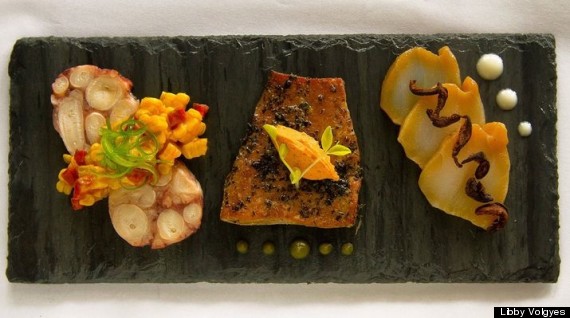 2 LB Salmon cut in 2" x 2" x 12" strips
What you need:
- 2 cups evaporated cane juice
- 2 cups fine sea salt
- ½ cup orange scented vodka
- 1 bunch cilantro
- 2 cups molasses
- 1 cup telicherry & 1 cup pink peppercorns (grind until slightly larger than table grind)
What you do:
1. Combine evaporated cane juice, sea salt & cilantro in food processor, and spin for one minute, scraping sides. Add vodka & spin 30 seconds more.
2. Coat salmon strips in sugar salt mixture overnight in perforated pan, to allow drainage. Recoat the following day & leave overnight again.
3. On the following day-now the third day-rinse the salmon well & allow to dry for 2 hours in the refrigerator. Brush tops with molasses & coat with peppercorn blend. Allow to sit in refrigerator for 24 hours, then freeze for 4 hours.
4. To serve, scrape most of the pepper blend off with back of a knife & slice in ¼ in pieces.
5. ENJOY!
Related