Years ago, doctors on call used to wear a pager. Today, Pager uses the Internet to connect doctors with people who need care.
In New York City, 20 board-certified doctors and 15 nurses now provide adults and children over 6 months old with on-demand physicals and flu shots, as well as appointments to treat minor injuries and skin conditions. (For anything more serious, head to an emergency room or swipe over to the phone app and call 911.)
Pager, which launched its house-call service in May 2014, on Tuesday announced a $14 million round of new funding from New Enterprise Associates and actor Ashton Kutcher's Sound Ventures, with prior investors Montage Ventures, Goodwater Capitol and Lux Capitol all rejoining. That brings the company's total funding to $24 million, which will support the development of a next-generation app and a plan for nationwide expansion.
The startup plans to extend to San Francisco and Los Angeles by the end of this year, and to Washington, D.C., Chicago and Miami in early 2016.
While "Uber for X" has become something of a cliche in the Silicon Valley startup world, Pager has an unusual claim to the comparison: One of its creators, Oscar Salazar, was the founding chief technology officer for the on-demand juggernaut.
Salazar left Uber after it launched to develop other startups, but with Pager, the engineer is working on the kinds of big problem he loves to tackle.
"I started in the civic space, where I saw a need to connect people to government," he told The Huffington Post. "Then, I saw a need to connect people to cars. Now, I see a need to connect people to health care." Pager, which is modeled after French emergency care network SOS Medicin, has facilitated nearly 5,000 visits since its launch, he said.
One of the reasons Uber took off was because it offered a seamless user experience.: Once you set up your account, all you had to do was request a ride, watch the car move toward you on a map, hop in and hop out. The rest of the transaction happened in the background. There's a similar user experience with Pager, which guarantees that a doctor or other health care professional will show up at your door in two hours or less.
Pager also has an encrypted chat function, which is a key feature because health care providers must ensure that pictures of patients' injuries or skin conditions will be kept private and not intercepted or exposed.
Pager's secure messaging allows doctors and nurses providing health care through the platform to comply with the Health Insurance Portability and Accountability Act, or HIPAA, guidelines, Salazar said.
The first visit is $50 and subsidized by Pager. After that, the cost of care varies, with physicals costing $100 and most other treatments coming in at $200.
For now, users must pay out of pocket, although Pager does help them submit charges to their insurance company for reimbursement.
The company plans to start taking insurance for all services before the end of the year, Salazar said.
Pager's direct competitor is
Heal
, which launched in California in January. Heal promises a "doctor at your doorstep" in less than an hour, for a flat fee of $100. To date, 30 doctors have joined Heal, which also does not take health insurance.
There's also a host of telemedicine and telehealth startups that provide on-demand consultations over the Internet and smartphones. Doctor on Demand, founded by TV's Dr. Phil and his son, Jay McGraw, raised $21 million to do telemedicine, and lets patients submit questions to physicians from a smartphone or desktop computer. Healthtap and MDlive are also in the telehealth marketplace.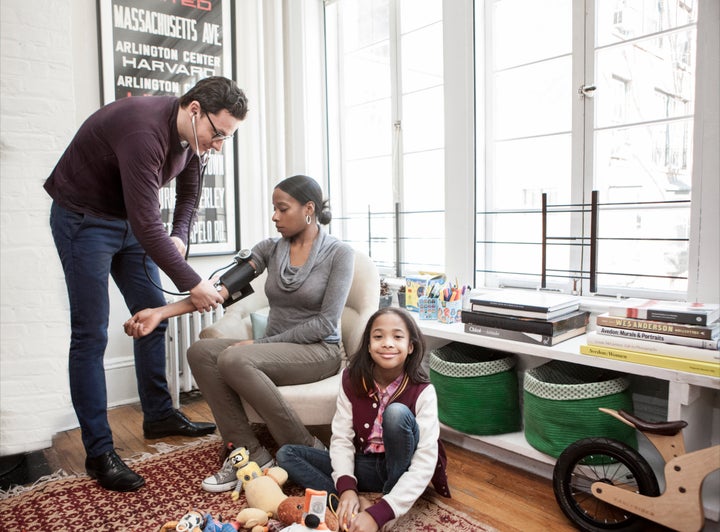 In some ways, using an app to set up a visit from a doctor feels like a technology-infused version of concierge medicine, a decades-old concept in which doctors on retainer visit patients and use the latest telecommunication technology to diagnose their ills. "Cash-only" concierge medicine has its pros and cons, but there were more than 4,400 concierge doctors in the United States in 2012. Concierge medicine may or may not be the future of health care, but it's certainly going to be a part of it, especially when used alongside on-demand apps like Pager.
When asked if mobile on-demand health care platforms could exaggerate a tendency of the American health care system to provide fast, good care only to people who have money, Salazar said Pager is meant to serve everyone, not just the 1 percent.
Keep an eye on Pager's progress. When Uber launched, its town cars were more expensive than taxis. Now, an UberX costs less than a traditional cab in many markets. It's possible Pager could follow a similar trajectory with different types of health care professionals. The company's explicit goal is to provide the right kind of care at the right price and at the right time.
"If I have a stomachache, I can choose to see a specialist and pay hundreds of dollars. If I see a nurse practitioner, it costs less," Salazar said. "We're making it more efficient."