If you follow developments in medicine, then you've heard a ton about the ways big data and information technology could someday transform medicine.
You've heard about "precision medicine" ― the tailoring of tests and diagnoses to narrow groups of people, or even individual patients, based on their genetic makeups. You've heard about artificial intelligence ― and its potential to aid in both diagnosis and treatment ― by collecting and analyzing more information than humans ever could. You've heard about predictive modeling – the use of data to figure out how best to allocate health care resources within a community, or even within a hospital. And those are just a few examples.
But how much represents real hope, and how much is hype? How close are the breakthroughs? And what dangers come with them? It takes data to unleash the supposed potential of these innovations. But collecting data can be cumbersome, expensive and even dangerous. How do we obtain and share data without jeopardizing patient privacy, or opening ourselves up to security risks?
Harvard T.H. Chan School of Public Health's panel on health data and privacy streamed live on Tuesday, Dec. 5. Watch recorded video of the event above.
The panel, "The Health Data Revolution: Improving Outcomes, Protecting Privacy," is jointly presented with HuffPost and is part of the Dr. Lawrence H. and Roberta Cohn Forums. HuffPost Senior National Correspondent Jonathan Cohn (no relation to the sponsors) moderated the panel of experts, which featured...
John Halamka, chief information officer at Beth Israel Deaconess Medical Center, and chair of the Healthcare Information Technology Standards Panel.
Thomas Lee, chief medical officer at Press Ganey, and professor in the Department of Health Policy and Management at Harvard Chan School.

Lipika Samal, associate physician at Brigham and Women's Hospital, and an investigator in Health Information Technology.
Deven McGraw, former deputy director of health information privacy at the U.S. Department of Health & Human Services.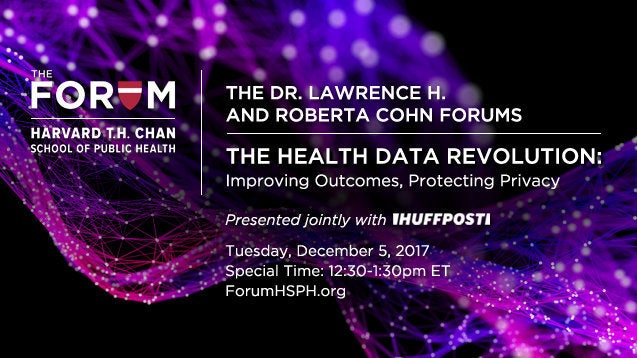 Popular in the Community