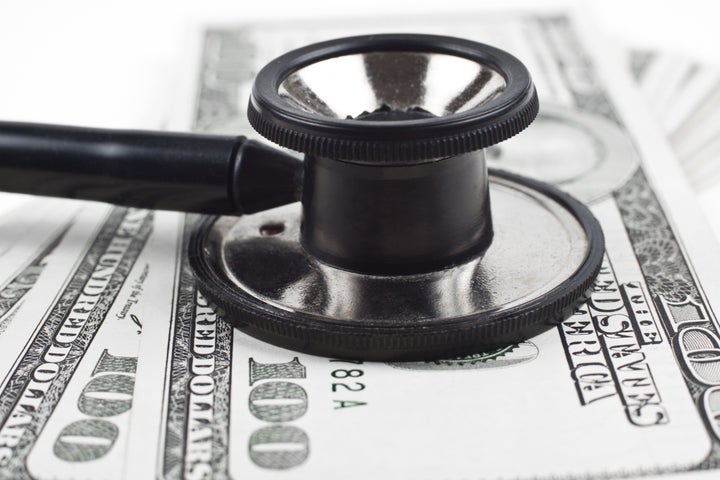 Health care costs are rising at an ever-increasing pace, according to a new report.
Health insurance companies and Medicare paid 5.8 percent more per capita for health care services in the past year, according to Standard & Poor's Financial Services. Spending grew in every category of health care reviewed by S&P, which examined costs for the year ending February 2012. Costs are expected to increase at a faster rate over time, the report says.
Private health insurance spending on health care grew nearly three times as quickly as spending by Medicare, the report on the S&P Healthcare Economic Composite Index shows. Private insurance costs rose 7.7 percent compared to 2.7 percent for Medicare. Private insurers' hospital costs increased by 8.4 percent, which was more than four times faster than Medicare's (h/t Milwaukee Journal Sentinel).
The discrepancy between the costs for Medicare and private health insurance companies comes down to the prices hospitals, physicians and other medical providers charge, said Paul Ginsburg, president of the Center for Studying Health System Change, a Washington-based research organization. Medicare, as well as Medicaid, is reducing the fees it pays as a budget-cutting measure and hospitals that have the market clout are raising prices for private insurance plans, Ginsburg said.
Costs also grew for people who get health insurance from their jobs, according to Thomson Reuters. Health insurance premiums for workers rose 3.8 percent during the fourth quarter of 2011, compared to a year before. Hospital costs again led the way, increasing 5.6 percent, based on insurance claims data analyzed by Thomson Reuters.
So far, big private health insurance companies' bottom lines are doing just fine, however. UnitedHealth Group, the largest U.S. health insurer, had low costs during the first quarter of this year because cash-strapped customers received fewer health care services, the Minneapolis Star-Tribune reported. UnitedHealth Group's profit rose 3 percent to $1.4 billion compared to the first three months of last year, the company announced Thursday.
The health care reform law enacted two years ago by President Barack Obama aims to rein in escalating health care costs through a variety of policy changes. The law slashed Medicare payments to hospitals and other health care providers by $455 billion through 2019 and includes rules linking fees to improvements in efficiency, safety and quality of care. Health care reform also includes a tax on the most expensive health insurance plans that begins in 2018 and is designed to encourage employers and workers to choose less costly policies.
Related
Popular in the Community