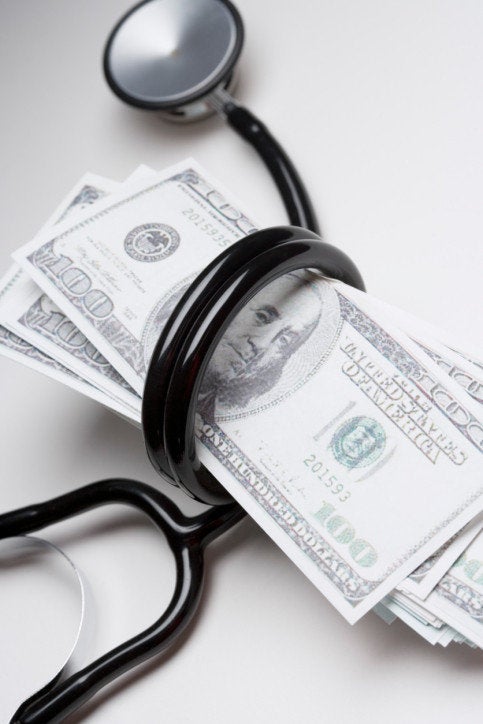 Throughout the recent budget deficit dialogue, there is one issue that needs to remain at the top of the agenda -- health care spending.
There is a reason why the U.S. spends two- to four-times more on health care than European and Asian countries -- chronic disease. The rising cost of chronic disease is crippling the federal budget and drastically impairing our ability to compete in this global economy. According to the Centers for Disease Control and Prevention, treatment of chronic medical conditions makes up more than 75 percent of the nation's $1.4 trillion medical expenditures and they account for 70 percent of all deaths in the United States. We believe that these chronic diseases are caused by four controllable factors: tobacco use, food choice, portion size and physical inactivity. With growing evidence that some chronic diseases can be reversed by making lifestyle changes, we can make a significant impact on the rising cost of Medicare by encouraging personal responsibility and adopting healthier lifestyles.
As both a health care organization and Northeast Ohio's largest employer, with mor frese than 40,000 employees, Cleveland Clinic sees firsthand the physical and financial damage brought on by chronic disease. To combat those issues, we've developed and invested in comprehensive wellness programming for our employees. Studies have shown that for every $1 spent on wellness, companies can realize nearly $3 in health care savings. We've also witnessed a return on our investment by creating a wellness-focused culture, striving for lower absenteeism, higher productivity and generally happier employees.
We can no longer afford to debate on whether the rising cost of Medicare is sustainable; rather, we must commit to making real change and inserting accountability in our collective approach to managing the Medicare budget. At Cleveland Clinic, we believe we have begun to make real inroads in managing chronic disease, encouraging personal responsibility and lowering cost -- both with our patients and employees. Here are some of the elements included in our approach:
1) Change the Culture: We've consistently emphasized in nearly all of our employee, patient and public communications the urgency and impact of the rising cost of health care, the effect of these costs on jobs, the major contributors and the impact they have on quality of life, as it relates to chronic disease. This helped initiate change.
2) Change the Environment: Change the environment to make it easier to stay healthy. Mayor Michael Bloomberg's actions in New York City show such changes are possible in a large city for food choices. In our own community of Cuyahoga county, we have seen a decrease in cigarette usage from 26.5 to 15 percent in three years by collaborating with our local government and implementing policies that restrict smoking in public places. Changes to the environment help to make the changes more substantial and sustained. Within our organization, we have also implemented many more environmental changes to encourage healthier lifestyles including: banning trans fats on our campuses, making food labels more transparent, removing unhealthy foods and sugared beverages from our vending machines and cafeterias, providing free access to our campus fitness centers, and encouraging stress management programs and yoga for employees. This helps sustain changes employees are making in their personal lives.
3) Use Incentives: At Cleveland Clinic, we use positive incentives to encourage lifestyle change and personal responsibility through our Employee Health Plan (EHP). Employees can earn rebates if they receive positive health tests annually. In the Medicare system, premiums could be increased but 100 percent rebated if certain key metrics were met by beneficiaries, or if a doctor agrees that a patient is doing all things possible to achieve positive lifestyle changes. This would begin to move us to a more individualized, performance-based Medicare system.
By implementing these changes, Cleveland Clinic has seen results. Nearly 20,000 employees have enrolled in at least one EHP-sponsored wellness program. Almost 50 percent of Cleveland Clinic employees with chronic diseases that can be controlled through lifestyle modification have chosen to participate in our coordinated care programs -- nearly triple our original target. Additionally, employees have utilized free gym memberships and weight management programs, resulting in an estimated loss of more than 211,000 pounds.
By mirroring a similar program at the federal level, we could see significant savings and reduce the cost burden on all taxpayers. Employers would also benefit from a drastically reduced Medicare cost, while also ensuring the sustainability of the program long term.
We should stop making this a partisan issue and focus on the true benefit of changing the health care system -- creating a healthier, more competitive and fiscally sound country, starting with individual accountability.