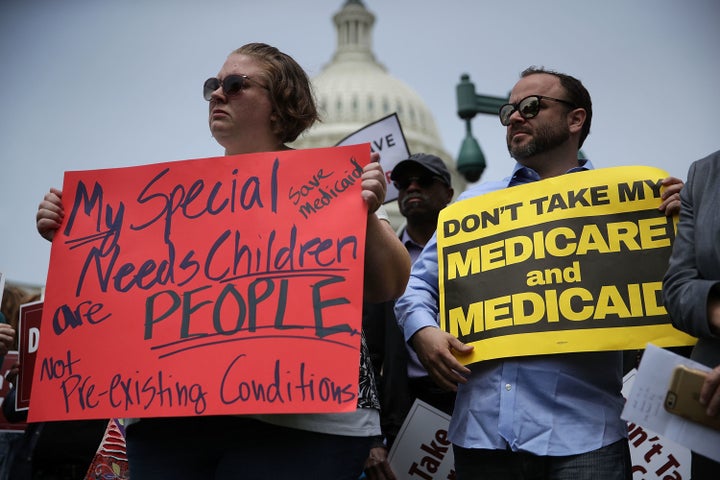 It's well known that the bill to repeal the Affordable Care Act (ACA) now making its way through the Senate would deny coverage to tens of millions of Americans.  Less well known is that it would also hit the brakes on "delivery system reform," the work of doctors and hospitals to improve quality and reduce costs. In other words, it would make quality of care worse.
The Senate's "Better Care Reconciliation Act of 2017" would defund Medicaid programs that help people receive care at home instead of having to be in nursing homes and hospitals. It would massively increase cost sharing, which would force people to delay needed care, worsening their outcomes. It would end the ACA's prevention fund, which supports innovations to prevent heart disease, diabetes, cancer, and stroke.  And it would force hospitals into new levels of deficit, where they would have trouble finding the resources to invest in improving their care. Some hospitals, particularly in rural area, would even close their doors.
This gets personal fast.  In March, my brother almost died.  An overwhelming infection with Legionnaire's disease shut down his lungs and his kidneys. For ten precarious days machines and medicines took over, orchestrated by a tireless team of a score or more intensive care unit doctors, nurses, and technicians.  Today, he's back at work.
Why did he survive?  First, because he had health insurance that he can afford.  He would be bankrupt right now without it. But he is a single childless adult, at age 61 not yet old enough for Medicare, and he has several preexisting conditions. If the Senate bill passes, millions of people like him could easily find themselves without insurance in states that cut back on Medicaid, or where the individual market would no longer cover the care needed by people with pre-existing conditions.
Second, he got top-notch care.  Having spent most of my professional career as a student of health care quality, I saw that his care was virtually flawless. But I also know that that is not even close to the norm.
American health care is a bizarre combination of audacious successes, like my brother's recovery, and pervasive defects.  Despite the best efforts of the extraordinary American health care workforce, the care system is riddled with problems in quality that no other industry would think of tolerating: safety hazards, wild variations in practice, abusive waiting times, inequities, and failures to respect individual patients' and families' values. Tens of thousands of American die each year from errors in their care. 
And those defects raise costs – a lot.  Such respected scientific bodies as the Rand Corporation and the National Academy of Medicine suggest that at least a third of all US health care expenditures - that's almost $1 trillion a year – have no value at all. It's just waste.
That is starting to change.  The key is delivery system reform. A health care quality improvement movement is essential, active, and growing, and the ACA and other recent bipartisan legislation have helped to turbocharge it. 
As Administrator of CMS from July, 2010, to December 2011, I got to launch some of the largest quality improvement programs in history.
Under the then brand-new Center for Medicare and Medicaid Innovation – an ACA creation – CMS organized a partnership among more than 4,000 hospitals to reduce errors in care (like hospital-acquired infections, pressure sores, and surgical mishaps) and needless hospital readmissions. Over five years, this program averted 87,000 deaths, 2 million patient injuries, and nearly $20 billion in costs due to errors.
Under the ACA, over 500 new partnerships between Medicare and local groups of doctors and hospitals have formed – so-called "Accountable Care Organizations," trying to give over 10 million Medicare beneficiaries better patient satisfaction, better outcomes, and lower costs.
The ACA and other laws require publicly available measurements of quality for hospitals, and they use payment to encourage adoption of electronic medical records, which are, at last, ubiquitous in hospitals and taking root in many office practices.  In 2009, fewer than 20% of US physicians had electronic medical records; today, more than 80% do. Overall health care costs will be $2.6 trillion lower over the decade following enactment of the ACA than projected even while millions more people have insurance
This is "delivery system reform" - changing the processes of care. It's a much better way to reduce costs, through improving the quality of care, rather than shifting the burden to patients and families. Instead of waiting for trouble in chronically ill patients, for example, reaching out proactively into their homes, intercepting deterioration and averting the need for a hospital stay.  Standardize best practices using checklists and reminder systems. Help telemedicine take off, giving doctors and patients easier ways to interact at lower cost than in traditional office visits. 
Expanding health insurance, including Medicaid, is an essential part of the quality imperative. You can't have excellent care if you can't afford care in the first place. The ACA does that.
But coverage is not enough. We need delivery system reform – redesigning care so that it works far better to help and heal our families and friends. The ACA does that, too. The Senate and House bills do not. They would set back the quality of care for all of us.
Calling all HuffPost superfans!
Sign up for membership to become a founding member and help shape HuffPost's next chapter