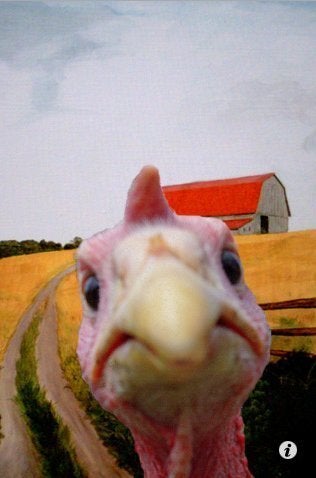 Turkey, cranberry sauce, and a side of health care debate is dominating Thanksgiving tables this year. As such, my opening assertion is that government shall do what the governed are unable to do for themselves. Sure, the cost and how you get there are important. But unless every American who wants health insurance can get it, that is not my idea of health reform.
Consequently the Republicans' attempt to offer an alternative is unacceptable because it would extend insurance coverage to only 3 million more people within the next nine years. That leaves 52 million people without insurance, according to the Congressional Budget Office. By contrast, the Democrat's bill covers 30 million. Furthermore, I am for the government option unless either party shows me an alternative to cover everyone who wants to purchase insurance.
But the debate gets more heated when individuals and groups worry that their situation will be adversely affected and covering everyone is not their goal.
"The entire reform is pure wealth redistribution, cost shifting, higher passed through taxes, and does nothing to bring down costs except for price controls and intervention," Bill Steffen says. "You can't insure 40 million more people, provide free preventative care, including $1,500 colonoscopies, cover all preexisting conditions, no lifetime maximum, low deductibles and have it all paid for and budget-deficit neutral."
Steffen is an independent health insurance agent in Florida and Arizona and says that his business will suffer as a result of the proposed health care legislation. He believes that the need for an independent agent will be diminished if the government gets involved. "The role of the agent might be eliminated if it turns into the federal health benefits plan where they choose off a large menu of options with a handbook."
Understandably, businesspersons that believe their livelihood will be adversely affected are worried.
But if you have preexisting conditions and are unable to buy health insurance, you are applauding President Barack Obama's initiative to prevent insurance companies from denying you coverage. If you meet the lower income requirements to receive federal subsidies, you are happy that the insurance will be more affordable.
"There is also a belief among many, that access to healthcare is an entitlement to every citizen and it is the federal government's responsibility to make it available to everyone," Barney Bishop says. "I think not."
He is CEO of Associated Industries of Florida, a nonprofit that represents a diversified membership of Florida's business owners in government matters that affect them. Bishop says that this bill will be a "jobs-killer" for small businesses. "There is simply too much big government in this proposal," he says. "This could look like catastrophic insurance for the chronically uninsured with heavily subsidized premiums to see if the feds could really handle this large population."
Meanwhile, AARP endorsed the House healthcare reform bill on November 5. On November 21, the Senate got the 60 Democratic votes needed for the full Senate to debate its bill. Presumably AARP will also stand behind the Senate version if Harry Reid, the Senate majority leader, can keep his party in lockstep to pass it. The ultimate test will be reconciling the House and Senate version for Obama to sign into law.
AARP has 40 million members that are 50 years or older. It joins the American Medical Association, Consumers Union, the American College of Physicians and other groups that support Obama's healthcare reform.
AARP established an online community to update interested persons about the status of healthcare reform, debunk myths and voice their opinions.
AIF's Bishop says, "Ideally, you'd want to cover everyone, but then you get into the Gordian knot of (illegal) immigrants and everything that goes along with that." In other words, he believes that the bill has complex and clouded provisions to cover illegal immigrants with undesirable consequences.
Insurance agent Steffen hopes that the final legislation will be kinder to his business than what he sees so far. If not, he may use his expertise to market his industry knowledge instead of selling insurance. "I'll figure out a way to be the health reform consultant and get paid," he says.
Jerry Chautin is a volunteer SCORE business counselor, business columnist and SBA's 2006 national "Journalist of the Year" award winner. He is a former entrepreneur, commercial mortgage banker and business lender.
REAL LIFE. REAL NEWS. REAL VOICES.
Help us tell more of the stories that matter from voices that too often remain unheard.