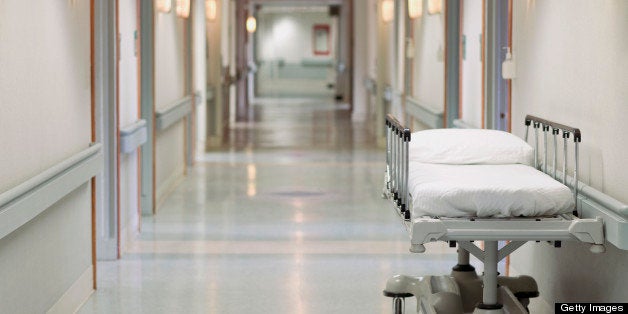 If we want to take another giant step toward achieving America's promise of opportunity and justice for all, every immigrant in the United States should gain access to affordable health care through the historic, bipartisan immigration reform bill that the Senate Judiciary Committee has sent to the full Senate.
When the committee approved the bill, people in the audience jumped to their feet, applauding, cheering and chanting, "Yes we can!" and "Sí, se puede!" and Committee Chairman Patrick J. Leahy (D-VT) called supporters up to the front of the room to celebrate, according to news reports.
Earlier, it was a bittersweet moment when Leahy acknowledged that the deal with his Republican colleagues was fragile and said that "with a heavy heart" he would not offer an amendment allowing U.S. citizens to apply for permanent resident status on behalf of their same-sex partners. That's an issue advocates will want to address on the Senate floor and in the bill being drafted in the House. Health care is another, especially in the House, where Republican extremists have drawn a line in the sand.
House Republican negotiators, for example, have said they won't support any legislation unless it explicitly prohibits taxpayer funds from being used to provide health care to the estimated 11 million undocumented immigrants, including those who gain "provisional legal status." This is part of the Republican war against health care and the Affordable Care Act (ACA). It's an ugly and wrong-headed policy.
First, immigrants pay taxes like everyone else. That ought to matter. These future citizens who are committed to America will have to demonstrate over more than 10 years that they've been working, paying their fair share and playing by the rules. By shutting them out of health care, we're putting a roadblock in their path to citizenship that doesn't help anyone.
Second, when everyone has insurance and can get preventive health services, it brings down health costs and we all pay less for care. House GOP leaders have finally acknowledged this key principle of Obamacare, so they've decided to invent an individual mandate for immigrants that they oppose for everyone else. That's gratuitous, it's hypocritical and it makes no sense. The Republican mandate would force immigrants to pay for unaffordable health care instead of allowing them to buy coverage they can actually afford -- and it's access to medical care that saves money for taxpayers and people who buy insurance.
The policy is simple: If every person in this country has access to high-quality preventive care, it enhances public health, improves individuals' lives, reduces uncompensated care for doctors and hospitals and curbs overall costs. That's why Obamacare's goal of extending health benefits to virtually every person without insurance is good for every person with insurance.
We will all get sick at some point, so we have a choice. We can pay a little now or pay a whole lot more later. The way we pay less is by helping everyone get the preventive care they need at a doctor's office or clinic instead of going to a hospital much later and paying far more to treat a condition that has needlessly worsened. This is true whether you're an aspiring American or your ancestors were immigrants on the Mayflower.
The House Republicans' opposition to health care for immigrants is both punitive and unjust. It's the wrong way to treat human beings, and it's bad economic and health care policy.
The worst Republican proposals are downright mean-spirited. One measure says that if aspiring citizens need emergency-room care, they would have to pay every dime out of pocket and they would be barred from purchasing affordable health coverage in the new insurance marketplaces. Of course, if they can't afford to pay off their medical bills, that could jeopardize their legal status, so if you have an accident or even a really bad case of the flu, your quest for citizenship could be over. That's an unconscionable and immoral policy.
As the public response to the devastating disaster in Oklahoma reminds us, we are all in this together. What if someone had to choose between the emergency room and being deported in the aftermath of the tornado?
We shouldn't make folks with "provisional status" only provisionally healthy. We shouldn't single out certain groups for different treatment in the health care system. That's not right, and it would necessitate rules, exceptions and exemptions that no one could follow without a lawyer. The commonsense approach is to allow everyone to have health care they can afford.
Aspiring citizens who pay into our tax system should have access to the programs that their tax dollars are funding. This is a matter of basic fairness.
One of the great things about America is that it is a work in progress, and we know it. We're always seeking to expand justice so the U.S. can fulfill its destiny as a nation of unlimited opportunity for all.
If health coverage is right for today's Americans, it's right for tomorrow's Americans too. An immigration bill should be as good as our great country and guarantee quality, affordable health care for everyone. We all believe that no one should be a second-class American, and that begins with a first-rate immigration law.