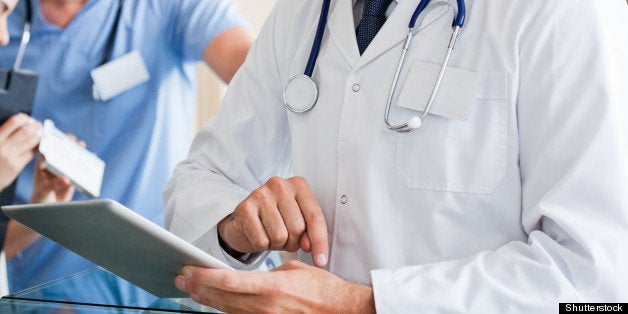 When Milton Friedman addressed a University of Chicago Medical School graduating class in the 1960s, he raised the issue of health care for the uninsured. Friedman asked students to help end the state of substandard health care for poor people like many on the South Side of Chicago near the university where he taught.
He told the graduating medical school class that the American Medical Association was restricting medical services for these people by limiting the right of trained nurses, paramedics and midwives to administer drugs such as antibiotics and morphine [similar to Army medics]. He asked the medical graduates why they should support a "union" that reduces health care to the poor.
He asked me and several other students to accompany him when he addressed the medical students. I grew up on the South Side of Chicago and had firsthand knowledge of problems of crime and lack of medical services for thousands of poor people.
People who were shot or stabbed could receive a city ambulance to take them to Cook County Hospital. At night, with 11 police channels bursting with calls, cars were backed up at Cook County Hospital's emergency entrance. This huge hospital provided remarkable care. Many graduating medical students tried to get their internships at County. Some of the best doctors in the city served part of their time at County.
The violence continues five decades later as Tim Jones and John McCormick describe May 22, 2013 (primarily about crime on the South Side of Chicago) in their article "Chicago Killings Cost $2.5 Billion as Murders Top N.Y.'s": "The workhorse for treating the city's gunshot victims, though, is Cook County hospital, the hulking public facility on the West Side that inspired the TV series 'ER.'"
If poor South Side residents had a "non-emergency" condition in the 1960s they could get a free city ambulance ride to County, only if a physician made a house call and signed a prescription with the instructions: "Take this patient to Cook County Hospital." However, some doctors would not go into parts of the South Side, especially at night, without a police escort. Most poor residents could not afford a house call.
Informing these people they are all insured and can see a doctor of their choice would be a "train wreck," as Sen. Max Baucus now contends would occur with the full implementation of the 2010 Patient Protection and Affordable Care Act ("PPACA"), commonly called "Obamacare" or the Affordable Care Act ("ACA") that Baucus had supported.
Placing many millions of people under federal health insurance is having negative effects on the quality of health care most people received from private insurance, private sector doctors and hospitals prior to 2010. The problems elaborated on in a recent survey show how many people, including poor people, may receive lower quality of health care than existed before the 2010 ACA:
"WASHINGTON -- THURSDAY, March 21, 2013 (MedPage Today) -- [David Pittman] [Most physicians have a pessimistic outlook on the future of medicine, citing eroding autonomy and falling income, a survey of more than 600 doctors found.

"Six in 10 physicians (62 percent) said it is likely many of their colleagues will retire earlier than planned in the next 1 to 3 years, (...) That perception is uniform across age, gender, and specialty, (...).
Three-quarters think the best and brightest may not consider a career in medicine, although that is an increase from the 2011 survey result of 69 percent."
There are ways to preserve and improve the system of excellent care that many insured people in the United States received before the effects of the 2010 Affordable Care Act. Here are some suggestions to offer expanded health care for all.
In their 1990 book, Free to Choose, Milton and his wife, Rose Friedman, praised the work of paramedics in California. They wrote about the American Medical Association's efforts to limit medical services: "the AMA has engaged in extensive litigation charging chiropractors and osteopaths with the unlicensed practice of medicine, in an attempt to restrict them to as narrow an area possible." (p. 240-1)
Hospitals and small emergency care facilities where poor people can obtain care should be subsidized. This plan is in Title V, in the 2010 ACA.: "(...) it helps to expand critical and timely access to care by funding the expansion, construction, and operation of community health centers throughout the United States."
Expanding the power of government bureaucrats over the entire health care system is a wrecking ball for quality private sector health care. Poor people should be given free health care and assisted financially with Milton Friedman's "negative income tax."
REAL LIFE. REAL NEWS. REAL VOICES.
Help us tell more of the stories that matter from voices that too often remain unheard.