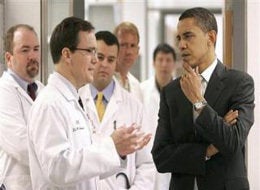 A good friend of mine, Brigitte Marti, a French scholar living in the US, is married to a French doctor who works both at Johns Hopkins and in a French hospital, and has been organizing meetings with concerned citizens and the US Congress for some time to discuss the future Health Care in the United States.
She recently sent me the following information, which was timely considering the visit to the Normandy Beaches by President Obama. I always think of the story Obama tells of his mother's last months, while she was sick from cancer, worried about her medical bills because of canceled insurance coverage. We have experienced things like this in my own family. We all know it has to change, but what will be the new (or already existing) model? Here Brigitte offers up an alternative:
"France enjoys the benefit of a National Health Program or 'assurance maladie' that is inscribed into a large organization called 'securite sociale.' The term securite sociale, or social security, was first coined by FDR in 1935 and the French used it to express those social risks such as work accidents, unemployment, retirement and health care, which had to be covered in order to protect the economic security of individuals. Typically, social protection and health care work in combination and that is a concept widely accepted in Europe.
At the time of the visit of the American president to France to remember the sacrifice made by many to liberate Europe from the tyranny of fascism, it is interesting to reflect on the different path that the two continents took in terms of social protection and health care. After WWII, many leaders felt compelled to take action to put human dignity back at the center of discussion. The Universal Declaration of Human Rights was ratified in 1948, thanks to the effort of Eleanor Roosevelt.
The European governments followed this approach and put universal access to health care as part of necessary elements to fight poverty and restore human dignity. Every European country, with different types of single payer systems and even some private involvement, made access to health care a national responsibility. Generally speaking, the countries that have the best health care outcomes in Europe are the ones with single payer systems. France has the lowest preventable death rate and is ranked number one for its health care system.
Everyone is covered the same way and there is very little health disparity compared to the United States. Moreover, the efficiency of the system comes from its coordination in terms of care and the limitation put on paper work with an electronic system that manages most of the medical system. President Obama recently met with President Sarkozy in Normandy for the celebration of the landing and one can hope that he took note on how the veterans from both continents experience health security."