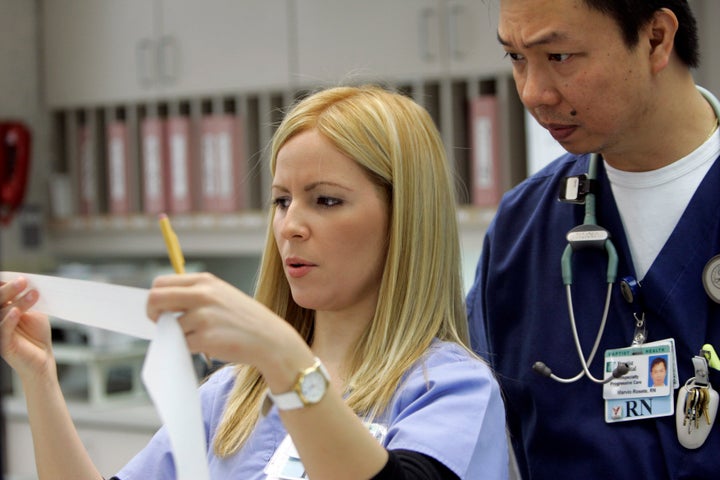 The overall recovery of the U.S. economy is still sluggish, but if you're looking for work, you'd be wise to consider the health care sector.
The health care sector added 290,000 jobs this year through November, according to Bureau of Labor Statistics data compiled by the Advisory Board, a Washington-based consulting company. In the same time period, the economy added 1.7 million jobs in total. The jobs report issued Friday shows 20,000 new health care jobs added last month alone. Hospitals, nursing homes and various outpatient clinics like physician offices led the growth in health care jobs in November, the jobs report shows.
"Health care is adding several hundred thousand jobs a year regardless of what's going on in the broader economy, but when the broader economy hits a tailspin, then that health care jobs growth stands out that much more," said Dan Diamond, the managing editor of the Advisory Board's Daily Briefing.
Over the last five years, health care job growth has outpaced employment trends overall. Health care jobs account for one out of every six of the jobs created in 2012 so far, according to HuffPost calculations.
Employment rose in the health care industry over the last six years, even as jobs disappeared overall during the Great Recession and have reappeared slowly since. Indeed, when the U.S. hemorrhaged jobs in 2008 and 2009, health care companies continued hiring, as this chart from the Advisory Board shows.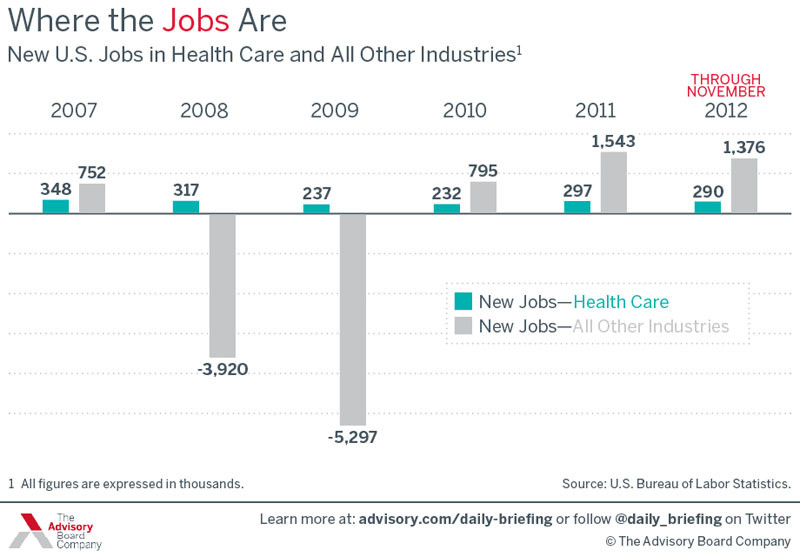 The Altarum Institute, another health care consulting company, offered this broad perspective in a report published last month: "Since the start of the recession in December 2007, the health sector has added 1.4 million jobs for a cumulative growth of 10.1 percent, while nonhealth employment has fallen by 5.6 million jobs for a cumulative decline of 4.6 percent."
"Health care is traditionally recession-proof," Diamond said. That's because no matter what else is going on in the economy, people get sick and injured. Studies show the rising costs of health care make it harder to get the treatments people need, but no one can totally forgo medical care. That's a big reason why the health care sector hasn't reported job losses in a month in more than nine years, Diamond said.
Demand for health care, and thus the need for more health care workers, is expected to keep growing. "That Baby Boomer population and the overall aging of the U.S. population is a key factor in demand," Diamond said. In fact, health care will supplant retail to become the top source of jobs in the U.S. within two years if current trends continue, he said.
Diamond acknowledged that rising health care spending is an area of concern, but noted hiring in this area also can be beneficial. "More money put into the health sector, in theory, can circulate throughout the broader economy," Diamond said. "In a recovering economy, you don't want to pick and choose the jobs that you're getting."
CORRECTION: An earlier version of this story incorrectly said the jobs data were from October. They are from November.
Related
Before You Go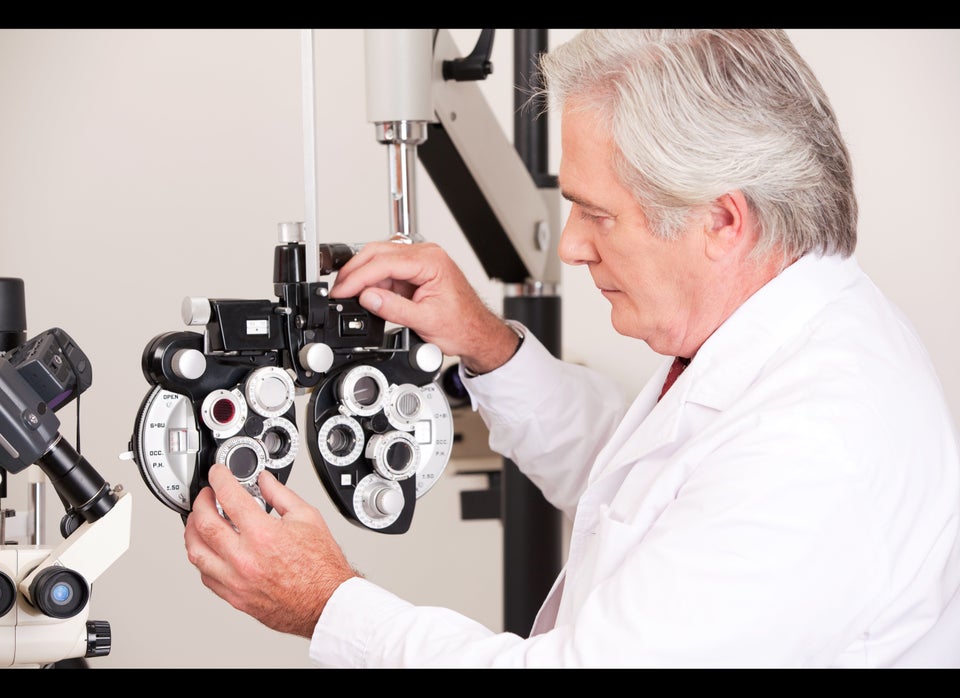 Best Paying Jobs Of The Future
Popular in the Community