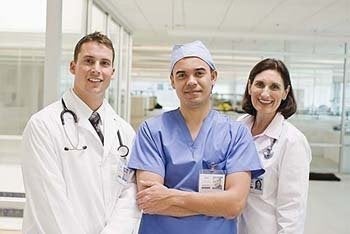 Remember the days of travel agencies, with brightly decorated offices and exotic posters of far off places? It was the only way to book a trip. Yet, in a few short years, the entire field has been replaced by Expedia, Orbitz and other sites for individuals to find the best price, and book it themselves. A total paradigm change that is here to stay.
Guess what: health care is going in the same direction, and just in time -- with or without government backed plans, or insurance companies who deny care, and rip off doctors. Almost 46 million Americans, from our youth to elders and veterans, don't have health insurance, and millions more carry high deductibles. No one knows the true cost of health care services, and the public certainly does not have a way to find a doctor who offers services at a reduced fee, right?
Wrong. Not as of this week. A brand new company, PriceDoc, is hitting the national market, and is sure to transform everyday health care with the same momentum that brought us Google, Facebook or Priceline. Move over William Shatner! PriceDoc's website gives patients greater power as healthcare consumers by identifying local providers, reviewing credentials and patient referrals, and finding competitive pricing for high-quality healthcare.
By advertising their services and prices on PriceDoc, healthcare providers gain access to "cash-paying" patients who optimize their office scheduling, secure fees for service and offer cash payments that reduce paperwork and overhead costs. Services include dental, vision, chiropractic, and general care. PriceDoc has stringent guidelines to attract high quality doctors and health providers who are willing to offer reduced fees for the same level of care.
George Halvorson, Chairman and CEO of Kaiser wrote a blog for Huff Po this week called We Need an Orbitz for Health," and while he may have been referring to the government, his concept is right on. He said,
Real competition between the best caregivers can happen if those exchanges are set up appropriately and if the real goal is for the provider participants in the exchanges to compete in meaningful ways.
I had a chance to personally interview a few folks who have used PriceDoc during the preliminary launch in Seattle. Katie Kyser is a new mom who left her job, and the health insurance that came with it, because she wanted to stay home with her baby. "We felt, as a family, that it was more important for me to be home to raise our baby at this time, than for me to be gone - just to have insurance coverage."
Kyser needed an OB/GYN, so she called around, and the price for a general visit was $200-400; including Planned Parenthood. After seeing an ad for PriceDoc, she logged in, punched in her zip code, and instantly was able to research a variety of doctors. She selected a well respected women's clinic that would see her for $75.
At first I was skeptical that such a low price meant low quality. However, the clinic was immaculate, the staff was amazing and the quality was much better than the super expensive health care group I used to use.
Medina Blanchette, the nurse practitioner at Woodinville Women's Clinic, said their practice listed their top services, at a significant discount. This concept is wonderful and really is a win-win," she said. "We have found it builds a very positive relationship with our new patients right from the start."
After a positive experience at the women's clinic, life moved on, and Kyser lost a crown in her tooth. She went to a local dentist, who said the tooth would have to be removed, and it would cost over $1000. Panicked, she went to PriceDoc, conducted a thorough search, and found a reputable dentist who would remove it for $175. "I have found there is absolutely no difference in quality, and I am so confident I am willing to use their services on my own child."
Shane Harris is a craftsman for traveling Renaissance Fairs, has not had health insurance in decades, and is not computer savvy. He has experienced severe dental pain for over five years, and could not afford to have it addressed.
Normally, my only option to find a doc is to open the yellow pages, throw a dart, and that's it. But, I saw an ad for PriceDoc, and was surprised I could get on the site easily. I needed a dentist who specializes in tooth implants - because not having any teeth may look good in a medieval show, but not in real life!
Harris found a well qualified dentist, Dr. Swanlund, with specialty training, good credentials and positive endorsements. During his appointment, the dentist found a deep abscess, extracted four teeth and replaced a root canal- for a mere $1086. "All I can say is being out of pain for the first time in five years is euphoric."
Check out both Dr. Swanlund and Shane Harris in this news clip from October:
A few weeks later, Harris found himself battling an excruciating ear infection - and returned to PriceDoc for help. "When I get sick like that, normally I have no choice but to go to a 'doc in the box' or the ER. And with all this flu going around that is the last place I wanted to go."
He found a solo practice physician within ten miles of his home.
This doc was amazing. He could have easily just given me a prescription for antibiotics and thrown me out the door, but instead he spent over an hour clearing my ears to get me out of pain before the meds -- and only charged me $113.
What a refreshing change of pace to hear positive stories from 'Main Street' about health care. Doctors aren't the bad guys -- they really want to help people far more than they want to run complicated businesses. Patients want to find someone they can trust, and are happy to pay a price they believe is fair.
PriceDoc is opening up to cities across the country, and the site includes a blog and Facebook page with interesting health related stories, and regular updates on Twitter. Check it out and encourage your health care providers to participate. Maybe they need to run a contest for the best celebrity spokesperson?
How about you, Huff Po readers? What creative ways have you found to get health care needs met? Feel free to comment below.
Related