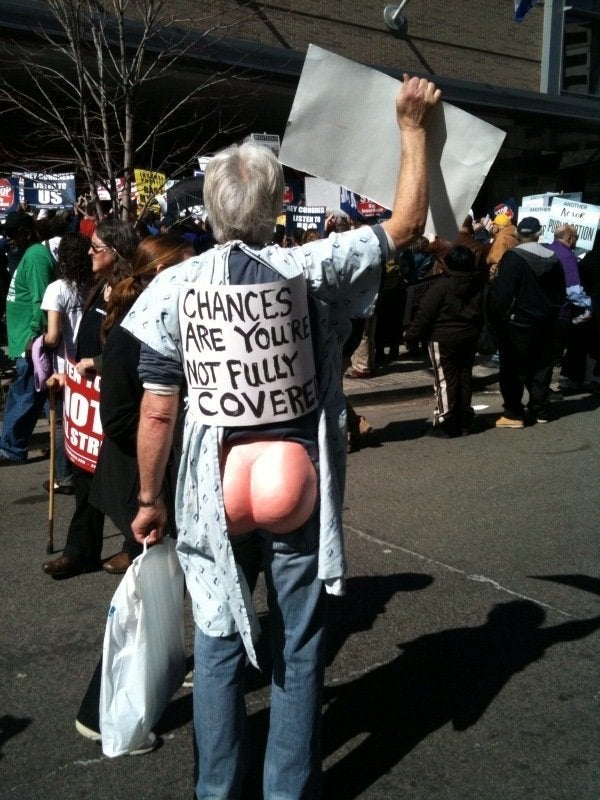 (Jeremy Binckes contributed to this report.)
Thousands of protesters and labor activists descended upon the Ritz Carlton Hotel in Washington today to try to make things a little more difficult for the health insurance lobbyists and executives gathered inside.
The protest was organized by Health Care for America Now, a group that describes itself as being "fed up with skyrocketing premiums, denials of care and claims, and insurance companies spending tens of millions of dollars to kill or manipulate reform." The lobbying group America's Health Insurance Plans was holding its annual policy conference at the hotel.
Protesters first gathered in nearby Dupont Circle, where former Democratic National Committee chairman Howard Dean told them: "We deserve a vote! Are you for the insurance companies or are you for the American people?"
The enthusiastic crowd -- which organizers put at 5,000 people but appeared a bit less -- then marched seven blocks to the Ritz Carlton chanting "Hey, hey, ho, ho, Insurance companies have got to go!" and staged a mass "citizens' arrest" of the insurance executives participating in the conference.
Among the protesters was Lillian Allen, a 101-year-old woman from Pittsburgh who is passionate about health care reform. Allen, a regular on the D.C. health care protest scene, told HuffPost: "Everybody ought to have health insurance. What would I do if I didn't have it? I wouldn't be turning 102 in April."
"I know it from both sides; the system's broken," said Terence Gerace, a doctor and cancer survivor from Washington. "It's a for-profit system. A significant amount of cost goes to executives, and not the providers, and it needs to be rectified. It's an immoral system as it currently stands."
Gerace said that at one point he was charged $6,000 for a minor medical test. "The public option is the best way to keep the companies more honest and more competitive," he said.
Paul Shenkyr, 51, carried a homemade sign reading "My Daughter Is Not a Pre-Existing Condition." He told HuffPost: "I'm here trying to make it difficult for insurance executives to have a meeting. They like to deny health care to people who are pregnant, among others. What kind of a policy is that?"
"I think it's a real shame that this country doesn't have some sort of insurance that covers everyone, said Chony Gallardo, an elderly immigrant from Spain. "I have enjoyed, all my life, government-run health insurance. So when I came to this country and I saw the state of affairs, I was dismayed. Now, I am living with American for-profit health insurance."
Gallardo said that the insurance companies have constantly changed her policy rules in order to make more money. "The small print is always somewhere."
A number of protesters said they were content with their current health coverage, but were marching for those who are less fortunate. Ralph Miller, a Vietnam Veteran and D.C. resident, is covered by insurance for veterans as well as federal employees.
"The V.A. program is a really great program. They do a great job," he said. "It makes it kind of strange to hear that government can't run health care programs when they've got Medicare and V.A. going, and those are two of the greatest programs around." Miller was marching for people who aren't covered. "I'd like to see something good for them."
A colorful group of mock counter-protesters stood outside of the Ritz dressed in suits and ball gowns. Part of "Billionaires for Wealth Care," they held signs that merely praised the status quo.
"We hate the public option because that would force us to compete," said a man who identified himself as "Max Profit". He was joined by his friends: "Rob Patient", "Zee Roe Compassion" and "Heidi Ductable." "In several markets, there is a near oligarchy with just a couple of insurance companies with 90% of the market share and we love it that way," Profit said.

Popular in the Community