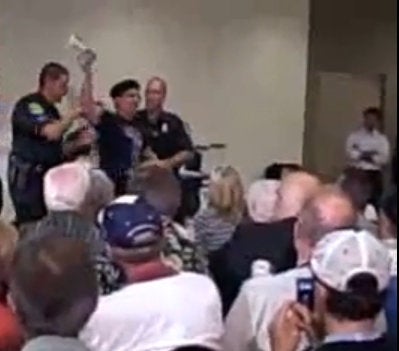 In what became an emblematic scene, Rep. John Dingell (D-Mich.), faced a hostile crowd at a packed health care town hall in Michigan on Thursday. Dingell, a major sponsor of health care reform legislation, was repeatedly shouted down. At one point, a man named Mike Sola wheeled his son to the front of the room and engaged in a YouTube-bound shouting match (see below) with Dingell before being escorted out by police.
But who was actually populating this angry mob? Although town-hall meetings are intended for constituents of congressional members' districts, some if not a majority of attendees seemed to have come from further away.
Members of Congress routinely ask constituents to sign in when they attend town halls so they can contact them later and gauge where people are coming from. Dingell spokesman Adam Benson estimated that at least 500 people showed up for the meeting, and half didn't sign in at all. Of the 262 who did, 80 listed addresses inside Dingell's district; 100 listed addresses outside the district; and 82 didn't put down an address at all. Sign-in sheet breakdowns provided to the Huffington Post in two other congressional districts indicated a similar pattern of outside agitation.
In short, the sign-in sheets lend credence to the accusation that the protests are the product of Washington-based "Astroturf" organizations, rather than evidence of a groundswell of popular resistance to health care reform.
The anger, though, is undeniable. Sola, for instance, told Dingell that his legislation was a "fraud" and would not cover his son, who has cerebral palsy. But did Sola's charges have any merit?
At another now-famous town hall meeting a week ago, in Rep. Gene Green's district, the Texas Democrat became a YouTube celebrity after an angry voter asked the crowd of roughly 150 to declare whether they wanted the government to keep its hands off their health care.
Green quickly followed up by asking how many in the crowd were on Medicare -- which, for those unaware, is a government program. Many hands were raised.
At that event, according to Green's office, of the 121 people who signed in, 60 did not list addresses in the district. Eleven of those listed either Texas or USA but nothing more specific; the rest left addresses outside the district.
As the town halls dominate the national news cycle, Green's office says the out-of-district element appears to have increased. "It's only gotten worse since, as far as folks not from the district," said spokeswoman Brenda Arredondo. At some of the events since then, she said, sign-in sheets indicate as many as eight of ten members of the audience were from outside the district.
Rep. Steve Kagen (D-Wis.) hosted a town hall that featured protestations from Heather Blish who described herself as "just a mom from a few blocks away" who was "not affiliated with any political party." It turned out she was the former vice chair of the Republican Party of Kewaunee County until last year and had also worked for John Gard, a Republican challenger who Kagan defeated last year.
A Kagen spokesman refused to release details from the event's sign-in sheet, but said that of the 200 to 300 people present, about 30 percent of the attendants were from out of district.
Rep. Lloyd Doggett, another Texas Democrat, was the target of protesters who seemed to be from out of district, but sign-in sheets "were woefully incomplete," his spokeswoman, Sarah Dohl said, "and didn't account for nearly the amount of people that were actually there."
Doggett had little doubt most of the attendees were from out of the area. "Most of the well organized protesters with their Doggett tombstone and devil posters at the Neighborhood Office Hours in Southwest Austin were not from the neighborhoods invited to participate," said a statement to HuffPost released by his office.
"This was a well planned bit of political theater with the actors invited by the Chair of the Travis County Republican Party, who participated as one of the protesters. Afterwards, on her website, she thanked the 'liberty warriors' for their good work. All of this was recorded by Republican cameras and quickly spoonfed to the local media.
"By showing on YouTube only the Congressman's departure after an hour of taunt-filled discussion and only after cries of 'just say no!' prevented those not associated with the protest from speaking, Republicans created the illusion that they had prevented any meeting. One YouTube video of the event proudly proclaims that it was produced by the Republican Party of Texas. Naturally, Republicans denied to the local media that they organized this allegedly 'grassroots' event. Additionally, local health insurance representatives have been active in encouraging protests."
Jeff Muskus and Laura Dean contributed reporting to this story.
Popular in the Community