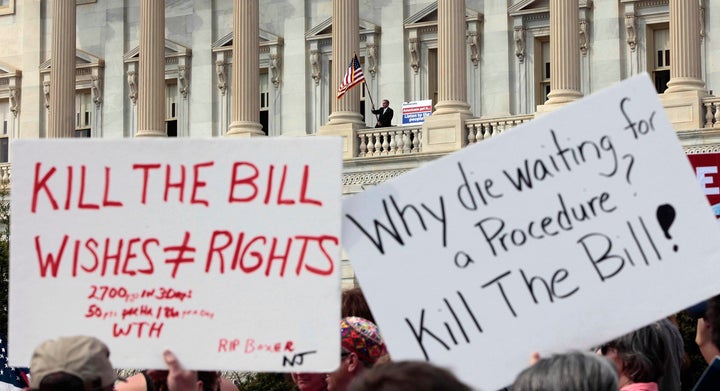 WASHINGTON -- Two years after President Barack Obama signed his name to landmark health care reform, polls find that millions of Americans disapprove of the law. Driving that opinion in part may be the remarkably unbalanced television advertising around the law, as opponents have outspent supporters by a 3-1 margin since the president signed the Affordable Care Act.
According to Kantar Media's Campaign Media Analysis Group, opponents of the health care law have spent $204 million on TV ads since Obama signed the law. Proponents have spent only $57.9 million, with 65 percent of that spending coming from the Department of Health and Human Services, the agency that oversees implementation of the law.
"At least at this point in the story of the healthcare law, just ahead of the US Supreme Court arguments next week, one side has made a much bigger investment toward winning the argument with voters," said Elizabeth Wilner, vice president of the Campaign Media Analysis Group, in a prepared statement. "For the law's supporters, closing the gap in advertising would require not just more spending and different targeting, but the sudden boost of a Court victory."
The media group's analysis finds that the two opposing sides have largely advertised to different swathes of the population.
Opponents focused their spending mostly in large metropolitan media markets in states that featured marquee contests in both the Senate and House during the 2010 election cycle. Much of that spending came from Republican-aligned groups and Republican candidates for office.
Topping the list of states hit with anti-health law ads was Pennsylvania, which in the 2010 cycle had multiple contested House races and the close-fought Senate contest between Republican Pat Toomey and Democrat Joe Sestak. Some $7.3 million was spent in the Philadelphia media market, and another $6.8 million was spent in the Pittsburgh market.
Florida, the site of a half-dozen contested House seats and a three-way Senate race among Republican Marco Rubio, independent Charlie Crist, and Democrat Kendrick Meek, saw the second-highest spending on anti-reform ads. Opponents spent $6.8 million in Orlando and $6.5 million in Tampa.
Other metropolitan markets topping the list for anti-health law advertising included Denver ($7.3 million), Boston ($5.4 million), Phoenix ($4.3 million), Atlanta ($3.9 million), Las Vegas ($3.9 million) and Cleveland ($3.8 million).
Health law supporters focused their spending on national television ad buys: $23.6 million on national broadcast TV and $12.8 million on national cable. Most of that money came not from Democratic groups and candidates but from HHS, which cannot run political ads.
Among the state markets, California was king for pro-reform ad buys: $4.7 million spent in Los Angeles, $1.1 million in San Francisco, $677,150 in Sacramento, $612,810 in Fresno and $579,830 in San Diego.
The other top metropolitan markets for pro-health reform ads received far smaller amounts than the top anti-reform markets. They included Philadelphia ($1 million), Las Vegas ($796,350), Milwaukee ($636,670), Little Rock, Ark. ($601,690) and Seattle ($470,510).
The much lower spending by Democrats may reflect reluctance to promote the health care overhaul in the face of significant public disapproval. It may also be creating a chicken-or-egg situation, where the lack of pro-reform spending may be helping anti-reform messaging take hold.
Brendan Nyhan, a political science professor at Dartmouth University, co-authored a recent study that found Democrats running in contested districts who voted for the health care reform bill fared "significantly worse" in the 2010 midterm elections than those who voted against the bill. He said the key question raised by the ad gap is to what extent the ads were "a reflection of the fact that health care was damaging or part of the reason health care reform was damaging."
Democrats may be ready to take a different tack this year. On Thursday, the president's reelection website rolled out a pro-health care reform page, "Faces of Change," peppered with highly professional videos promoting the law.

Support HuffPost
The Stakes Have Never Been Higher
Popular in the Community