 With the Supreme Court's decision to uphold the health care law, the focus now shifts to the states, whose leaders are charged with implementing portions of the legislation, including health care exchanges and potential expansions of Medicaid enrollment.
Amid the heated discussions at the state level on Thursday, a Democratic state representative told Kansas' Republican governor to "grow up" because of his resistance to the law, while a Democratic state senator in Nebraska promised a full-scale battle over Medicaid expansion.
Dozens of states have waited for the high court's ruling before beginning to set up exchanges. The deadline for setting up fully state-controlled exchanges has passed. States can run a hybrid exchange with the federal government but must arrange for this by 2014. Those states that do not adopt either of these types of exchanges would have one run by the federal government.
Kansas Gov. Sam Brownback, a Republican who in the past has rejected federal funds for an exchange, remains unwavering in his opposition to the health care law. Brownback, who as a U.S. senator voted against the legislation in 2010, has instead said that he expects Mitt Romney to be elected president and roll back the law.
"The Brownback Administration continues to oppose ObamaCare and will not take any action to implement it," Sherriene Jones-Sontag, a Brownback spokeswoman, wrote in an email on Thursday. "This is now a political issue that will be resolved by the American people in the November elections."

Kansas state Rep. Mike Slattery (D-Mission) attacked Brownback's stance. "It's ridiculous, the Brownback administration is showing that ideology is above following federal law," Slattery said. "As a Kansan I'm furious. He is breaking federal law and that is politics at its utter worst. It is embarassing and utter nonsense. I say grow up. You are governor of one of the 50 states and you're acting like a child."
Kansas Insurance Commissioner Sandy Praeger, a moderate Republican, said she continues to talk with federal health officials about how to create a joint exchange. "I want to keep our options open until the door is slammed in my face." She noted that she has been hindered by Brownback's opposition, including his returning of a federal grant.
In neighboring Nebraska, state Sen. Jeremy Nordquist (D-Omaha) pledged "a battle" between the legislature and Republican Gov. Dave Heineman. While Heineman has had officials studying the exchange issue, he had postponed decisions until after the court's ruling. Nordquist said that while a special session is not likely this year to tackle the issue, one is possible if Heineman does not include legislators in his discussions.
Thursday's Supreme Court decision also narrowly construed the federal government's power to terminate state Medicaid funds if states don't expand their rolls. Heineman told legislators on Thursday that he opposes an expansion of Medicaid in Nebraska, saying that those who support this would in effect cut back education.
Nordquist disagreed, saying that the state's investment would bring in federal dollars to help the economy. "Those are dollars that pay doctors, nurses and staff," he said. "It would be ridiculous to turn [them] down."
In Wyoming, state Rep. Dan Zwonitzer (R-Cheyenne) said on Thursday that lawmakers will likely take up the health care issue when the legislature reconvened in January. The legislators had previously agreed to delay discussion of exchanges until after the court ruling, said Zwonitzer, adding that he would like to see Wyoming officials have control over its state's exchange.
And in the Garden State, Assemblyman Herb Conaway (D-Delanco) reintroduced legislation this week to create an exchange. Republican Gov. Chris Christie, who indicated he was awaiting the high court's ruling, had vetoed Conaway's earlier bill though it had passed New Jersey's legislature.
While Conaway has not discussed his new bill with Christie, he said, he hopes Christie will end up signing it after lawmakers take it up in the fall. Christie noted on Thursday that he is disappointed with the court's ruling but did not indicate if he would follow in Brownback's footsteps.
"Here we have our national legislature getting behind a program, the court gets behind a program," Conaway said. "In New Jersey our legislature gets behind the program. The only person not for it is Chris Christie. We hope this causes him to reassess his position."
UPDATE: 7:15 p.m. -- North Dakota state Sen. Judy Lee (R-West Fargo) said the legislature in her state is likely to wait until a January session to take up implementation of the law. The state legislature had rejected an exchange bill in a special session earlier this year, with Republican House members saying that they wished to hold off until the court ruling. She said it is unlikely that Republican Gov. Jack Dalrymple would bring lawmakers back to Bismarck this year.
Some uncertainty remains in North Dakota over the approach to the law, Lee said, since a November election will determine who fills half the seats in the legislature and whether Dalrymple or a Democratic challenger, Ryan Taylor, will fill the governor's mansion.
Lee does not expect her state to expand its Medicaid program, she said, adding that the court's ruling on Medicaid came as a relief to her and other lawmakers. An expansion could bring 32,000 to 33,000 people onto North Dakota's Medicaid rolls; 62,500 are now enrolled.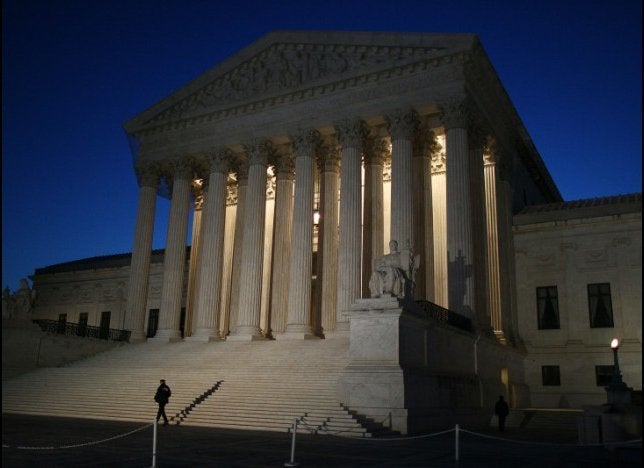 Political Reaction To Health Care Ruling
Support HuffPost
The Stakes Have Never Been Higher
Popular in the Community