 (Repeats to additional subscribers)
By Beth Pinsker Gladstone
NEW YORK, June 28 (Reuters) - Now that the Supreme Court has ruled that the Affordable Care Act is constitutional, both the insured and the uninsured want to know what it means for their own financial well-being.
Here are answers to some of the key questions:

WILL MY HEALTHCARE COSTS GO DOWN NOW?
Probably not. Healthcare costs are expected to rise 7.5 percent in 2013, even with healthcare reform, according to a study by PricewaterhouseCoopers.
The Affordable Care Act focuses more on getting people insured than on lowering costs overall, says Jeff Munn, vice president of benefit policy development at Fidelity. "But it's going to take a while to see if those provisions work," he says.

WILL ANYTHING CHANGE IN MY CURRENT INSURANCE?
There are some provisions of the law in place now for people who already have insurance, such as coverage for children up to age 26, no pre-existing condition exemptions for kids, no lifetime cap on coverage, free preventive care and free birth control for women.
These provisions already are having an impact. According to a June report by the Department of Health and Human Services, 3.1 million young adults were able to access health insurance because of the law, and the proportion of insured adults 19-25 climbed to nearly 75 percent as a result of the law.

WHAT IF I DON'T HAVE INSURANCE?
The nearly 50 million people who have no health insurance will have to wait until 2014 for subsidized insurance when most of the law kicks in.
That's when the individual mandate to buy health insurance starts. Each state will have an "exchange" for people to shop insurance providers, and there will be subsidies available depending on one's income. People who have qualifying income will be eligible for expanded Medicaid coverage (more on that below).
For the uninsured who don't want to wait any longer, there are plenty of options to buy coverage, says Gary Lauer, CEO of ehealthinsurance.com, but costs will vary by state.

WHAT HAPPENS TO MY MEDICARE COVERAGE?
If you're over 65 and on Medicare, the Affordable Care Act improves your benefits.
"This is truly a hallelujah moment for famlies across America," says Ron Pollack, executive director of Families USA, a health care advocacy group.
Senior citizens will receive checkups and other preventive care with no deductibles or co-payments. They no longer will fall into the huge coverage gap for prescription drugs, the so-called doughnut hole.
WHAT CHANGES CAN I EXPECT DURING OPEN ENROLLMENT SEASON?
It's business, as usual. If you are one of the 150 million covered by a corporate health plan, your employer has likely already lined up coverage for open enrollment season, which traditionally takes place in the fall.
But be prepared for sticker shock. "Everyone should be prepared to pay more, because employers are paying more," says Helen Darling, CEO of the National Business Group on Health.
The good news is that your employer is likely to offer you a reward for good behavior - such as losing weight or quitting smoking. Sixty percent of jumbo employers (20,000 employees and up) offer incentives for workers who participate in a health management program, according to Mercer, a benefits consulting firm.
Before you sign up for a policy, pay attention to details on co-pays, co-insurance, premiums and generic drug options. "Read what you are offered very carefully," Darling says. "The average American over overinsures. They don't make the good decisions about the right plan. They spend money they don't necessarily need to spend."
As part of the Affordable Healthcare Act, your employer is required to send you a uniform healthcare summary, which should arrive with your 2013 enrollment information. You'll get details on things like preventative care coverage or prescription drugs. "The idea is to provide people with a standardized list of benefit provisions that one can easily understand and use for comparison," says Sharon Cunninghis, Mercer's U.S. health and benefits leader.

The Supreme Court's decision to keep the health reform law intact also implicitly lets stand the slivers of tax policy embedded in it. These include the Medicare surcharge tax on high-income taxpayers that goes into effect in 2013 and the 40 percent excise tax on Cadillac health plans, slated to take effect in 2018.
"The Court's decision has just made it much more likely that those things come into effect as scheduled," says Mark Luscombe, principal tax analyst at CCH. "Of course, depending on the elections, the Republicans will still try to keep that stuff from happening, and Congress might work to repeal it retroactively."

SHOULD I EXPECT A REBATE?
Some insured may already be getting rebate checks from companies that do not spend the required ratio of premium dollars on healthcare (as opposed to administration or profit). Payouts have been rare, though, as companies have shifted their cost ratios to comply.
Any checks that come will likely be a big surprise to consumers. Lauer points out that 80 to 90 percent of people who have received them so far were not aware of the rebates and were not expecting them.
That might not be much, but it could soften the pain of higher healthcare costs. (Follow us @ReutersMoney or at http://www.reuters.com/finance/personal-finance. Additional reporting by Amy Feldman, Lauren Young, Mark Miller and Heather Struck. Editing by Lauren Young and Dan Grebler)

Before You Go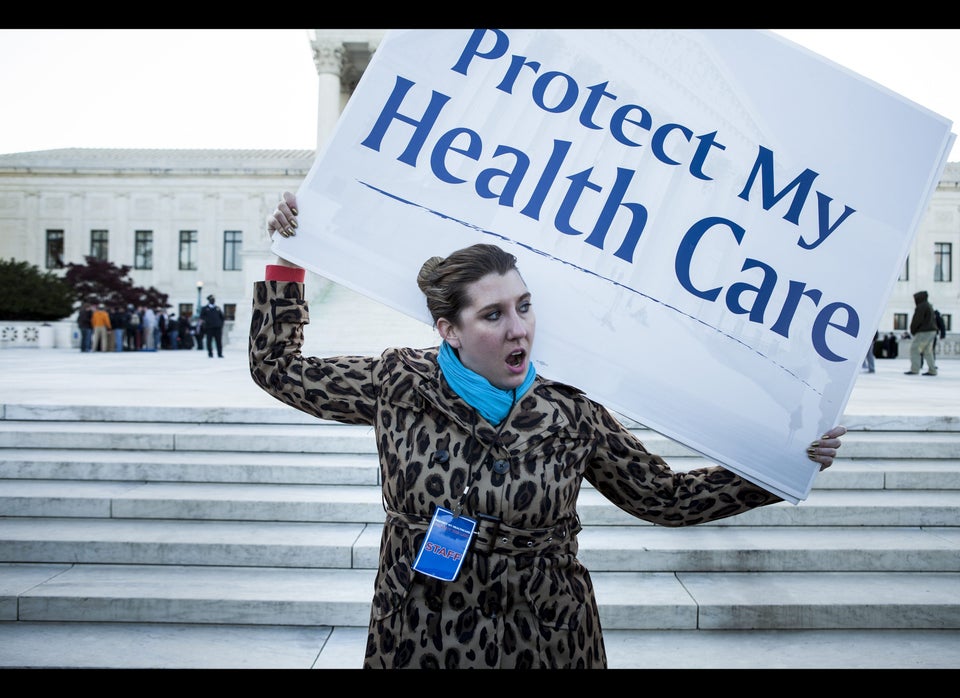 What Will Health Care Reform Do For You?