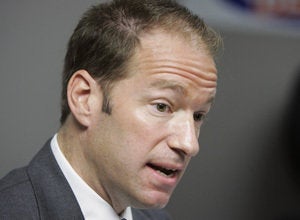 Kirk, who is running for President Obama's former Senate seat, released a statement Sunday:
"I support health care reforms that decrease costs and boost access without tax increases or cuts to Medicare," Kirk said in the statement. "The legislation passed by the House will increase health insurance premiums by $2,300 for 612,000 Illinois citizens, cut Medicare by $500 billion, including Medicare Advantage cuts for 121,722 Illinois seniors, and raise taxes by $500 billion. ... It is unfortunate that instead of passing a bipartisan bill that reforms lawsuits, allows families to buy insurance across state lines and protects the doctor-patient relationship, we are left with a very partisan bill that explodes the deficit, increases health care costs and raises your taxes."
State Treasurer Alexi Giannoulias, who is running against Kirk, also released a statement following Kirk's vote on health reform:

"Congressman Kirk has made it clear that he is more interested in scoring political points with the far right by opposing every reform President Obama proposes than working with the Administration to build consensus and pass the type of healthcare reform people in Illinois have demanded for years. Why else would he sign a pledge to repeal healthcare reform before he even read the bill and mislead Illinois families on the immediate benefits of this bill? The fact is that while I refuse to take donations from corporate PACs and federal lobbyists, Mark Kirk has taken millions from the corporate special interests that are working to defeat President Obama."

Though the House Republicans were not successful in blocking the bill, they will have one more chance to block the legislation in the Senate, and are planning to do everything they can to stop it.

Thomas Mann, a congressional scholar at the Brookings Institution, told the Gannett News Service: "All the Republicans can do is extend it a bit."
REAL LIFE. REAL NEWS. REAL VOICES.
Help us tell more of the stories that matter from voices that too often remain unheard.