Many Americans aren't sure whether his health care reform law is even on the books; those people most likely to gain health coverage from Obamacare know the least about it; and Americans who do have health insurance are worried the law will blow up the health care system.
During a news conference Tuesday, Obama sought to assuage the fears of the bulk of Americans who have health insurance already and to tamp down anxiety that his administration won't be ready when people start lining up to obtain health coverage under the law this fall. His remarks reflected how much work is left to be done.
"The main message that I want to give to the American people here is, despite all the hue and cry and sky-is-falling predictions about this stuff, if you've already got health insurance, then that part of Obamacare that affects you, it's pretty much already in place and that's about 85 percent of the country," Obama said.
Even so, the law remains unpopular, according to survey results issued Tuesday by the Henry J. Kaiser Family Foundation. Just 35 percent of those polled have a favorable view of the health care reform law, the lowest share since October 2011, while 40 percent have an unfavorable opinion. Another 24 percent weren't sure or wouldn't answer, the highest share since April 2010.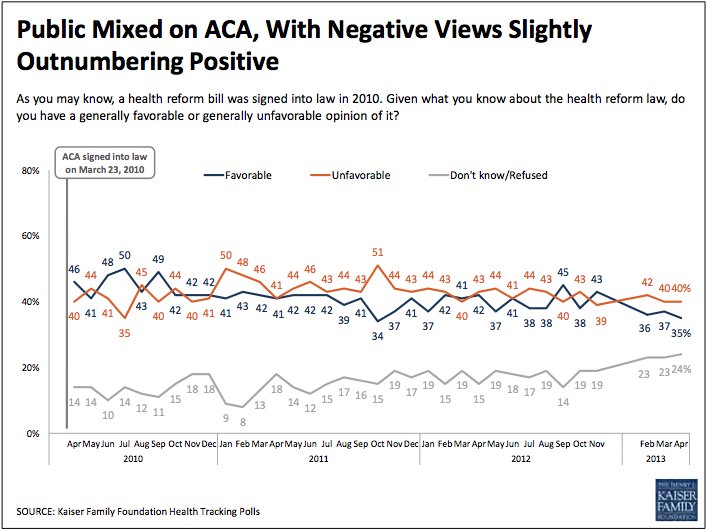 While it's true that provisions of the law are in place for people who currently have coverage, such as one that enables young adults to remain on their parents' health plans until they turn 26, Obama and his team have to be ready come Oct. 1, when the rest of Americans can begin shopping for 2014 health benefits on the law's health insurance exchanges.
It will be a major challenge to get the word out that new health plans will be available and subject to minimum benefit standards and rules prohibiting health insurance companies from, among other things, refusing to cover people with pre-existing conditions. Also challenging are the technical and bureaucratic efforts needed to establish those exchanges, online marketplaces where consumers can research coverage options and determine whether they qualify for Medicaid benefits or subsidies for private health insurance. On Tuesday, Obama acknowledged there will be "glitches and bumps" along the way.
"What is left to be implemented is those provisions to help the 10 to 15 percent of the American public that is unlucky enough that they don't have health insurance," Obama said. "And, by the way, some of you who health insurance right now, at some point you may lose your health insurance and if you've got a pre-existing condition, this structure will make sure that you are not left vulnerable."
Educating the public about how to sign up for health coverage through the exchanges won't be easy. More than three years after Obama signed the reforms into law, 42 percent of respondents to the Kaiser Family Foundation survey falsely believed Congress had repealed it, that the Supreme had overturned it, or didn't know one way or the other.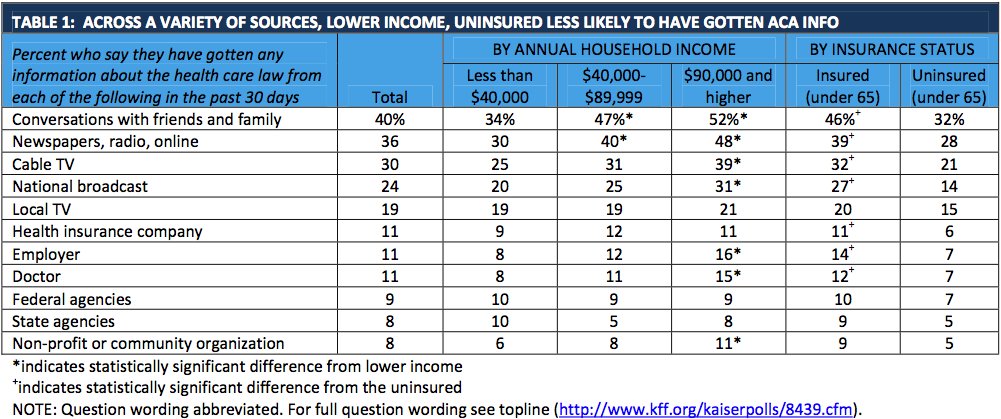 A Kaiser Family Foundation survey issued last month revealed that the most popular parts of the law, like tax credit subsidies for health insurance, are the least well-known, while the least popular, the individual mandate that nearly everyone obtain health coverage, is the best known.
The April Kaiser Family Foundation survey also found that conversations with friends and family are the most common sources people cited when asked where they got information about health care reform, followed by news organizations.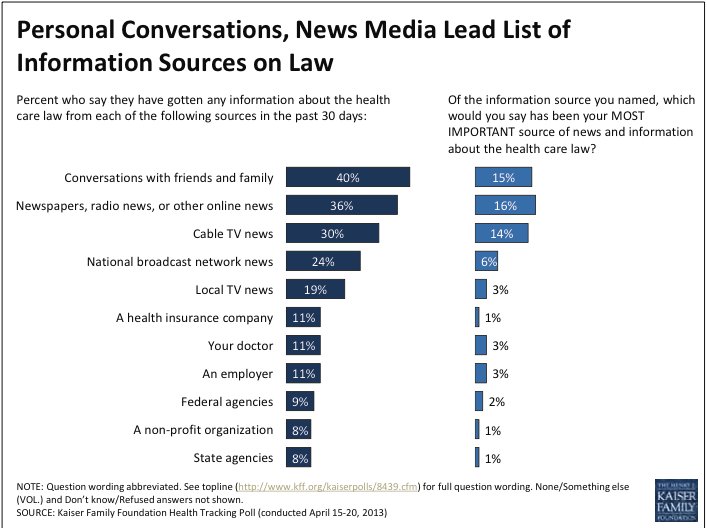 With viewpoints entrenched on the law and misconceptions -- such as the "death panel" myth -- persistent, the findings suggest yet another obstacle for the administration, health care reform supporters and health insurance companies to overcome when Obamacare's big promotional push begins this summer.
REAL LIFE. REAL NEWS. REAL VOICES.
Help us tell more of the stories that matter from voices that too often remain unheard.
BEFORE YOU GO
PHOTO GALLERY
Lies And Distortions Of The Health Care Debate