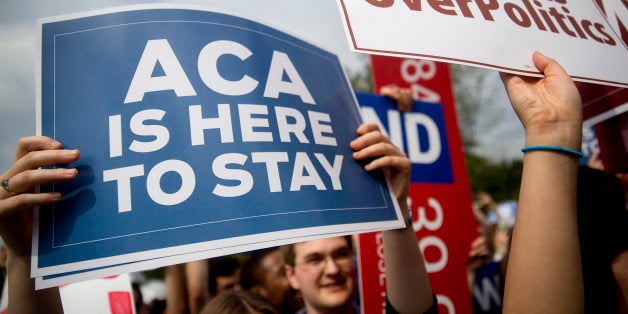 Of all the lies being told by candidates during this presidential campaign season, some of the greatest are about the Affordable Care Act (ACA). Donald Trump, for example, regularly refers to it as "a disaster."
Perhaps we just have different ideas of what constitutes a disaster. Public health data are beginning to show that the ACA and related federal policy developments led by President Obama are saving thousands of lives, as well as money.
The ACA's full coverage of preventive care without copays -- which includes things like cancer screenings, vaccinations, and smoking cessation interventions -- is undoubtedly saving lives. The National Commission on Prevention Priorities estimates that approximately 100,000 lives could be saved each year in the U.S. if just five preventive services (daily aspirin use, smoking cessation, colorectal cancer screening, flu immunization, and mammograms) were scaled up.
Meanwhile, chronic diseases that would have otherwise progressed unchecked are being diagnosed and treated. A study published last year in Diabetes Care found the number of patients diagnosed with diabetes increased by 23 percent from 2013 to 2014 in the 26 states that expanded eligibility for Medicaid under the ACA; in the 24 states that didn't expand Medicaid, the increase in the number of patients diagnosed with diabetes was less than half of one percent. This means that in one year, as a result of the expanded health care access brought about by the ACA, about 3,500 people who would otherwise not have been diagnosed with diabetes now know that they have this serious health condition and are, hopefully, being treated for it.
Other federal health care reforms are also making a difference. An October 2015 report from the Agency for Healthcare Research and Quality (AHRQ) found that increases in safety resulting from the Partnership for Patients initiative spearheaded by the Centers for Medicare and Medicaid Services (CMS) led to a 17 percent decline in hospital-acquired conditions, including infections, from 2010 to 2013. That translates to about 50,000 lives saved, according to AHRQ.
Although the ACA has dramatically increased access to publicly-funded health care for low-income residents, overall healthcare costs are levelling out, if not dropping. For example, the estimated savings from averted hospital-borne conditions mentioned above is $12 billion. Meanwhile, overall spending on healthcare is growing at its slowest rate in 50 years.
Nearly 18 million people have health insurance today who didn't have it three years ago. This includes at least 7.4 million White Americans; 2.6 million African Americans; and four million Hispanics. An additional 2.3 million young people age 19-25 have been allowed to remain on their parents' health insurance policies thanks to the ACA. As of September 2015, the percentage of Americans who lacked insurance had dropped from 20.3 percent to 12.6 percent, a decline of 38 percent.
While this expansion benefitted everyone, it has disproportionately benefitted groups that were more likely to lack health insurance prior to the ACA's passage and implementation: Black and Latino people; lesbian, gay, bisexual, and transgender people; and people living with cancer, HIV, and other pre-existing health conditions. Between 2013 and 2015, rates of uninsurance among Blacks dropped from 22.4 percent to 12.1 percent and from 41.8 percent to 30.3 percent among Hispanics. After the first period of enrollment in late 2013, rates of uninsurance dropped from 34 percent to 26 percent among low-income LGBT adults. Although we don't have data yet on people with HIV and other chronic diseases, we know that in 2013 only 17 percent of people living with HIV in the U.S. had private insurance, and 30 percent had no health insurance at all.
The evidence is clear that the ACA is saving lives, improving public heath, and driving down health care spending. If this is a disaster, we can't wait to see what success looks like.
Popular in the Community