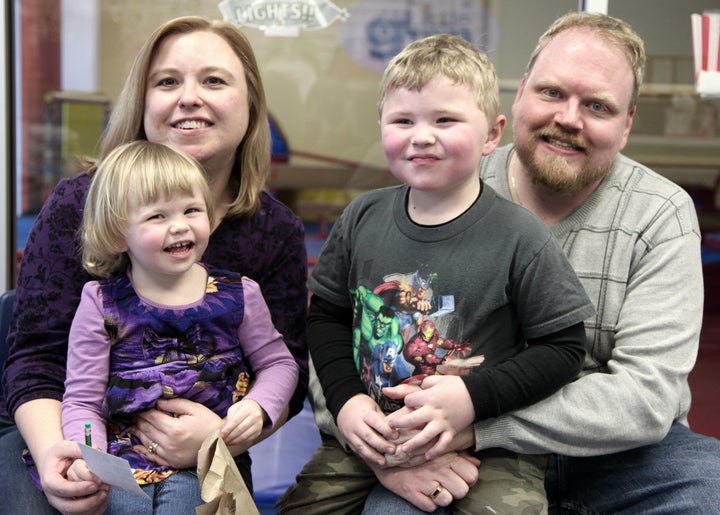 Dawn Josephson could barely believe it when she found health insurance that would actually cover the cost of treating her young son's eye condition.
Josephson, a freelance editor, wife and mother of two in Jacksonville, Fla., had been spending as much as $1,000 a month of her family's budget on surgery, doctor visits, tests, and treatments in the seven months since 2-year-old Wesley awoke one morning with his eyes pointed toward each other, a condition called strabismus. That was on top of the $807 in monthly premiums the family spent on an insurance plan that excluded anything related to her son's eyes.
A few weeks after President Barack Obama signed a sweeping health care reform law in March 2010, Josephson got a call from another insurance company telling her the family had been accepted into a new plan. "What about Wesley's eye? If he needs another surgery, another test, another something, is it covered?" she asked the customer service representative. She pressed the point again: What's the catch? "Nothing. Your family's fully covered," she was told.
Josephson's change in fortune was the result of the new law's provision that prohibits insurance companies from refusing to cover children with pre-existing medical conditions. The family's new insurer decided to change its rules before the law required it, giving Josephson, her husband Dave, Wesley, and his little sister Margo some relief. A few months later, Josephson got to meet Obama at a health care reform event in Falls Church, Va.
Even with that relief, Josephson can't rest easy. The Supreme Court is scheduled to hear arguments next week in a case challenging the constitutionality of health reform. The court, or a Republican president next year, could reverse the family's fortunes again, with Josephson's son, now 6, still struggling to gain control of his right eye. He sometimes wears an eye patch, and might need more surgery, Josephson said.
The fate of millions of other Americans also hangs on the Supreme Court's ruling. Repealing health care reform would squash the hopes of uninsured people struggling to pay for health care.
"I definitely think I'd have to worry about it," Josephson said. "It's scary because you see the before and after."
Josephson now pays about $600 a month for a plan that covers the whole family, about $200 less than the old insurance that excluded Wesley's eyes. The savings go deeper than that, she said, because she doesn't have to pay out of pocket for her son's doctor visits and tests and won't be on the hook for the full cost if he needs more surgery.
The Obama administration defends the law as a step toward reforming a dysfunctional and expensive industry of care providers, insurers and for-profit companies. Republicans assail it as unconstitutional. And many Americans remain skeptical, or some hostile. The biggest parts of the law, to extend health coverage to more than 30 million uninsured people, are still two years away from reality -- and may never take effect if the court or a Republican president undoes the law.
But it's not just about political abstractions. Two years later, health care reform has had real and profound effects on some Americans. Insurance companies can't deny coverage to sick children, young adults can stay on parents' workplace plans until they turn 26, people with pre-existing medical conditions now have a fallback plan when they can't find insurance anywhere else, and senior citizens are paying less for prescription drugs.
To the people who've been helped by health care reform, all of that is less important than the security the law has provided. To them, repeal isn't a topic for political debate, but a threat to their security.
Janice Llanos, 24, is set to earn her master's degree in public health at George Washington University in Washington, D.C., in May. The Woodbridge, Va., resident has asthma and has been dealing with an undiagnosed gastrointestinal disorder for several years. When she graduated from Virginia Tech three years ago, she lost the insurance she had through her father, a retired Army officer. Llanos learned then she's not the type of person who health insurers want.
After getting rejected by some health plans, she found one that came with a $5,000 deductible -- meaning she'd have to pay that much money out of pocket before any benefits would kick in. "I was never going to reach the deductible cap with my health care expenses, so I was paying for everything out of pocket" even though her plan charged about $150 a month in premiums. "I had to forego some health care services just because of the cost." She spent about $3,200 out of pocket in about 18 months.
That changed at the beginning of last year, when Llanos enrolled in the insurance plan her mother, a federal employee, gets through work. Her mother pays $390 a month to cover herself, her husband, and Janice. The extra cost of adding the rest of the family comes to $160 a month, or just $10 more than Janice was paying on her own for a plan she couldn't use.
Michele Rappaport and Alan Sorkowitz's problem wasn't that they couldn't find health insurance. It was that their monthly premiums jumped from about $1,700 to more than $2,400 in one year. To qualify for health care reform's Pre-Existing Condition Insurance Plan, the married couple from Tucson, Ariz., had to go uninsured for six months first. Still, the "essentially retired" Rappaport and Sorkowitz, both 59, feel they're better off now because of it. His insurance costs $450 each month and hers is $334.
They were paying so much before because of pre-existing medical conditions -– Sorkowitz has diabetes -- even though they consider themselves healthy and haven't used their new insurance much since they signed up last August. "The private insurers looked at us like we were ready to fall apart," Rappaport said. "Not enough Americans have had that experience," she said. "People need to understand they're also vulnerable."
Popular in the Community