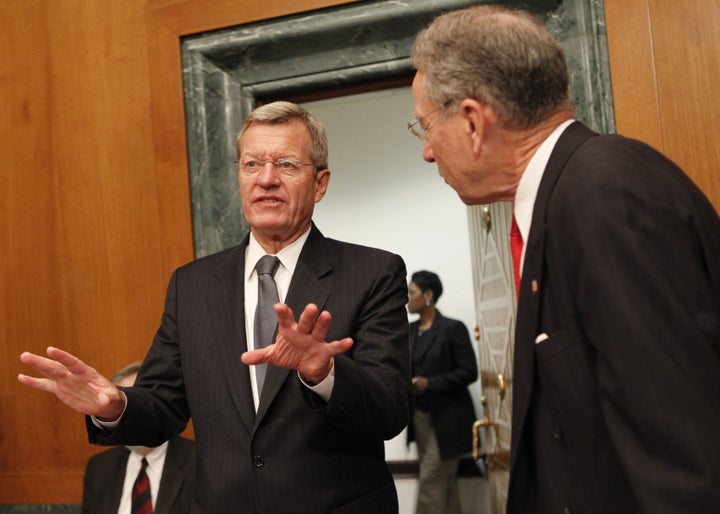 As the president of NARAL Pro-Choice America, I visit congressional offices on Capitol Hill frequently -- but the trip I made today to mark the advancement of health reform was different.
We jammed inside a room at the Capitol Visitor Center. Health-care workers (doctors, nurses, and other professionals) and patients alike shared the stage with Sens. Chris Dodd (D-Conn.), Tom Harkin (D-IA), Barbara Mikulski (D-Md.), and former Senate Majority Leader Tom Daschle -- all of whom recognized Sen. Edward Kennedy (D-Mass.) (who unfortunately couldn't join us) for helping make this moment possible.
We were united in our praise of Sen. Dodd and other members of the Senate Health, Education, Labor, and Pensions Committee for making history by passing the first health-reform bill out of a congressional committee.
She shared a heart-breaking story about her husband's battle with cancer. The medical bills escalated to such a point that they were forced to sell the ranch that had been in his family for four generations.
Sadly, her husband has passed away, but she said his spirit was with her today as we marked this important step forward for all the other families facing similar health-related financial catastrophes.
Her story is one of the many reasons we must move forward in ensuring that the health-care reform bill eventually passed by Congress mirrors the principles established by Sen. Dodd and other members of his committee.
It is important that we mark this progress while acknowledging the challenges ahead.
We are working day and night (going from office to office across Capitol Hill) to fight back against anti-choice politicians who are trying to push measures that would interfere in the doctor-patient relationship and take away health-care services many Americans already have.
No one group, senator, or citizen can accomplish this alone.
We need to come together to build on the momentum from today's event and cross the finish line.
We need you to come out in support of the bill Sen. Dodd and his colleagues on the committee passed. They have displayed extraordinary leadership -- and we must stand behind them (and not let our opponents seize control of this debate).
To achieve this goal, call your senators and members of the House to let them know you support Sen. Dodd's health-care bill.
Call on your friends and neighbors to do the same.
Tweet. Post on your Facebook profile. Go old school and pick up the phone.
All of it matters -- and all of it will make a difference.
REAL LIFE. REAL NEWS. REAL VOICES.
Help us tell more of the stories that matter from voices that too often remain unheard.