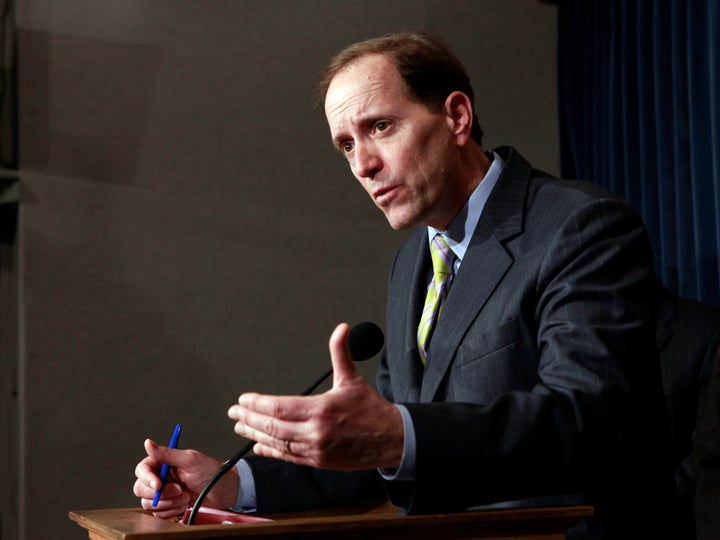 WASHINGTON -- Rep. Dave Camp (R-Mich.), chairman of the powerful House Ways and Means Committee, acknowledged Thursday that Republican plans to repeal President Barack Obama's signature health care law were "dead." Instead, Camp predicted, the GOP would turn its focus to overturning the most controversial portion of that legislation: the mandate requiring individuals to buy insurance.
"Obviously, I voted to repeal the bill and you pretty much know where I am on replacement because I put out a bill last year on that," Camp said. "Is the repeal dead? I don't think the Senate is going to do it, so I guess, yes."
Camp added, "In terms of the House, I put out a bill [to replace the law]. We know where I stand."
"I think we have to see where this [health care] lawsuit that is working its way through the courts goes," he said. "I'm monitoring that pretty closely. The individual mandate, I think, we need to get an answer from the courts on that. ... I do think we may have a vote to repeal that provision some time in this Congress ... the individual mandate."
A chief plank of the 2010 GOP platform was to wipe the Affordable Care Act from the books and replace it with something else. The latter promise has long since dissipated. But Republican leadership still held on to the former -- attempting to attach repeal language, most recently, to the continuing resolution to fund the federal government.
Camp also threw a bit of cold water on the Medicare reforms included in Rep. Paul Ryan's (R-Wis.) proposed 2012 budget. He said that legislation to turn Medicare into a voucher system would likely not get a hearing in his committee.
"I'm not really interested in just laying down more markers," said Camp. "I'd rather have the committee working with the Senate and the president, focusing on savings and reforms that can be signed into law."
"I don't think we can afford to wait," he added, "I think we needed to make progress now.'
Camps said he was unmoved by the protests that have erupted over Ryan's Medicare proposal at recent constituent town halls. "We have stepped forward pretty boldly on this issue," he said, adding that he did not regret voting for the budget when it came to the House floor.
But he also echoed comments made Wednesday night by House Majority Leader Eric Cantor (R-Va.), who said that in the spirit of deficit and debt reduction, lawmakers would need to first act on areas of agreement.
"I think what [Cantor] might have been referring to is there are some common ground areas in Medicare and those as important to proceed forward [on]," Camp said of an interview with the Washington Post that Cantor was later forced to clarify. "I think, maybe, that is part of what he was trying to say."
Popular in the Community