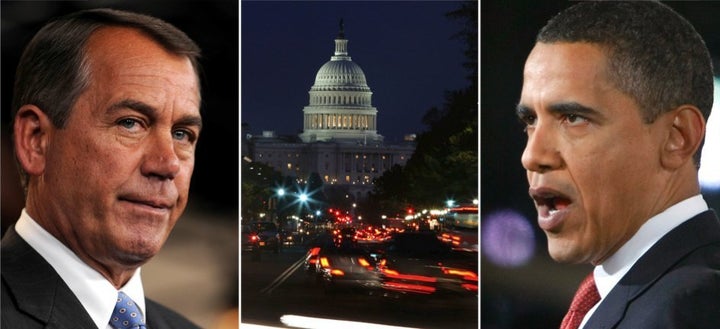 WASHINGTON -- House Republicans voted unanimously on Wednesday to fully repeal health care reform, though Senate leaders have said they will not take up the lower chamber's bill. Instead, the fight will move to the less glamorous arenas of funding and rule writing. The vote was 245-189, with three Democrats -- Dan Boren (D-Okla.), Mike McIntyre (D-N.C.), and Mike Ross (D-Ark.) -- voting for repeal.
The vote to repeal health care was initially delayed by a parliamentary debacle in which two House Republicans skipped the swearing-in ceremony for a Capitol fundraiser, yet voted despite not being official members of Congress. It was delayed an additional week as the House paid tribute to Rep. Gabrielle Giffords and other victims of the Arizona massacre.
The health care bill that the House would repeal allows parents to keep children on their health plans until the age of 26, bars insurers from denying service due to preexisting conditions, expands Medicaid funding dramatically and extends coverage to some 30 million uninsured Americans by 2019. It's the largest piece of social policy the Democratic Party has enacted in decades. "It is a big deal, as Joe Biden said, in other words," Minority Leader Nancy Pelosi (D-Calif.) told progressive media Wednesday morning.
The GOP is calling it the Repealing the Job-Killing Health Care Law Act. Democrats, defending the bill, argued that covering 30 million additional people necessarily creates jobs in the health care sector and reduces the burden on small businesses. And repealing it would add more than $200 billion to the federal deficit, according to the Congressional Budget Office. "I want to just advise people watching at home playing the now-popular drinking game, if you take a shot whenever the Republicans say something that's not true, please assign a designated driver," Rep. Anthony Weiner (D-N.Y.) said.
Speaking at a news conference on Capitol Hill on Tuesday afternoon, Rep. Steve King (R-Iowa) announced that close to 500,000 petitions in support of repealing health care reform have been gathered by the website repealitnow.org.
King said the Affordable Care Act would end up "destroying the doctor-patient relationship," as well as "damaging and eventually destroying the insurance industry in America." He predicted some Democratic support for repeal, telling reporters plus-or-minus 15 Democrats would vote against President Obama's trademark legislation.
Only 13 of the Democratic caucus members who voted against the Affordable Care Act in March of 2010 have gone on to serve in the 112th Congress.
"I hope it's more than that," he said. "I'm hopeful that as the debate goes on there will be more Democrats that come over to our side on repeal." Pelosi said she expected some Democrats who opposed the bill initially to now oppose repeal.
Asked to comment on recent polling that shows declining Republican support for repeal, King said, "Those who are intensively for repeal of ObamaCare outnumber those who intensively support it," adding, "that's the number to look at."
Now that health care reform is law, repealing it would affect people already benefiting. Dave Sizemore, a Republican contributor in Eric Cantor's hometown, says he'll be switching political affiliation after the GOP's "stunt" on health care.
Sizemore, 59, is disabled and has been on Medicare since 2005. He lives with multiple sclerosis, and because he cannot buy a medigap policy due to pre-existing conditions, medical care and prescriptions have been costly.
"Now, with the new 50 percent discount on drugs while in the donut hole, I do not need to split my medications in half anymore, to afford prescriptions," Sizemore told HuffPost on Wednesday. "I am a much healthier, happier person because of it."
Brian Lewis, a contractor from Ranchos de Taos, New Mexico, told HuffPost that after he was blindsided by a drunk driver five years ago, he was unable to get medical coverage to cover his injuries. Lewis said he suffered from back pain and chronic panic attacks after the accident, but added that when he reported this to health care professionals, it was registered as a pre-existing condition.
"They denied me insurance based on that," Lewis said. "All my medical costs have been paid out of pocket. I've been doing this now for the last four years... it just proves how screwed up our medical system is in the country. It's not set up to benefit anyone in this country except insurance companies."
Sumner Handy, a 24-year-old Teach For America alumnus from Severna Park, Maryland, told HuffPost that the Affordable Care Act has allowed him to get on his parents' insurance, after losing his job and health insurance at the end of the 2009-2010 academic year. "I was diagnosed with cancer in October of 2010," he told HuffPost Wednesday afternoon, "so getting on my parents' insurance has, perhaps, saved my life."
Handy became uninsured in August of 2010, but was able to get on his parents' health insurance in mid-September. He's been undergoing chemotherapy since October, and may undergo surgery in February. Were health care reform to be repealed, Handy said he would be unable to afford to continue treatment.
"I am 24 years old now," he told HuffPost. "I turn 26 in June 2012, and I expect to be able to work and procure my own health insurance by that date."
Debbie Harris has worked in customer service in Kansas City, Mo., but she is currently unemployed and uninsured. "Because I had two heart valves replaced almost six years ago, no one would accept me," she told HuffPost in an email Wednesday. "Blue Cross, United Healthcare, Coventry -- all turned me down."
Harris, 52, said she finally found insurance through the American Medical and Life Insurance Company - the company was forced to pay a fine of $700,000 in 2009 after New York officials accused it of leaving patients with huge hospital bills but no meaningful coverage.
"They cover $100 for any blood test a year, and I have to get my blood tested every one to two weeks since I'm on a blood thinner," Harris said. "It basically covers nothing. It's all I could get. They were the only ones that accepted me because I had an operation six years ago."
In 2014 the rejections Harris received would be illegal under the Affordable Care Act, but right now her options are limited. "I just can't get sick ever," she told HuffPost.
Popular in the Community