WASHINGTON -- Total U.S. health care spending grew by more than 5 percent for the first time since 2007 last year, but a return to massive growth isn't on the horizon, according to federal estimates issued Tuesday.
National health expenditures -- a tally of all the money spent on health care by the government, businesses and households -- grew 5.5 percent to $3.08 trillion in 2014, the Office of the Actuary, an independent auditor within the Centers for Medicare and Medicaid Services, reported in the journal Health Affairs. That represents 17.7 percent of the U.S. gross domestic product, an increase from 17.4 percent in 2013.
These latest estimates indicate that 2014 marked the end of a six-year period during which U.S. health care spending increased at historically low rates, largely driven by the Great Recession and sluggish recovery, but also influenced by aspects of the Affordable Care Act and signs of greater efficiency in the health care industry. The millions of people who gained health coverage as a result of Obamacare are a major reason spending rose faster last year, as was the introduction of $1,000-a-pill prescription drugs and an improved economy that led people to spend more on health care.
From 2008 through 2013, health care spending rose an average of 4 percent a year. Although those years of sub-5 percent growth may be over, the United States isn't entering a new era of huge, even double-digit, year-over-year spending increases like those seen from the 1990s through the mid-2000s, the report shows.
The federal actuaries project U.S. health care spending will rise an average of 5.8 percent per year from 2014 to 2024, when it will reach $5.43 trillion, or 19.6 percent of the entire economy. The average annual spending growth was 7.3 percent from 1990 through 2007.
"Although this health spending of 6 percent is faster than what we've seen around the period in the recession, it's still substantially slower than that experienced over the last three decades prior to the recession," Gigi Cuckler, an economist at the Office of the Actuary, said at a briefing with reporters Tuesday.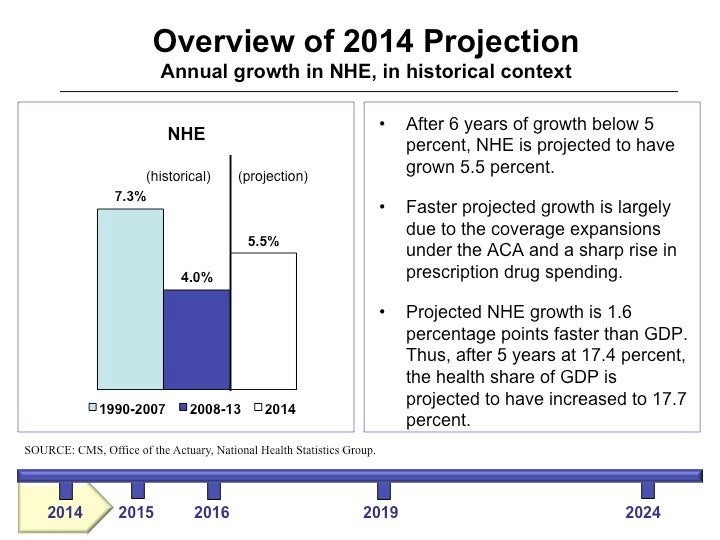 Overall, the report concludes, the United States will experience "relatively modest projected health spending growth over the next decade ... even during a period when the uninsured population is expected to decline by almost eighteen million."
The figures in the report issued Tuesday are merely projections of spending, even for last year, and are subject to revision. The actuaries will issue a separate report, likely in late 2015 or early 2016, on the actual national health expenditures of 2014.
During the years of historically slow growth, the Office of the Actuary consistently maintained the health care spending trend would accelerate as the effects of the recession faded and as the federal government pumped money into the system through the Affordable Care Act's health insurance subsidies and Medicaid expansion.
The auditors mostly discounted arguments, such as those made by President Barack Obama and some economists, that the law had triggered a transformation in the American health care system.
The latest report echoes the actuaries' previous reports, and predicts health care spending will continue to grow faster as the economy gets bigger. In addition, national health expenditures will outpace economic growth, causing the sector to take up a larger share of gross domestic product after several years of parity.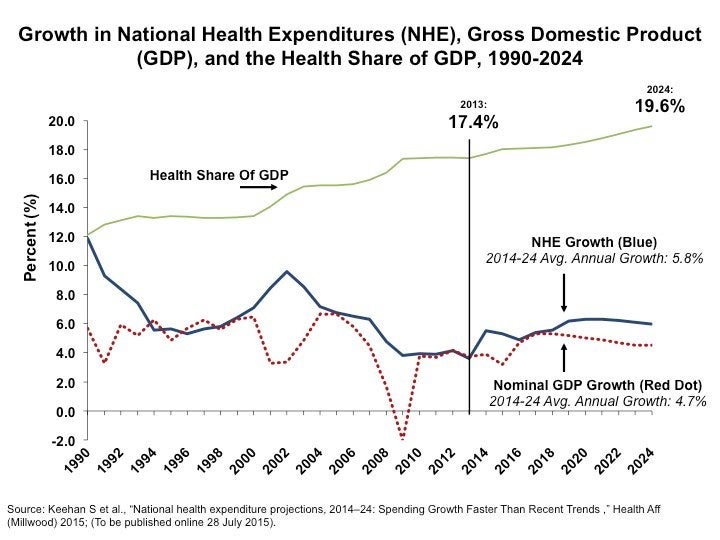 The growth in the number of Americans with health insurance predictably resulted in higher national spending on health care services, as previously uninsured and underinsured people obtained medical services they couldn't afford before. A study published in the Journal of the American Medical Association Tuesday suggests that money may be going to good use, as more people report good health and access to affordable care.
New, big-ticket prescription drugs, such as hepatitis C treatments Sovaldi and Harvoni that can cost nearly $100,000 for a full course of treatment, were another major factor in faster spending growth last year, the actuaries report. Spending on prescription medicines increased by 12 percent last year, the highest since 2002.
Balancing these inflationary trends were small increases in the actual prices of health care goods and services overall, which rose just 1.4 percent in 2014. In addition, the continuing proliferation of health insurance plans with high deductibles and other forms of high cost-sharing that require patients to pay more out of pocket for their health care constrained spending growth, the report says. 
Between this year and 2018, the federal actuaries expect slightly lower spending growth of 5.3 percent a year as costs associated with the Obamacare Medicaid expansion subside and prices for expensive drugs come down. Medical prices overall are projected to rise 1.5 percent this year, but more than 2 percent annually from 2016 through 2018, partly because economic growth will allow health care workers to demand higher pay.
Looking further ahead at 2019 through 2024, auditors predict health care spending will grow an average of 6.2 percent a year, as baby boomers on Medicare age and require more health care and as medical prices rise by 3 percent a year.
Calling all HuffPost superfans!
Sign up for membership to become a founding member and help shape HuffPost's next chapter