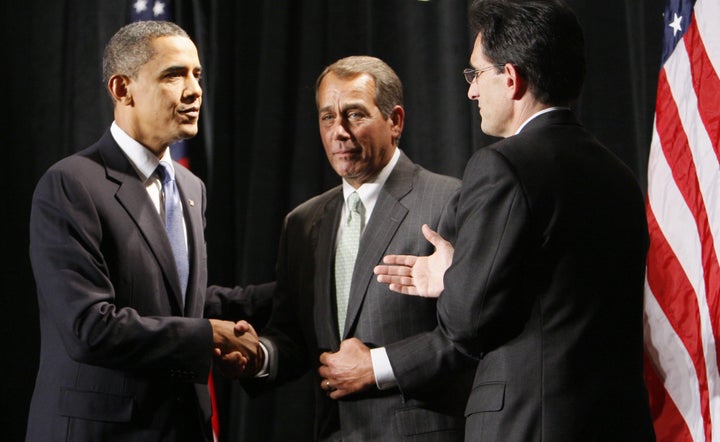 The Obama administration has officially invited bipartisan leadership in Congress to attend a health care meeting at the Blair House on February 25. And as part of the process, they have asked Republican congressional leadership to produce "their own comprehensive bill" and place it "online as well."
In a letter from White House Chief of Staff Rahm Emanuel and HHS Secretary Kathleen Sebelius to the top ranking Democrats and Republicans in the House and Senate, the broad ground rules are set for what is sure to be a closely-watched summit.
The session will begin at 10:00 a.m. and be broadcast live in its entirety. Although it is impossible to include every House Member or Senator who has played a pivotal role in the health care debate, the President is inviting the most senior House/Senate bipartisan leadership, as well as the chairmen and ranking members of the committees that oversee health insurance reform legislation in both chambers... The President would like each of you to designate an additional four Members to attend the meeting and be available to participate. It is also important that each of you have one staff member specializing in health care policy in the meeting.

We will have a representative from the Office of Management and Budget to provide technical assistance, and hope that representatives from the Congressional Budget Office and the Joint Committee on Taxation will also be able to attend.

In addition to the President, attending and participating on behalf of the Administration will be the Vice President, Health and Human Services Secretary Kathleen Sebelius, and Nancy-Ann DeParle, Director of the Office of Health Reform.

The President will offer opening remarks at the beginning of the meeting, followed by remarks from a Republican leader chosen by the Republican leadership and a Democratic leader chosen by the Democratic leadership. The President will then open and moderate discussion on four critical topics: insurance reforms, cost containment, expanding coverage, and the impact health reform legislation will have on deficit reduction.
The rest of the letter contains the usual talking points and framing about the need to finalize reform. What seems worth watching is how GOP leadership responds to the request that a comprehensive counter-proposal be presented and posted online. House Republicans produced a short plan of their own. Senate Republicans have yet to do so.
Here is the formal letter:
And below is the list of the House and Senate lawmakers formally invited to the summit:
Senator Harry Reid, D-NV, Majority Leader
Senator Mitch McConnell, R-KY, Republican Leader
Senator Richard Durbin, D-IL, Majority Whip
Senator Jon Kyl, R-AZ, Republican Whip
Senator Max Baucus, D-MT, Chairman of the Finance Committee
Senator Chuck Grassley, R-IA, Ranking Member of the Finance Committee
Senator Tom Harkin, D-IA, Chairman of the Health, Education, Labor and Pensions
Committee
Senator Mike Enzi, R-WY, Ranking Member of the Health, Education, Labor and
Pensions Committee
Senator Christopher Dodd, D-CT, Member of the Health, Education, Labor and Pensions
Committee
Speaker Nancy Pelosi, D-CA
Representative Steny Hoyer, D-MD, Majority Leader
Representative John Boehner, R-OH, Republican Leader
Representative James Clyburn, D-SC, Majority Whip
Representative Eric Cantor, R-VA, Republican Whip
Representative Charles Rangel, D-NY, Chairman of the Ways and Means Committee
Representative Dave Camp, R-MI, Ranking Member of the Ways and Means Committee
Representative Henry Waxman, D-CA, Chairman of the Energy and Commerce
Committee
Representative Joe Barton, R-TX, Ranking Member of the Energy and Commerce
Committee
Representative George Miller, D-CA, Chairman of the Education and Labor Committee
Representative John Kline, R-MN, Ranking Member of the Education and Labor
Committee
Representative John Dingell, D-MI, Chair Emeritus of the Energy and Commerce
Committee
Popular in the Community