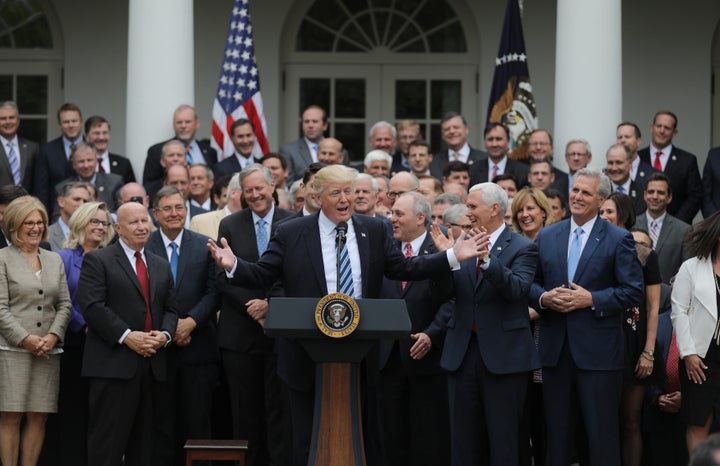 Economic concerns, perennially a top priority for Americans, have been dethroned by concerns about health care, new polling shows.
When Congress considered the first version of the American Health Care Act, or AHCA, earlier this spring, worries about health care shot up ― 45 percent of Americans named it among the two issues most important to them, according to a March HuffPost/YouGov poll, with the economy at just 39 percent.
Months later, as the health care debate reignites, health care remains the public's predominant focus. Forty-seven percent of Americans see it as a top concern, according to a HuffPost/YouGov poll out this week, compared to 38 percent for the economy and 20 percent for immigration.
The relationship between the Trump administration and Russia, which has dominated headlines in recent weeks, scores far below, with just 12 percent naming it as a top issue.
Concerns, however, aren't equally distributed across political lines. The majority of voters who supported Hillary Clinton in last year's election ― 55 percent ― say health care is among their top concerns, with 31 percent saying they're also concerned by the president's relationship with Russia. Americans who didn't vote, or who supported a third-party candidate, are about equally concerned about health care ― 51 percent call it a top issue ― but far less invested in Russia. Instead, 35 percent name the economy as another top issue.
President Donald Trump's voters, meanwhile, stand alone in continuing to focus on the economy, which 56 percent name as a top issue, and immigration, which 42 percent prioritize. A relatively small 31 percent rank health care as a key concern.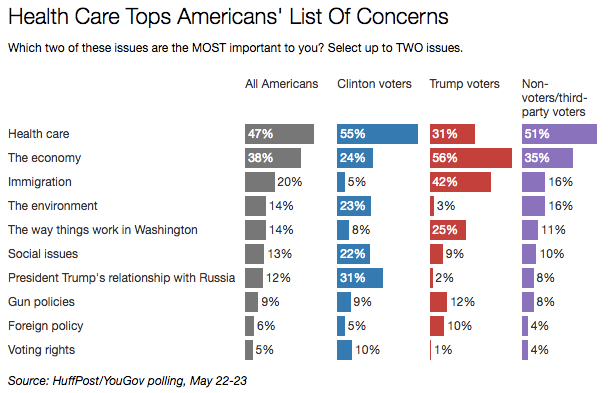 The HuffPost/YouGov poll was also one of several this week to examine overall support for the AHCA, which remains deeply unpopular. Below is a roundup of all the polling fielded since last Monday. (As The Washington Post notes, it's even more unpopular when explicitly labeled as a Republican bill.)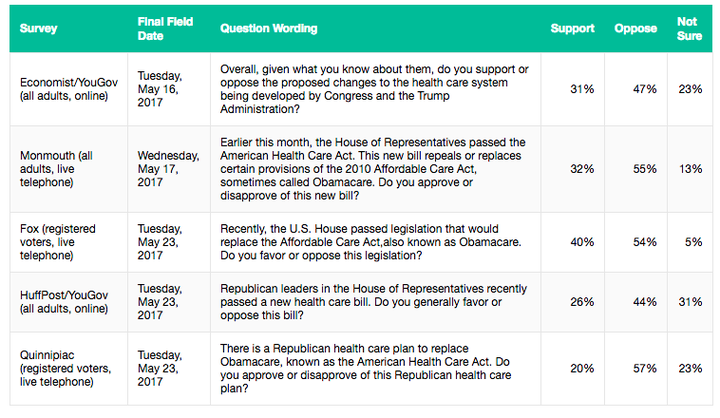 MORE OF THE LATEST POLLING NEWS:
GOP WINS IN MONTANA CONGRESSIONAL RACE - Republican Greg Gianforte ― who is currently facing charges for allegedly assaulting a reporter ― won the special election for Montana's House seat Thursday night. An early take on what his victory means, from Kyle Kondik: "According to a running tally by Daily Kos Elections, MT-AL represented the 18th [special] election since last November's presidential election, and the Democrat has now performed better than Clinton in 12 of them, and on average they've done 11 points better in terms of margin — a stark contrast to special elections conducted in the leadup to the 2014 midterms, when Democrats routinely undershot Barack Obama's 2012 margins. ... Thursday's results provide both parties with a little bit of mental reinforcement. Republicans avoided a loss that could have further upset their jittery battleground members, and Democrats can point to overall special election trends that suggest the opportunity for significant gains next year if they can be replicated on a nationalized scale. There's a long way to go." [Sabato's Crystal Ball]
Did the assault hurt Gianforte's chances? - Sean Trende: "The alleged assault probably hurt Gianforte. There was some speculation that it might not, and the outcome seems consistent with this. It isn't a crazy theory; picking up and tossing a reporter for a British newspaper isn't necessarily the worst possible news in a state like Montana (or my home state of Oklahoma). But I'm not sure this is what happened. Gianforte's totals ran about even in the early vote and Election Day tallies. While this could be interpreted as evidence that the incident didn't harm him, we should keep in mind that Republicans typically run ahead of Democrats in Election Day voting. We can't know for certain, but it is entirely possible that Gianforte's numbers were depressed by the incident, but that much of the vote was already locked in." [RCP]
What the race could say about 2018 - Harry Enten, prior to the polls' close: "If Gianforte wins by only a small margin or loses, it would be consistent with the three previous special election results so far this year. While Republicans haven't lost a race that a House Republican won in 2016, the Democratic candidates have, on average, outperformed expectations by 16 points. The consistency here is key. Any single House special election is susceptible to district-specific factors. (There's the body-slamming incident, to take just one example. ... But special elections as a group have done a decent job of forecasting the following midterm's House results. When a party vastly underperforms the past presidential vote consistently, it tends to do poorly in the following midterm. If the average House Republican candidate has underperformed nationally by 16 points once all the special elections occur, it would be on par with 2006, when Democrats took back the House." [538]
HERE'S THE MAIN REASON PEOPLE DIDN'T VOTE IN 2016 - HuffPollster: "A quarter of Americans who didn't vote last year say they opted out because they didn't like the candidates or campaign issues, double the percentage who gave the same reason in 2012. About 13 percent of non-voters named that as a reason for not voting in 2012, according to U.S. Census data on turnout released this month. Twenty-five percent say it's why they didn't vote in 2016, making it by far the most commonly cited rationale. Fifteen percent of non-voters said they didn't vote last year because they were 'not interested,' while 14 percent said they were 'too busy' or had a 'conflicting schedule,' and 12 percent cited an 'illness or disability.' Dissatisfaction with candidates or campaign issues has been increasing since 2000, when the Census first asked about reasons for not voting with their current wording. However, the change in 2016 is the largest jump so far." [HuffPost]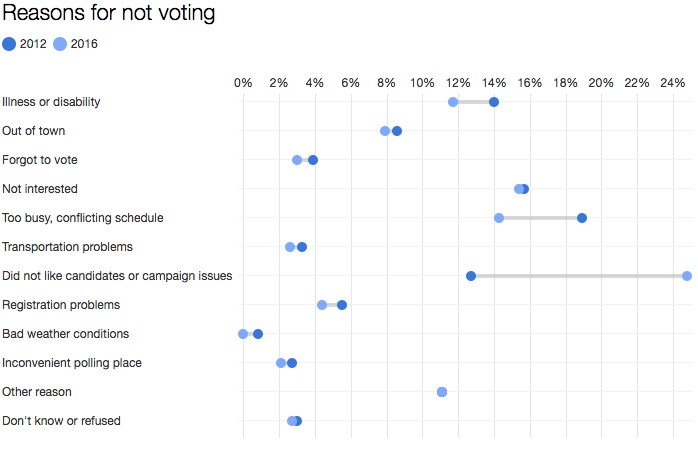 MOST AMERICANS AREN'T PERSONALLY CONCERNED ABOUT TERRORISM - HuffPollster: "Most Americans aren't worried they'll be personally affected by an act of terrorism, according to a HuffPost/YouGov poll taken this week in the wake of an attack in Manchester, England. Thirty-nine percent of Americans say they're concerned that they or someone in their family will become a victim of terrorism, with 12 percent saying they worry a great deal, and 27 percent saying they worry only somewhat. Another 50 percent say they're not very worried, or not worried at all. That's a modest uptick from a February poll, in which 32 percent were at least somewhat worried and 57 percent were not very worried or not worried at all. It's not clear whether the change has any direct relationship to the attack in Manchester. Concerns about gun violence also ticked up, from 33 percent in March to 37 percent in the most recent poll." [HuffPost]
RECENT SURVEYS OFFER LITTLE GOOD NEWS FOR PRESIDENT TRUMP - A sampling of the key findings from national polls this week:
Fox News: "American voters disagree with President Trump's firing of FBI Director James Comey, think the dismissal was for self-serving reasons, and approve of a special counsel being appointed to investigate Russian government efforts to influence the election and the Trump campaign.  In addition, a majority opposes the Republican plan to replace Obamacare."
Monmouth University: "Donald Trump promised to 'drain the swamp' when he got to Washington, but only 1-in-4 Americans think he is making progress on that front. In fact, an even larger number think he is actually making the swamp worse, according to the latest Monmouth University Poll. Only one-third of the public feels the president gives enough attention to bread and butter issues important to American families. On the congressional front, many believe that the House passed the Affordable Health Care Act (AHCA) primarily to give Republicans a political win rather than fix the health care system."
Quinnipiac University: "American voters believe 54-43 percent that President Donald Trump is abusing the powers of his office, according to a Quinnipiac University national poll released today. ... The president is under water among every party, gender, educational, age and racial group except Republicans, who approve 84-13 percent; white voters with no college degree, who approve 52-40 percent, and white men who are split 47-46 percent."
'OUTLIERS' ― Links to the best of news at the intersection of polling, politics and political data:
Calling all HuffPost superfans!
Sign up for membership to become a founding member and help shape HuffPost's next chapter