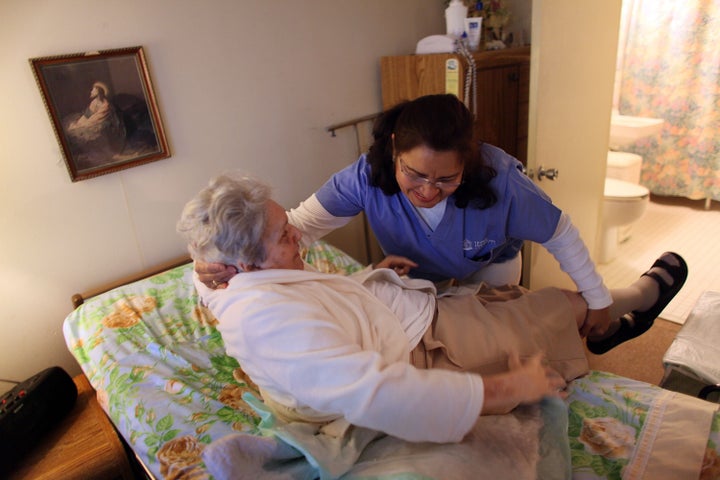 WASHINGTON -- Though many of the people they care for wouldn't know it, the roughly two million home care aides who tend to the elderly and disabled don't enjoy the basic protections of most American workers, such as a guaranteed minimum wage and time-and-a-half for overtime. But a new federal rule could change that, boosting the pay for a growing legion of workers in a booming industry.
The White House is now considering a rule proposed by the Department of Labor that could change labor law for the home care industry. If approved by the Office of Management and Budget, the rule is expected to remove a controversial 36-year-old exemption for home care aides from the Fair Labor Standards Act, likely affording them the right to overtime pay.
For many of the estimated 1.7 million home care workers, the rule would mean higher paychecks in what's considered an emotionally trying yet low-wage line of work. But for some home-care companies, the rule could translate into higher labor costs they claim will necessarily be passed on to customers, some of whom are on fixed incomes and rely on Medicare and Medicaid reimbursements.
Paul Sonn, legal co-director of the National Employment Law Project, which advocates on behalf of low-wage workers, says the rule change would provide some much-needed baseline protections and help reduce the high turnover rate in one of the fastest-growing fields.
"It's a really important change to build a foundation for improving these jobs," says Sonn. "We use this as modest first step."
Paul Hogan is less excited about the prospect. As CEO of Nebraska-based Home Instead Senior Care, a national home-care chain with 900 franchise offices, Hogan claims the rule change will make costs untenable in some cases.
"It will drive up our costs, which in turn drives up our prices," says Hogan. "Our clients and their families do not want to pay for overtime, and they will go to alternatives."
Home care aides were excluded from fair labor protections in 1975, when Congress passed an amendment granting such rights to most domestic workers who cook, clean, and perform other household duties. Health aides were carved out of the amendment in the so-called "companionship exemption," which exempted casual workers like babysitters or people who provide "companionship" to the elderly in their homes.
But the home care industry is a vastly different animal these days. Many millions of retirees are now hitting their golden years, at a time when the prevailing wisdom says the elderly should live out their last years at home whenever possible. As a result, the demand for home care continues to swell, making it a fast-growing slice in the already-booming health care sector.
According to Sonn, modern home care workers aren't the babysitters that legislators may have had in mind in 1975. "The scenarios that Congress was imagining in this narrow exemption really were very limited and don't look like the professional health care industry we have now," he says.
In 2007, the Supreme Court affirmed the companionship exemption, ruling against a 73-year-old home care aide named Evelyn Coke who sued her employer over unpaid overtime. According to the decision, any change to the rule would have to come from Congress or the Labor Department, which is why the rule change now sits with the White House. (Since the Coke ruling, opponents of the companionship exemption have found a vocal ally in the New York Times editorial board, which on more than one occasion has described the exemption as an injustice, most recently last week.)
Both sides of the debate agree the issue is mostly about overtime pay, as well as pay during travel from client to client. Home care aides tend to already earn more than the minimum wage, but many of them work well over 40 hours a week earning pay only for "straight time."
One home care aide in Florida, who asks that her name not be used to protect her job, says she works more than 70 hours on most weeks. She earns $10 per hour, regardless of how many hours she logs. The rule change would add significantly to her paycheck, she says. In addition to the overtime, it would entitle her to be paid for the time she spends traveling between sites. She'll often have to visit three or four clients in a day, driving her own vehicle off the clock.
Her husband, who works in a beverage warehouse, is "flabbergasted" by her pay arrangement, the woman says.
"I have to work twice as much to take home what he makes in a week," she says. "My life pretty much revolves around my job. A lot of that is by choice, because I love doing what I do."
Despite her meager pay, she doesn't dispute Hogan's contention that prices would rise for clients, putting her services out of reach for some. "Some can afford it, some can't," she says.
Hogan says his primary concern is that his company will end up paying overtime on hours that many workers can spend sleeping during overnights. "It's not fair to charge a senior based on time-and-a-half for someone sleeping in the home," he says. He also says that in an effort to contain overtime costs, companies may end up limiting the time a home aide spends with a client, disrupting the "continuity of care" from a particular worker that many clients expect.
But David Ward, the policy director at Direct Care Alliance, which advocates for home care aides and nursing assistants, argues that the rule change would ultimately make the job more secure and appealing, leading to less turnover and more continuity of care. The idea that the system can't accommodate overtime pay is "a myth," he says.
"Opponents [of the rule change] see labor as another input," says Ward. "The problem is the turnover rates in this industry are demonstrating that it doesn't work. We need to make greater investment in the workers. There's going to be an increasing demand."
Even if the White House approves the rule change and the Labor Department enacts it, the rule won't necessarily stick. A bill introduced in the House of Representatives in September seeks to preserve the companionship exemption for good. It was sponsored by Rep. Lee Terry (R-Neb.), whose district includes the Omaha headquarters of Home Instead.
In an email to HuffPost, Terry spokesman Charles Isom says the bill would help "ensure caregiver services remain affordable and flexible while also providing a sense of security for those who need specialized care."
Regardless of what happens with the rule, the Florida worker says she'll continue working as a home care aide, sometimes driving 70 miles a day just to reach all her clients. She works all those hours in spite of her paycheck, not because of it, she says.
"If you're in this job for money, you're in it for the wrong reason," she says. "But I'd like to see that change someday."
Popular in the Community