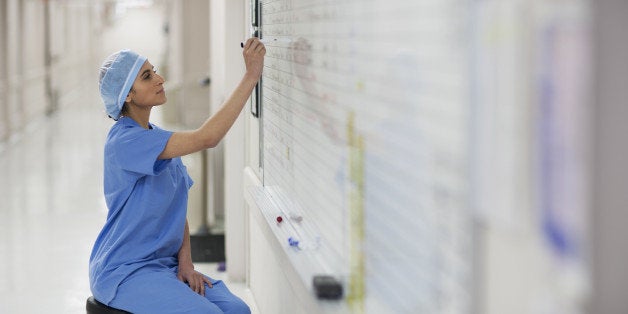 There's a health care crisis in the U.S. that's gone unreported for far too long. It's not about prescription drugs or insurance plans. It's about low-paying jobs that leave our frontline health care workers -- hospital workers, home care workers -- struggling to afford groceries, rent, or even their own doctors' visits. It's about the high turnover in these low-paying jobs that leaves too many families without access to the care they need. As a registered nurse for the past 25 years, and in home care for five of those years, I see this crisis firsthand.
Health care workers do some of the most valuable work in society, and it's not reflected in their current pay. While nurses are crucial to health services, hospitals also rely on food service workers, radiology and laboratory technicians, secretaries, housekeepers, and many more to run effectively. And when seniors and people with disabilities return home after a hospital stay, they often depend on home care workers.
Between now and 2024, the health care workforce is expected to grow by 3.8 million workers, the largest number of jobs added in any sector in the next decade. But if we don't fix the wages and working conditions paid to hundreds of thousands of care providers, we won't be able to meet our community's needs. And those needs are growing fast. Ten thousand people turn 65 every day, but because of low wages and lack of support on the job, our home care workforce can't keep up. Today, nationwide, there are nine consumers who need these services for every one home care provider, but in my home state of Washington and in many other states, the care gap is even bigger.
To ensure all families have access to care when and where they need it, we need more care providers. The first step to building a stable workforce is to make caregiving jobs good jobs, with higher wages and benefits.
This crisis isn't just about health care workers. Our patients and their families feel the devastating effects of low pay, too. In my hospital, it's all too common to hear about a mom who can't take time off work to recuperate because she won't get paid or a dad who can't afford the insulin and supplies necessary to keep his diabetes under control. Nurses do all we can for our patients while they're in the hospital, but too often, our patients don't have the financial means to manage their illnesses at home and wind up back in the hospital.
That's why nurses like me are joining the Fight for $15 -- we see that families everywhere need $15 an hour to stay healthy and health care workers need $15 to support themselves and their families while caring for others.
I'm inspired by home care workers, who have been leading the Fight for $15 movement in cities across the country. The demand for $15 an hour and union rights has led to real wins that are improving the lives of caregivers and the quality of care. At my hospital, Swedish-Providence in Seattle, hospital workers united together and won better staffing, secure benefits and a $15 minimum wage for the 7,500 workers in our Swedish-Providence system. Nurses saw the toll low pay was taking on members of our health care team and stood with our co-workers; if a single mother has to work two or three jobs and is worried about her family's basic essentials, she isn't able to bring her best focus and energy to go above and beyond to care for our patients.
Our win at Swedish-Providence paved the way for other health care systems and communities to follow suit. Washington State home care providers worked with lawmakers in Olympia and as a result most of the 40,000 home care workers in our state will see a pay increase to $14 an hour and retirement security, a significant boost to keep and attract needed caregivers for our seniors. Similarly, our co-workers at Group Health clinics and facilities won a $15 an hour minimum at all facilities, statewide.
In the last year, hospital and home care workers from Minnesota to California to Massachusetts andOregon have won $15, too. City by city, state by state, similar gains are being made across the country.
Our movement for higher wages and a union isn't just about the fast food workers in New York City who first went on strike -- or the home care providers, child care workers, adjunct professors or airport service workers who have joined them. This is a movement of people, from big cities and small towns alike, who believe that if you work hard you should make enough to make ends meet and take care of yourself when you're sick.
2015 was just the beginning. In 2016, as elected representatives and candidates in both parties debate how to fix our health care system, nurses at hospitals around the country are calling on them to stand with care providers and make health care jobs good jobs. We know that a living wage for underpaid moms and dads is what's needed to get our economy back on track. $15 for health care workers will strengthen our communities and allow all of us to provide the best care possible for all families.
Related
Popular in the Community