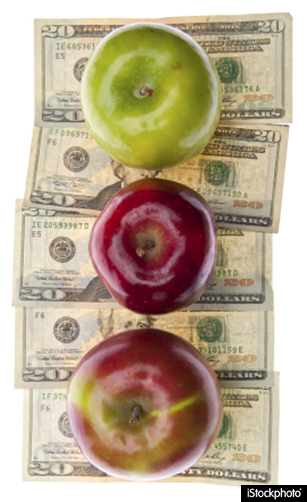 Is good nutrition developing a bad reputation based on outrageous costs?
A number of recent studies have demonstrated the increasing cost of fresh, nutritious food. Conventional wisdom suggests that this cost can keep you from eating as healthfully as you might like -- this makes it difficult for many people who would rather buy and prepare unprocessed, natural foods.
But is eating healthy really as expensive as everyone claims?
Study Claims a Healthy Diet Costs 10x More -- But Is It Misleading?
Much of the recent rabble surrounding the price of food stems from a 2007 study by University of Washington. This study compared the price of snack foods to fresh fruits and vegetables.
In particular, the study claims that eating a healthy diet can cost up to 10 times as much as a diet based on junk food. Well, no wonder people don't eat healthy! With numbers like that, who could afford to?
As it turns out, though, the study uses price per calorie, as it's an easy metric for determining the cost of food. This means that when comparing junk foods loaded with fat and sugar to nutrient-dense foods like spinach, broccoli or apples, the junk food is going to dominate calorie count every time!
If we discount the fact that the calories in junk food are, by and large, nutritionally worthless, a more appropriate metric would be price per serving. Fruits and veggies, by nature, have a much lower calorie count per serving (hint: that's partly why they're better for you).
Let's look at an example:
serving
It's pretty clear that the junk food items (that would be the Doritos and Twinkies, in case you're wondering) are the champions of price per calorie, both coming in at a fraction of a cent. But when we look at the price per serving numbers, all of a sudden the playing field levels, making the fresh fruit and veggies actually come out a bit cheaper!
How Much Does It Really Cost to Eat Healthy?
According to a New York Times article about the study, the average American spends $7 a day on food -- nearly $50 a week -- so I decided to put together a healthy meal plan for a day to see how it compares to the national average. While I do live in Klamath Falls, Oregon, which is less expensive than a metropolitan area, this daily plan is for a 6-foot, 3-inch, 200-pound man, so I'm not exactly skimping on calories here. Check it out:
Breakfast:
Scrambled eggs with cheese
Oatmeal with raisins and honey
Lunch:
Turkey sandwich with whole-grain bread, cheese, avocado, tomato and lettuce
Dinner:
Grilled chicken breast
Steamed broccoli
Baked sweet potato
Snacks:
Shopping list in hand, I set out for my local supermarket, ready for the massive grocery bill I was about to face. You can imagine my relief when I found that my little shopping trip was not nearly as costly as the doom-speakers would have me believe. Fresh fruit and vegetables are actually not that expensive and even the meat and dairy is quite reasonable, if you know what to look for. Here's the breakdown of what I bought:
The meat and cheese were the most expensive part of the whole trip, but even so, they were not unreasonable. Now here's how those prices apply to the meal plan for the day:
Wow. So there you have it: a whopping $5.83 for me to make healthy meals throughout the entire day. That's 17 percent below the national average!
As you can see, these studies that count calorie-value, and the articles promoting them, are misleading at best and dangerously disingenuous at worst. It's this kind of self-perpetuating nonsense that makes people give up on the notion of a healthy diet. If you have hugely popular mainstream media like the New York Times spreading the idea that most people will never be able to afford nutritious food, what kind of chance do they have?
Related