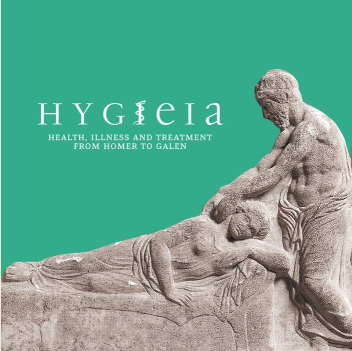 Did our ancestors worry about their diet? Did they exercise? How would an athlete treat his injuries 2,500 years ago? Why did they use opium? When did they visit spas? How did they cope with issues of public health and hygiene?
How do you tempt the public today and how do you make an archaeological exhibition relevant to everyone? In a small country like Greece, such a challenge for an archaeological museum becomes even more remarkable.
So, gearing up for Hygieia: Health, Illness and Treatment from Homer to Galen, our upcoming 2014 exhibition opening next fall at the Museum of Cycladic Art in Greece, is a most interesting bet: 300 artifacts with the participation of 42 international museums, including the Louvre, the British Museum, the National Archaeological Museum of Athens, and the Musei Capitolini.
The evolution of ancient medical practices -- how the Greeks of the Homeric period linked sickness and disease with the supernatural, tying them to the wrath of the gods -- is what this new exhibition will be all about. Our earliest literary sources for the history of Greek medicine are the epic works of Homer. To appease the gods, they employed prayers, purifications, animal sacrifices, etc. Even the idea of health (Hygieia) was personified as a wonderful goddess depicted mostly in the figure of a snake.
By the late 6th century BC, however, philosophy came to exercise a powerful influence upon the development of medicine. Hippocrates and the classical Greeks were the first to evolve rational systems of medicine free from magical and religious elements, realizing that maintaining good health and fighting disease depend on natural causes.
Two lectures in Boston and New York will offer a preview of the upcoming show highlighting the astonishing links between the past and the present, proving once more of the significance and marvel of the ancient Greek civilization.
The lectures are given on the occasion of the future exhibition Hygieia: Health, Illness and Treatment from Homer to Galen. The exhibition of the Museum of Cycladic Art, curated by Prof. Nicholas Chr. Stampolidis, Director of the MCA, and Yorgos Tassoulas, Curator of Antiquities of the MCA.

Lectures Info:
Monday 4 November 2013 (4.00 p.m.), lecture at the Harvard Medical School, Boston
The event is being hosted by the Department of Cell Biology and sponsored by Fondation Santé.
Thursday 7 November 2013 (7.00 p.m.), lecture at the American Museum of Natural History, NYC.
The event is generously sponsored by J.P.Morgan Private Bank, and supported by Dolphin Capital Investors and Famar Healthcare Services.
Exhibition Info:
Museum of Cycladic Art
Opening November 2014
MCA | 4 Neofytou Douka str, Athens, Greece | Τ: +30 210 7228321-3 | www.cycladic.gr
REAL LIFE. REAL NEWS. REAL VOICES.
Help us tell more of the stories that matter from voices that too often remain unheard.