Federal health officials are convening to discuss whether Americans should have three vaccines for the mumps instead of two, The Washington Post first reported this week.
The Advisory Committee on Immunization Practices' deliberation is expected to take a full year and is in response to the large number of mumps outbreaks in the U.S. in recent years ― most notably in 2016, when there were more than 5,000 cases, This trend appears to be continuing into 2017, and it's occurring not in communities with pockets of low-vaccination rates, but instead in areas where vaccine coverage is robust.
ACIP liaison member Patsy Stinchfield, who represents the National Association of Pediatric Nurse Practitioners, said the workgroup of experts would dive deeper into the mumps situation, "given we have had significant cases of mumps in 2006, 2010 and now again in 2016."
These virus outbreaks could be a sign that the current two-shot schedule, which is given in combination with vaccines for measles and rubella between the ages of 12 and 15 months and then when children are between 4-6 years old, may not be strong enough to prevent an infection. Two doses of the MMR shot protects against mumps 88 percent of the time, while one shot is 78 percent effective. In contrast, two doses of the vaccine protects against measles 97 percent of the time, and just one shot is 97 percent effective against rubella.
"At present, mumps does not come as a single antigen vaccine and is available only as combined MMR vaccine so deliberating a third dose would also need to consider extra doses of measles and rubella," said Stinchfield, who is Senior Director of Infection Prevention at Children's Hospitals and Clinics of Minnesota.
Some of the questions the advisory group will consider include why the outbreaks only seem to be occurring among teens and young adults, but not older adults, Stinchfield said.
"In general, receiving extra doses of MMR vaccine is not ideal but poses little to no medical problems."
The committee will examine the context of the most recent outbreaks, which for the most part have taken place on college campuses, but not on military bases, which also house similarly aged people in close quarters. The committee will also consider if vaccine storage and handling techniques, or a shift in the mumps genotype compared to the vaccine, could explain the outbreaks.
And because the mumps dose is part of a combination vaccine, the committee will examine any potential adverse effects that may come with getting a third MMR shot ― although due to poor record keeping or a person's uncertainty about their history, Stinchfield said she has often seen patients who have received more than two MMR shots.
"In general, receiving extra doses of MMR vaccine is not ideal but poses little to no medical problems," she said.
"Multiple doses and adverse events will also be analyzed by the workgroup."
In short, local health officials should consider a campaign for a third MMR shot if the outbreak is happening among people with a 90 percent or higher two-dose MMR coverage rate and if there are signs that transmission has gone on for more than two weeks. And an attack rate of more than five cases per 1,000 people could help local health leaders decide to encourage a third shot.
In January alone, there were 495 reported mumps infections. Last year there were 5,311 cases. In 2006, the last year there was a large spike in reports, there were more than 5,700 cases, many of which were among fully vaccinated college students.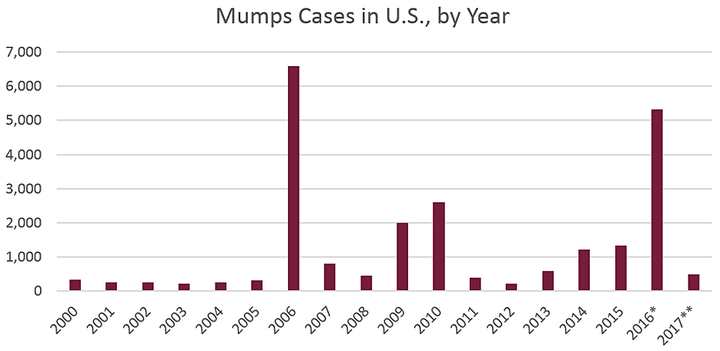 "Remember, mumps is not just a cute chipmunk face associated with an upper respiratory illness," Stinchfield said. "We vaccinate against it because mumps can cause encephalitis, meningitis, deafness, oophoritis (ovary swelling) and orchitis (testicular swelling)."
People with mumps can also experience fever, headache, fatigue and inflammation of the salivary glands, causing patients' necks to swell, or even mastitis, inflammation of the breast tissue.
Once you're exposed to the virus, it can take an average of 16 to 18 days for symptoms to set in, although some infections can cause very mild symptoms, or no symptoms at all.
It is passed along through saliva and mucus, so kissing or sharing eating and drinking utensils with infected people puts you at risk. Simply living in close quarters with infected people could also put you in harm's way, which explains why many of the most recent outbreaks in the U.S. have taken place at universities. In response, some of these universities held large-scale vaccination campaigns to give students a third shot of the vaccine. In 2014, there were also mumps outbreaks among several National Hockey League teams.
In one recent outbreak that spanned from 2015 to 2016, people at the University of Illinois at Urbana-Champaign started getting mumps despite the fact that most of them had received two recommended mumps vaccines. In response, the university health center recommended that all students and staff born in 1957 and afterward receive a third MMR vaccine, and about 11,500 complied.
In total, 317 became infected with the mumps at that campus, even though 73 percent of them had received the usual two doses. In fact, another 45 of those who got the mumps had gotten three vaccines, with the third shot being administered during the outbreak, although experts suspect that they had gotten infected before the vaccine had a chance to kick in.
Lest you think this is evidence that the MMR vaccine isn't worth the hassle, consider this: Before the mumps vaccine was introduced in 1967, the virus used to be considered a universal disease of childhood, according to the CDC. Most children got the virus by the time they were 14 years old. Outbreaks were also common in the military, especially at the most inconvenient of times — such as mobilization.
But once the vaccine became a national recommendation, the disease rates plunged. In 1968, one year after the shot was introduced, there were 152,209 reported cases. By the early 2000s, those reported cases had dropped 99 percent to an average of less than 270 annually.
And The Washington Post noted in its report this week that even though recent outbreaks spread among a population that was mostly vaccinated against mumps, the vaccine appeared to mitigate the severity of the disease. In Arkansas, where about 2,800 people have gotten mumps since 2016, only 17 people experienced inflammation of the testicles. Without vaccines, that number could have been as high as 700 or 800.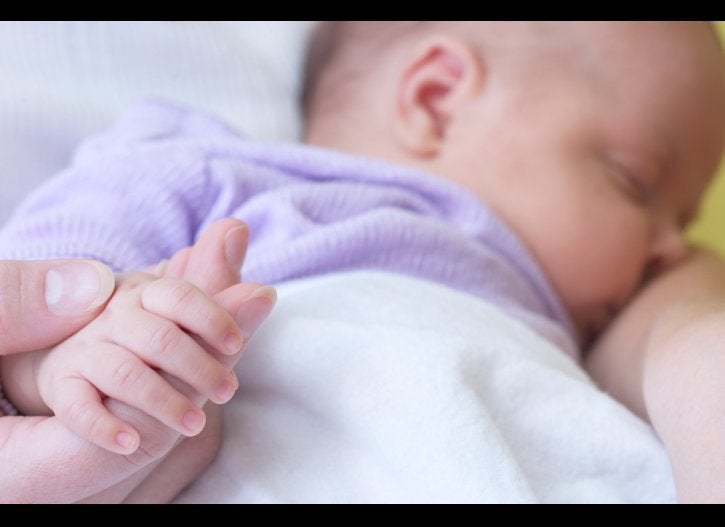 12 Vaccines For Your Child