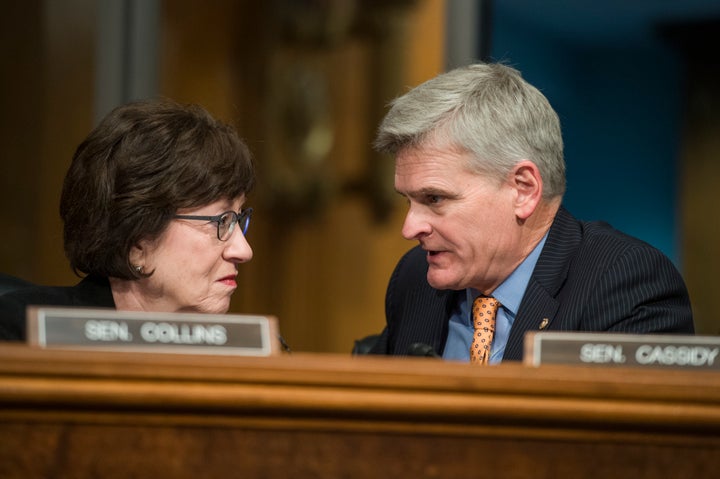 WASHINGTON ― While House Republicans have reanimated their push to repeal the Affordable Care Act by crafting a plan to appease conservatives, Senate moderates on Wednesday were already expressing serious doubts about the new proposal.
The new idea that has won praise from members of the House Freedom Caucus involves allowing states to let insurers ignore essential health benefits guaranteed under Obamacare, as well as protections for people with pre-existing medical conditions.
Most Republicans in the Senate have said they want to keep Obamacare's popular pre-existing condition rules. But perhaps more importantly, a half-dozen moderates were already on record opposing the earlier, less-extreme repeal bill that failed to get a vote in the House.
The new GOP House bill keeps those cuts.
The senators who were opposed before did not issue outright rejections of the new scheme, but made clear they do not think the House bill will pass in the Senate.
Sen. Bill Cassidy (R-La.), who sponsored his own plan with moderate Maine GOP Sen. Susan Collins, praised the House for creating "movement" toward some kind of common ground. But he also said it was the wrong approach.
"If we're going to lower premiums, and that's one of the president's pledges, you have to restore the law of big numbers, which is to say that insurance companies have to know that the individual market is just not old and sick," Cassidy told reporters, pointing to Congressional Budget Office estimates that younger, healthier people would flee insurance markets if not mandated to buy coverage.
The CBO estimated that 24 million people would lose or drop coverage under the previous House plan, while premiums would spike, at least initially.
"The CBO is saying that we would lose so many young people from the pool, it probably means that's the reason premiums go up 20 percent," Cassidy said.
Collins did not immediately discuss her concerns, but offered a firm "yes" when asked if she was concerned about health care issues, including potential payment cuts by the administration this year. (Those reductions were later taken off the table.)
Collins also suggested she was likely to agree with Rep. Charlie Dent (R-Pa.), a moderate from outside Philadelphia who opposes the House plan.
The repeal bill can only lose two Republicans and still pass the Senate. The Cassidy and Collins alternative measure has four other Republican co-sponsors.
Cassidy suggested that the solution may be for the House and Senate to pass their separate versions, then have the White House work with both chambers to reconcile the differences. He was not able to explain how the Trump administration could actually accomplish this after failing to walk the tightrope between moderates and conservatives in the House, though Cassidy insisted it would be possible.
Beyond the opposition from moderates in the Senate, the revived House bill could also face challenges from conservative senators.
Sen. Rand Paul (R-Ky.) told reporters the government shouldn't be in the business of paying insurance companies at all.
"My reaction in general is I think the Freedom Caucus has done a good job trying to make the bill less bad," Paul said before getting to his caveat. "For me, it's a big stumbling block still that there's taxpayer money that's being given to insurance companies. And I'm just not in favor of taxpayer money going to insurance companies."
Other Republicans whose previously expressed concerns would not be solved by the new House bill include Sen. Rob Portman (Ohio), Shelley Moore Capito (W.Va.), Lisa Murkowski (Alaska), and Cory Gardner (Colo.).
Popular in the Community