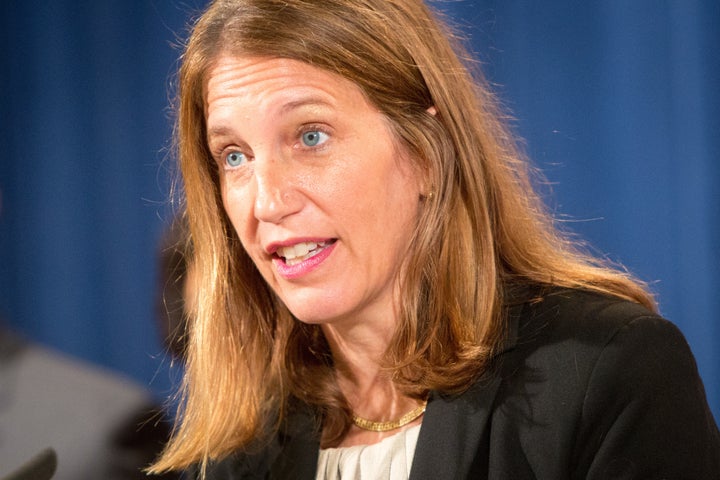 WASHINGTON ― Health and Human Services Secretary Sylvia Burwell delivered a letter to key lawmakers on Wednesday that explained exactly how their underfunded response to the Zika virus is screwing Americans over.
President Barack Obama asked Congress for $1.9 billion in February to deal with the impending outbreak of Zika in the United States. Congress finally began working on the request in May, with the Senate passing a bipartisan compromise that was about $800 million short.
The bill got tanked in a partisan squabble last month after Republicans decided to add in contraception restrictions, a pro-Confederate flag provision, extra cuts to Obamacare, and a measure to exempt pesticides from the Clean Water Act, even though those pesticides don't target Zika-carrying mosquitoes.
They then departed for a seven-week break while sending a sternly worded letter to Obama, saying he should take aggressive action to battle Zika using the $589 million the administration transferred from other programs, taken primarily from the ongoing Ebola response. GOP lawmakers have also complained recently that the money is not being spent quickly enough, with nearly two-thirds still available.
Wednesday, Burwell detailed how that money is being spent, and how key programs actually will run dry this month if Congress does not act.
"Now that the United States is in the height of mosquito season and with the progress in developing a Zika vaccine, the need for additional resources is critical," she wrote to the top members of the appropriations committees in the House and Senate. "Without additional funding as requested in the President's request for an emergency supplemental, our nation's ability to effectively respond to Zika will be impaired."
The programs that will be the most immediately affected include efforts to develop vaccines and better diagnostic tools, Burwell said, echoing warnings issued Monday by the administration.
She also said that efforts to track and control the spread of the disease and virus-carrying mosquitoes, as well as to understand Zika's impact on mothers and babies, would all be hampered.
Now that the United States is in the height of mosquito season and with the progress in developing a Zika vaccine, the need for additional resources is critical.

Health and Human Services Secretary Sylvia Burwell
Money that has not yet been spent by the Centers for Disease Control and Prevention will be gone by the end of September, the end of the fiscal year, Burwell said. That's when many Republicans have said they'd be willing to earmark new Zika funding.
Burwell did hint that she was looking at additional ways to manipulate funding streams.
"In regards to the immediate needs that [the National Institutes of Health] and [Biomedical Advanced Research and Development Authority] face, I am evaluating all options in order to avoid delaying the development of a Zika vaccine," she said. "At the same time, I want to urge you to work with your leadership to develop a bipartisan bill that will allow us to mount the full and timely response to the Zika virus that the American people deserve."
Republican leaders in both chambers have refused to reopen talks on the Zika bill. Spokespeople for both House Speaker Paul Ryan (R-Wis.) and Senate Majority Leader Mitch McConnell (R-Ky.) both said in a response to Burwell that the Democrats were to blame for objecting to the partisan riders that Republicans attached to the Zika bill.
Rep. Hal Rogers (R-Ky.), the chairman of the House Appropriations Committee who would likely lead any new efforts to pass a clean Zika funding bill, also blamed Democrats, saying there was nothing wrong with the GOP-crafted bills. 
"Zika is a dangerous disease and the risk it poses continues to grow. We must do what we can to fight it and prevent its spread," Rogers said in a statement. "That is why twice now the House has passed comprehensive and responsible funding legislation to provide resources for Zika response and prevention. We continue to call on the Senate to approve this funding, so that these dollars can be used immediately to stop this devastating epidemic."
At least 14 people have now contracted Zika in Miami, and federal health officials have taken the unprecedented step of warning pregnant women not to visit the area. 
Read Burwell's full letter here.
Calling all HuffPost superfans!
Sign up for membership to become a founding member and help shape HuffPost's next chapter
BEFORE YOU GO