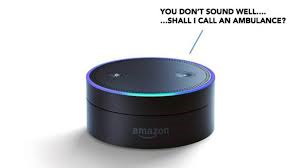 Health is the new black if this year's annual CES 2018 is an indicator. Even the new connected cars have a health story to tell at this yearly get-together of shiny new-new things in consumer-facing technology.
Over 100,000 technophiles from around the globe are expected to attend this meet-up, whose exhibition spaces are located throughout Las Vegas. No longer can all these digital things that consumers have come to love, or at least depend on, be housed in the city's Convention Center. This year, the shiny objects are located in at least five spaces around town.
The over-arching themes at CES 2018 are artificial intelligence (AI), Big Data analytics, drones, robotics, and security (cyber as well as physical home safety). The great universal unifier is the Internet-of-Things. Samsung told us two years ago that the company's goals was that every one of their goods could connect to the Internet by 2020. This year, Samsung's head of North American business told us that this year, 90% of their products would connect, so the company will likely make their audacious goal.
Samsung's objective speaks to our growing way of life that finds us all connected, all-the-time. But it's not just your phone or mobile device that's connected: it's your fridge as the family hub at home, the whiteboard at work, the television (binge-watching, anyone?), and the new definition of mobile device, your car.
So Samsung is collaborating with Harman on that, and every car manufacture announcing various connected and autonomous initiatives at CES 2018. Increasingly, these connect to health and wellness, beyond traditional safety concerns.
A particularly interesting collaboration for health and wellness in auto tech is the supplier Faurecia, which is working with Amazon and Accenture. With Amazon, Faurecia, which designs and builds interiors for original equipment manufacturers globally, will incorporate Alexa and her skills into the auto experience. These will go well beyond music (one of consumers' early Alexa demands). With Accenture, Faurecia is partnering to learn about healthcare applications, from blood pressure sensors to ergonomic design that's personalized for both driver and passengers.
That's the new definition of mobile health, but more traditionally, CES features thousands of square feet devoted to wearable tech for fitness and healthcare, whether for athletic performance optimization or for helping people managing diabetes in tracking blood glucose and adjusting medications.
More of these tech innovations are getting personalized, thanks to AI, crowdsourcing of lots of consumer data, and then livestreaming videos or coaching during workouts or clinCES cal encounters. This year, there's more serious application of precision medicine coupling with consumer-facing health tools. And there's more science-based evidence for many of the applications, like genetic test results getting baked into nutrition advice for weight loss (see Modus and DNA Fit).
Beauty tech is going beyond our ability to color-mix lipstick palettes at home: you can find devices that grow hair, or eliminate it, depending on your personal goals when it comes to your pate. Dermatologist-grade devices for skin care are now consumer-scaled and priced for people who want to DIY skin solutions in the privacy of home.
The baby's nursery is now connected via IoT devices, from onesies that are woven with biometric sensors to smart feeding breast pumps and bottles, thermometers, and of course, Alexa is part of baby's room, too, so parents can command-and-control lullabyes, lights on-and-off, and temperature.
CES is the supply side of consumer electronics. What of the demand side from patients and consumers? Increasingly, health consumers are spending hard-earned dollars, out-of-pocket, on health care services and supplies that lack transparency of prices, quality, and accessibility. Yes these patients, now taking on the role of consumer, are trying as best as they can to do the right thing for their own care and that for the people for whom they care.
When motivated to health-shop, these health consumers are looking for convenient, accessible, and clearly-priced health-things. In MakerHealth mode, many people finds ways to hack their healthcare: some make things to help track conditions like diabetes, some create methods to help track the many medications in their prescription drug regimens, others meditate to help manage high blood pressure, and most health-engaged people enter the grocery store (whether IRL bricks-and-mortar grocers or online) seeking healthy foodstuffs to project-manage nutrition at home.
CES 2018 offers a lot of tools, some backed by science evidence and others not-so-much, that is a kind of market research testing ground at the start of the year. By the second, third, and fourth quarters, we'll be able to see which products made the cut — that is, in terms of stores' orders, available in our Big Box retailers, consumer electronics stores, and on Amazon and other e-tailers.
The emerging tech-enabled retail ecosystem will help enable our health/care to move where it could appropriate go, at lower cost and ensured level of patient safety based on our risks. Amazon, to be sure; CVS/Aetna (if the merger proceeds with regulatory approval); and as-yet-to-be-named collaborations and mergers, will build on platforms, including these retail ecosystems, to deliver health in cost-effective, convenient ways. When designed and implemented with consumers and clinicians life- and work-flows in mind, people can benefit from these new formats of care in terms of quality, cost, convenience, and outcomes.
In spending time away from legacy healthcare players, with companies like Samsung and Faurecia, expanding I've come to more clearly envision and broaden my take on the health care ecosystem with the person/patient/consumer at the center. The implications for health-at-home are huge.
The Holy Grail of our home as medical home may not mainstream for EveryWoman-and-Man by 2020, but Samsung, Philips, and others are laying the foundation for us to move health/care where we live, work, play and learn. Hospitals, clinicians, and medical supply companies — the new front door for health/care will be the patient's home front door.
Calling all HuffPost superfans!
Sign up for membership to become a founding member and help shape HuffPost's next chapter
This post was published on the now-closed HuffPost Contributor platform. Contributors control their own work and posted freely to our site. If you need to flag this entry as abusive,
send us an email
.