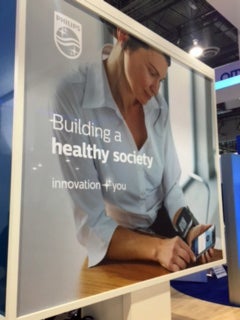 Digital health innovations were fast-proliferating at CES 2017. The bad news is there are so many of them, it's dizzying and fragmented. The good news is that there are emerging health data ecosystems that will streamline consumers' user experience so that people can derive knowledge, actionable advice and value out of using these tools.
Walking miles of aisles in the Sands Convention Center in the first week of January 2017 can be a dizzying prospect, with hype and best-faces-forward in every single exhibitor at the show. In the health segment at CES, there's a long list of digital tools to deal with skin, hair, nausea, pain, food and nutrition, sex, fitness, heart, waking up, getting to sleep, respiratory, health step tracking, muscle building, oral/dental care, baby care, eye and vision health, hearing, gait, posture, mental health and mood, addiction, breathalyzing…from head to toe, there's a specific app or a digital health tech for it.
Close-up, it's a fragmented lot of connected "things" in the context of the larger Internet of Healthy and Medical "things" (IoT). Each one of those things has an app associated with it, so if you're a digitally-engaged health consumer, your personal platform (say, phone) can get very crowded and you can develop health app-overload that can lead to (1) frustration and (2) abandonment. That's not a happy outcome for sustaining health engagement over time.
But in retrospect and quiet analysis, six days after leaving Las Vegas, far away from the casinos and smoke and techno-optimism written into shiny new things' product announcements, one over-arching green-shoot emerges: that a few companies are working very hard to build health data ecosystems that go beyond one app's data to mash up and develop information and advice for people who opt into this personal quantified health scenario.
Start with Philips. I spent some quality time, one-on-one, with Jeroen Tas, the CEO of Philips Connected Care and Health Informatics, for an in-depth conversation on how digital technologies can help to build a healthy society. In 2016, Philips made a big beg to become a pure-play health company. The company has the unique opportunity to bridge consumer health with the clinical world, where Philips has strong footprints in both market spaces and, increasingly, in the Internet of (Healthy and Medical) Things (IoT).
At CES 2017, Philips exhibited many "things" in the company's own health-oriented IoT portfolio, including Lifeline (the personal emergency response system that now has embedded GPS and bolsters social connectivity); connected kitchen appliances; baby-focused innovations such as baby monitors and smart thermometers aligned with the company's Avent uGrow app to help parents and caregivers; a Health Watch targeting heart-health; CPAP devices for respiratory and sleep health; a smart scale and blood pressure monitor; a connected toothbrush; and, finally, research with Mercedes on connecting the car for health.
Other companies exhibiting at CES 2017 are developing health data ecosystems, too. Nokia, which acquired Withings in May 2016, has a corporate commitment to connected health. At CES, the Nokia-Withings combination showed off several innovations in the growing landscape of IoT for health, one of which won a CES Innovation Award: the Kérastase Hair Coach Powered by Withings. This smart hairbrush was developed in collaboration with L'Oréal's Research and Innovation Technology Incubator. The brush couples with a mobile app to provide personalized insights and recommendations to help people better care for their air. This is part of the fast-growing beauty+tech segment at CES. The haircare device complements other Withings health tracking products for activity, weight, blood pressure, temperature, and smarter, healthier homes.
Under Armour is building another health data ecosystem. No longer a strictly athletic gear company, Under Armour's acquisition of MyFitnessPal, MapMyFitness, and other health apps in the past couple of years has afforded the company one of the world's deepest health/food/fitness data mines. This year, Under Armour unveiled the UA Record Equipped line of smart footwear, featuring the Olympic swimmer Michael Phelps demo'ing them at CES. "I wish I had stuff like this eight years ago….It is helping you get the best out of yourself," Phelps told the CES audience. Under Armour also introduced Athlete Recovery Sleepwear, with tagline: "These aren't pajamas. They're advantages." The textile is woven with sensors embedded with technology that absorbs the wearer's natural heat and reflects energy back to the skin to benefit faster athletic recovery, sleep and reduce inflammation. Tom Brady was the celebrity rep on this product.
Fitbit's bet for CES 2017 is to leverage its huge database of millions of users to help people socialize health and wellness, and make health for yourself and with your tribe. This tactic is more about software than hardware. With the largest market share in terms of activity trackers in use (54 million and counting), it's time now to maximally leverage that data via Fitstar, the company's guided workout app. Fitbit is also building out a new Community social feature with content, updating, and trainer-led workouts in peoples' communities.
"We see ourselves as a behavior change company," Tim Roberts, Fitbit's EVP, Interactive Product & Design, told me. "Consumer experience is fundamental to that….Inspiration, motivation, engagement, and guidance that help people change behaviors" will make the difference in helping people sustain healthy behavior over time. Fitbit's data bear this out: people who have a friend on Fitbit take 700 more steps per day. Fitbit is also expanding its own ecosystem working with Medtronic, the medical device company, on the healthcare, regulated side; and, UnitedHealth Group in the health insurance and employer health plan world. Fitbit has been getting more embedded into the clinical side of healthcare, too, with 21 clinical trials currently ongoing with healthcare researchers.
Finally, Omron, a 40-year-old veteran in the wearable heart-health space, is expanding its reach into health through relationships with the American Heart Association, Lark, AliveCor, HealthCorps (the not-for-profit founded by the Oz Family to deal with children's and teen's health), on a collaborative platform for health data with open APIs to enable data sharing. The program, Going for Zero, is dedicated to seeing "zero" heart attacks and strokes in the world.
The company is developing a physician outreach program and consumer health education campaign about heart-health, to create a movement and awareness about how people's tracking blood pressure, along with lifestyle changes and engagement with healthcare providers, can help bend mortality and morbidity of heart disease.
"We want to help save lives," Ranndy Kellogg, Omron President and CEO, told me at CES Unveiled.
The lifestyle inputs and social determinants of health were also alive at CES 2017, which I covered here on The Huffington Post. With a heavy dose of nutrition, Terraillon showed off their wellness ecosystem; Atkins Nutritionals launched Sugar Goggles, a virtual reality (VR) game to educate young people on the virtues of healthy eating; Liberty Mutual discussed their HighwayHero app to boost peoples' safe driving (and financial wellness) through behavioral economic incentives and gamification; and, sleep tech proliferated the conference, to bolster peoples' energy and mental health. Of course, self-healthcare isn't always digital: Theraflu featured a Thermoselfie Kiosk during the convention, with a high-def screen fitted with thermal scanning camera to map one's heat pattern. But the company also distributed a "Cold & Flu Care Package" before the conference with tips to prevent illness at CES. With 165,000 attendees visiting from 150 countries, this was a prime-time opportunity for viruses to replicate on a mass scale.
The fact is that a growing number of health consumers – all of us – want to avoid entering the healthcare system as long as we can through self-care and prevention. "The age of the traditional doctor's visit is over," asserted a recently-published West Monroe Partners' report on consumer-driven healthcare.
We're demanding accessible, convenient, more digital, empowering and well-designed on-ramps to self-care for health, wellness, and disease management. CES 2017 featured apps and tools covering every aspect of wearable tech for health, illness, beauty, mood and mental health.
The point of all these individual digital health tools aren't the hardware devices themselves: it's the data that flows out of them which can be mashed up, analyzed, and fed back to us for personalized self-care. It is early days, but the efforts of these companies and their peers are encouraging. Their hard work at getting the data out of the systems, into algorithms, fed back to us with actionable advice will help us move to address our huge healthcare challenges: access for all health citizens, quality, and lower cost.
Calling all HuffPost superfans!
Sign up for membership to become a founding member and help shape HuffPost's next chapter
This post was published on the now-closed HuffPost Contributor platform. Contributors control their own work and posted freely to our site. If you need to flag this entry as abusive,
send us an email
.