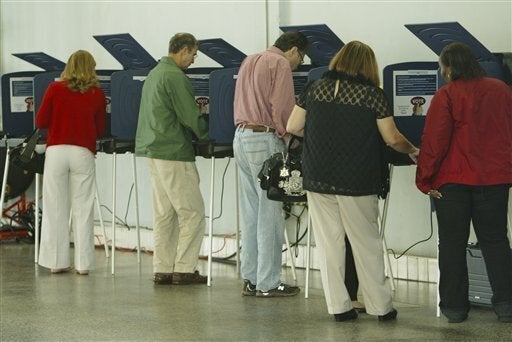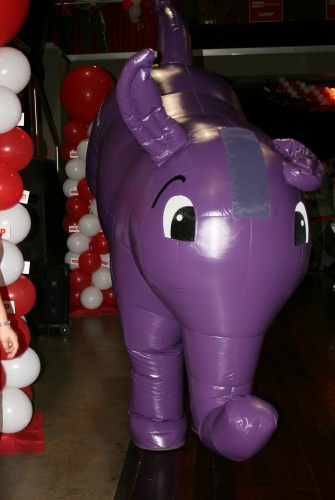 Champ The Donkephant, the 'Divided We Fail' mascot
In an age where 40 is the new 30, 20 might just be the new 60. Younger voters are joining older voter to demand access to health care and are talking about pensions and social security.
Lindsey Ostoski is a 'Divided We Fail' field coordinator in Jacksonville, Florida. She just graduated from college.
She does outreach at universities to involve younger kids in these issues. She's received mostly positive responses.
'Divided We Fail' is a joint effort led by a group of strange bedfellows - the AARP, The Business Roundtable, The Service Employees International Union and the National Federation of Independent Business - to promote bi-partisan solutions to healthcare & financial security.
Lori Parham, the state director for AARP Florida said if this diverse group of people can agree on major principles, then Washington should be able to end its gridlock. She added the AARP membership doesn't like how Washington is conducting business.
Naomi Manning said if we don't do something now there's going to be chaos.
Mukunda Rao is like the many others who are fed up with partisan bickering.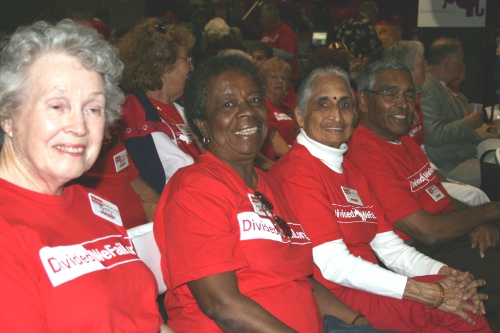 Betty Sulfrige, Naomi Manning, Vijaya Rao, Mukunda Rao
Naomi and Mukunda were 2 of about 150 people who attended a gathering at a South Florida night club-turned meeting hall yesterday to demonstrate support for the effort, listen to what some of the candidates' campaigns had to say and have the campaigns listen to them.
It's doubtful whether the voters and the candidates learned very much from each other. Only four campaigns were represented - Clinton, Huckabee, McCain and Romney. The speakers were mostly by local leaders with the exception of Craig Romney, one of the Governor's sons. The audience applauded politely, but appearances came off as obligatory, and not much of substance was said on the issues.
For instance, no one had a solution to Betty Sulfridge's biggest concern - doctor availability.
It's unlikely President Bush will solve Betty's problem, either. President Bush's solution to health care access is to tweak the tax code and have medical savings accounts. And he gave lip service to Social Security in last night's State of the Union address.
The 'Divided We Fail' campaign doesn't endorse a particular candidate in either party, but they have asked all of the candidates to sign a pledge to work across party lines to solve problems like adequate numbers of Medicare doctors, and other health care and financial security issues. The three leading Democratic candidates, Senator Clinton, Senator Edwards and Senator Obama, have signed the pledge as have Republican candidates Senator John McCain and Governor Mike Huckabee.
Relevant Facts about Florida
Support HuffPost
The Stakes Have Never Been Higher
Related
Popular in the Community