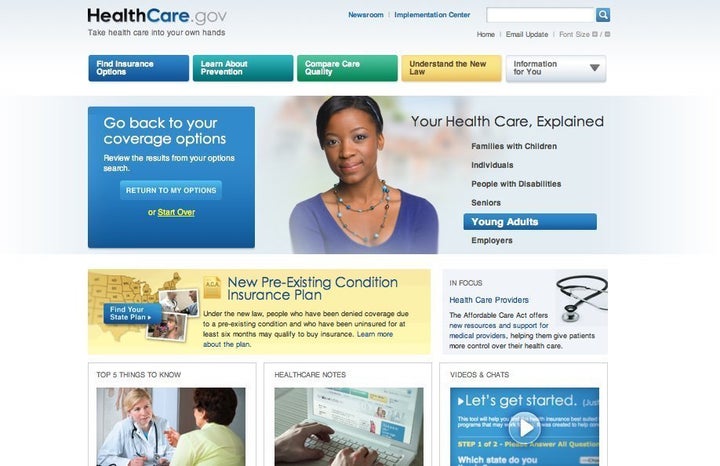 On Thursday, the federal government launched HealthCare.gov, a new website that serves as a one-stop shop for everything you need to know regarding your healthcare.
At first glance, the site looks easy to use and asks users to answer a few questions about where they live, their health, employment status, etc. and then provides customized insurance information that is specific to that individual. It also provides the consumer with information on how to live a healthy lifestyle, the new law and its implications, comparative quality, and more.
The sleek and functional site collects "both public and private health insurance options across the nation in a single place" says Todd Park, the Chief Technology Officer of HealthCare.gov. Secretary of the U.S. Department of Health & Human Services Kathleen Sebelius wrote in a White House blog post that the site "will help take some of the mystery out of shopping for health insurance."
The launch of web page has been met with many positive reviews. Matt Yglesias wrote on his site that the "website is, I think, a great example of better government in action."
Craig Newmark of craiglist.org wrote on the Huffington Post that it is "better customer service from government, and better return for taxpayer dollars, pretty good!"
Similarly, Time's Kate Pickert agrees that the aggregation of content is extremely useful and also that "site is amazingly easily to navigate".
However, Nancy Scola of the Tech President points out that there are a few problems with the site. Scola writes, "A key piece of information is, at this point, missing. HealthCare.gov is slated to have pricing information on each plan option by October of this fall, but it's not there yet." Furthermore, sometimes users are directed to a "Final Note" that tells them to contact their state insurance department for information, but then provides no contact information for them to do so.
Nevertheless, Ezra Klein of the Washington Post calls attention to the fact that the "health-care bill doesn't really kick in until 2014," and so although there may be a few problems now, the advantage of launching the site early allows for more time for the tech team to get it right before it really matters.
Popular in the Community