For Spanish-speaking New Yorkers enrollment in the Health Insurance Marketplace is an uphill battle. Forget about website glitches and traffic overload; there is simply no Spanish-language website through which enrollment can be completed, and the help line is so poorly curated that it gives useless and moronic results when suggesting in-person assistance. During a recent attempt to navigate the NY State of Health system, the Spanish hotline suggested contacting a local organization by the name of "The Lesbian" by dialing the number G-A-Y in order to get more information (listen to audio recording here). What could be an innocent mistake is just another obstacle in a series of hurdles for non-English speakers who want to take part in the nation's latest effort to overhaul the health care system. Recent reports show light at the end of the tunnel for the Affordable Care Act's infamous website: smoother operation, fixed glitches and increasing enrollment numbers are all signs that the ACA may in fact reach its goal of complete operation by Nov. 30. For New York non-English speakers, however, the story doesn't end there.
Latinos are estimated to be the largest group to benefit from ACA; they constitute the second largest ethnic group in the city of New York. The 2010 census calculated that this group makes up for 28.6 percent of the population of the city. In 2007, the American Community Survey (ACS) found that 9.5 percent of the New York Metropolitan Area is Spanish speaking, second only to Los Angeles. Furthermore, the 2010-2012 ACS report showed that out of the 1,829,883 New York City residents that speak Spanish at home, 378,092 reported not speaking English well and 170,019 said they don't speak English at all. Yet they can't enroll in the Health Insurance Marketplace online in their own language.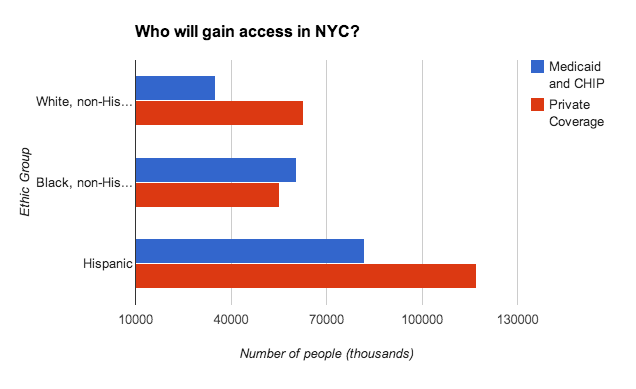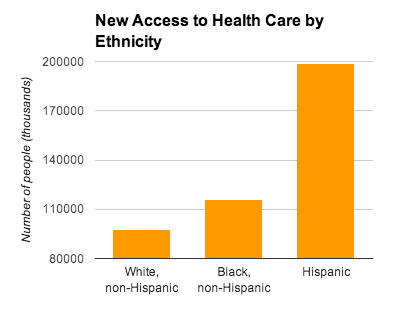 The first step towards enrollment for Spanish speakers is to log onto healthcare.gov. Once there, users can select the Español option on the top right part of their screen. Then, they need to select their state. After choosing New York, a message will let users know that enrollment needs to be done directly through the New York State of Health platform, and provides a link that doesn't work. After the internet-savvy user looks up the website nystateofhealth.ny.gov, they can click on the top-right corner of their screen and choose the "Languages" option. This tab gives a list of phone lines they can call depending on the language that they speak. The site offers assistance in Simplified Chinese, French, Haitian Creole, Italian, Korean, Russian and lastly, Spanish. Counterintuitive sorting when the following chart is taken into consideration: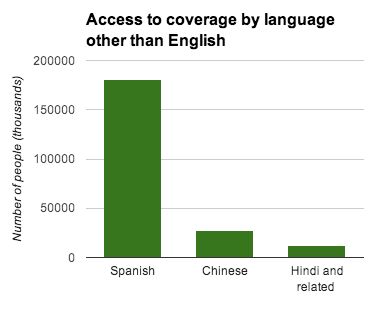 Sebastian, a customer support representative from the NY State of Health chat service, confirmed that there is no Spanish application through their website, and said that they expect to have it by January, although it's still not certain. Considering that users have until Dec. 23 to enroll for coverage that begins on January, this may result problematic for non-English speakers trying to enroll. Excerpts from the live chat below:

Once users are able to find the Spanish help line, the main menu offers to give an automated list of organizations where people can inquire and enroll in person. After selecting that option, the recording provided three options, one of which said the following: "You can communicate with: The Lesbian. Phone number: G-A-Y. To repeat this message, dial 1. To start a new search, dial 2. To go back to the main menu, dial 9. To speak to a representative, dial 5".
As of Nov. 24, the number of New Yorkers enrolled in ACA statewide was 76,177; almost 60 percent higher than during its first month. While numbers are growing, it is unclear whether Spanish-speaking Hispanics will be able to take advantage of the new options that they are eligible for.
The Affordable Care Act vows to "strengthen cultural competency training among health care providers," but what relevance can it really have if users can't enroll in the program? For a legislation that promised a "strong focus on minority health," at this moment the Affordable Care Act in New York State falls short on its promise to Spanish speakers.
REAL LIFE. REAL NEWS. REAL VOICES.
Help us tell more of the stories that matter from voices that too often remain unheard.