The time for holiday beverages is officially upon us, but many drinks we consider holiday-specific are actually just designed for cold weather; mulled wine, hot toddies and hot chocolate can (and should) be enjoyed throughout the winter season. But there's one beverage that's inextricably linked to the Most Wonderful Time of the Year, to the point where it's actually really difficult to find in stores or restaurants once the new year arrives. That's right, we're talking about eggnog.
Also known as "milk punch," eggnog includes cream, egg yolks and spices blended together to make a rich, luxurious and December-perfect treat. However, all of these ingredients, while delicious, combine to create a less-than-diet-friendly end product.
If you want to get your nog on without blowing your caloric budget for the day, it helps to consider healthier alternatives that don't sacrifice flavor. We consulted bartenders, beverage directors and chefs to collect their favorite health-conscious eggnog variations, and we're bringing you our nine favorite picks.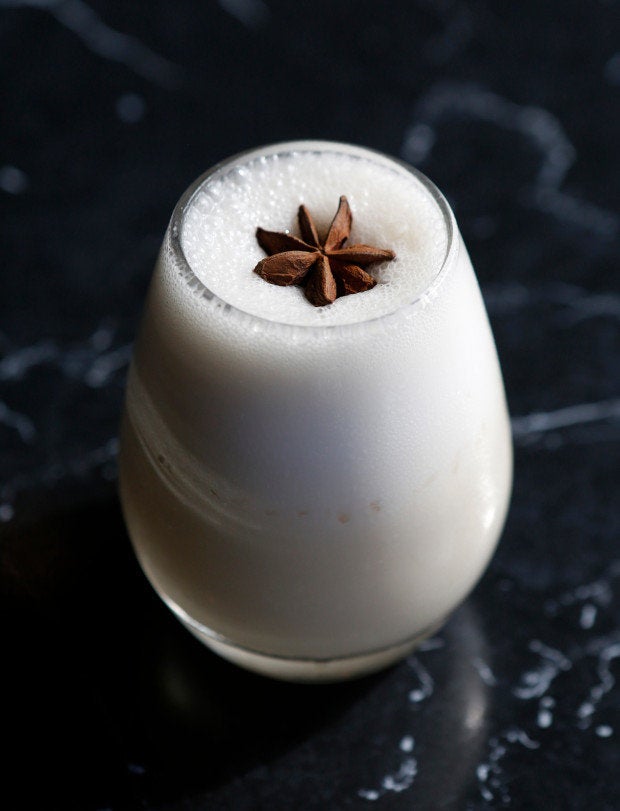 Land of Milk & Honey
Recipe courtesy of owner Akash Kapoor of Mortar & Pestle (San Jose/San Mateo, Calif.)
Eggnog is a dairy-heavy drink in its traditional form, but that doesn't necessarily mean it has to be unhealthy. Some dairy products, like Greek yogurt, contain a multitude of nutritional benefits, and the version of eggnog known as Land of Milk & Honey served at Northern California's Mortar & Pestle utilizes this ingredient to full effect.
"The use of yogurt provides a rich and silky mouthfeel, without being weighed down by the heaviness of cream that is often experienced with eggnog," Kapoor said. "Greek yogurt also provides good-for-your-gut probiotics and live cultures, offering a healthier version of this classic holiday libation."
2 bar spoons Greek yogurt
1 1/2 ounces ginger tea-infused vodka (Kapoor prefers Modest Vodka)
1/2 ounce orange liqueur (Kapoor prefers Mandarine Napoleon)
1 dash bitters (Kapoor prefers Bittercube Bolivar)
1. Put yogurt in glass and add ice.
2. Add vodka, orange liqueur, lemon juice, honey syrup and bitters to glass.
3. Shake to combine, then strain.
4. Garnish with anise pod.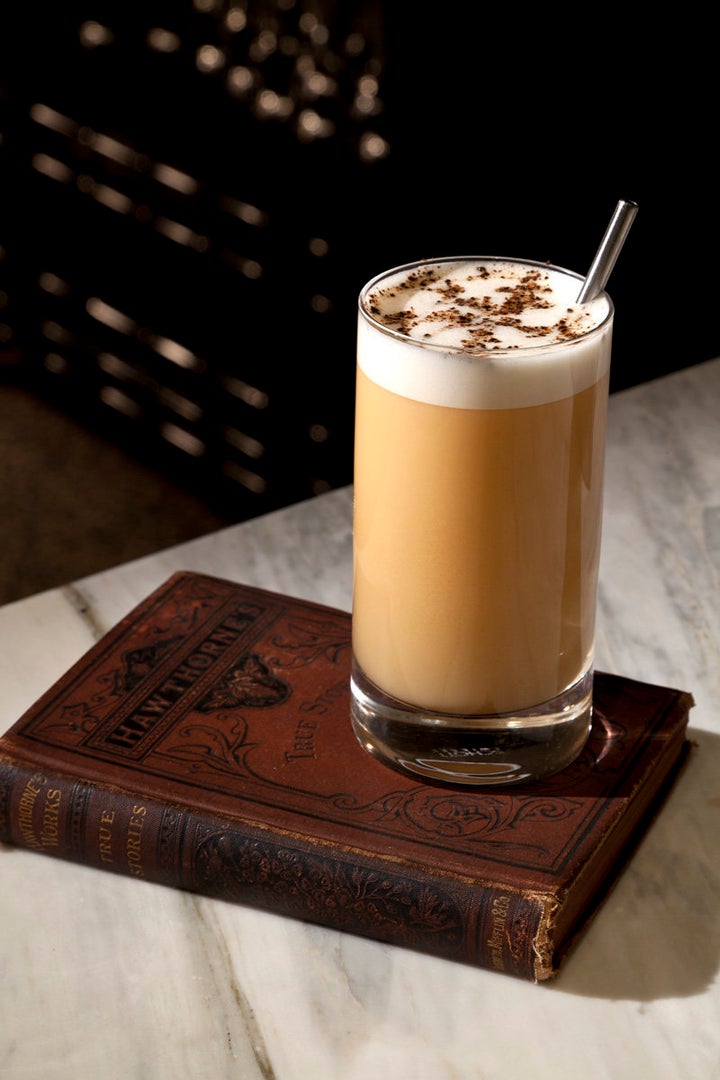 The Flip Royal
Like the Land of Milk & Honey, the Flip Royal makes use of tea to add an extra earthy layer. Cannon infuses a simple syrup with rooibos tea leaves and salt, adding a caramel note that goes perfectly with the spicy ginger liqueur and the luxe, foamy texture provided by the shaken egg.
1 ounce salted rooibos syrup
2 ounces ginger liqueur (Cannon prefers King's Ginger)
1. Combine egg, ginger liqueur and syrup and shake to combine.
2. Add ice and shake again.
3. Strain into a highball glass and top with 2 ounces of seltzer.
4. Garnish with a shaved spice mix of cinnamon, nutmeg and coffee.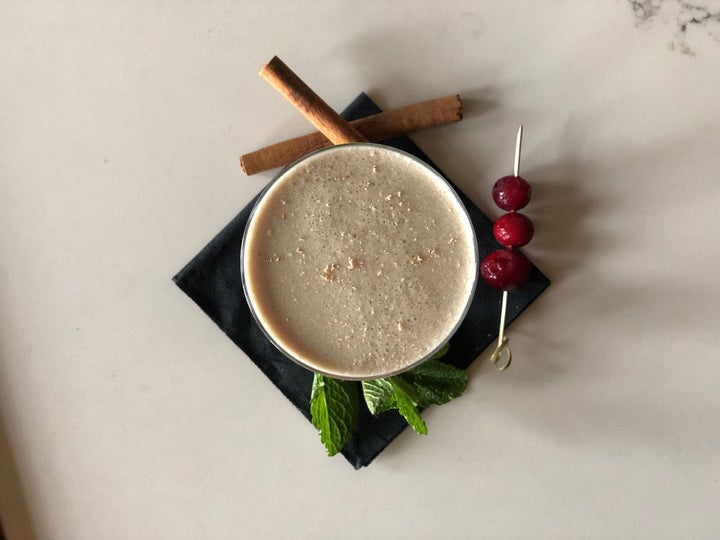 (Almost) Guilt-Free Vegan Eggnog
Recipe from beverage director Don Hernandez of Holston House (Nashville, Tenn.)
Whiskey and eggnog make for a beautiful partnership, with the richness of the cream playing off the smokiness of the whiskey for a harmonious flavor blend. But if you want to achieve that noggy indulgence without a deluge of dairy, the texture can be cleverly replicated with nut milk and apple pectin, as Hernandez does with his (Almost) Guilt-Free Vegan Eggnog.
12 dashes aromatic bitters (Hernandez prefers Fee Brothers Black Walnut)
4 tablespoons coconut oil
1 teaspoon vanilla extract
4 1/2 tablespoons maple syrup
2 teaspoons pomegranate molasses
1/4 cup cinnamon-flavored whiskey (Hernandez prefers Jack Daniel's Tennessee Fire)
1/2 cup Kentucky straight bourbon (Hernandez prefers Old Forester Signature)
1 3/4 cups unsweetened almond milk
1. Combine all ingredients in a medium saucepan over low heat.
2. Stir continuously until all ingredients are mixed together and consistency is smooth.
3. Remove from heat and strain.
4. Serve hot or allow to cool and serve over ice.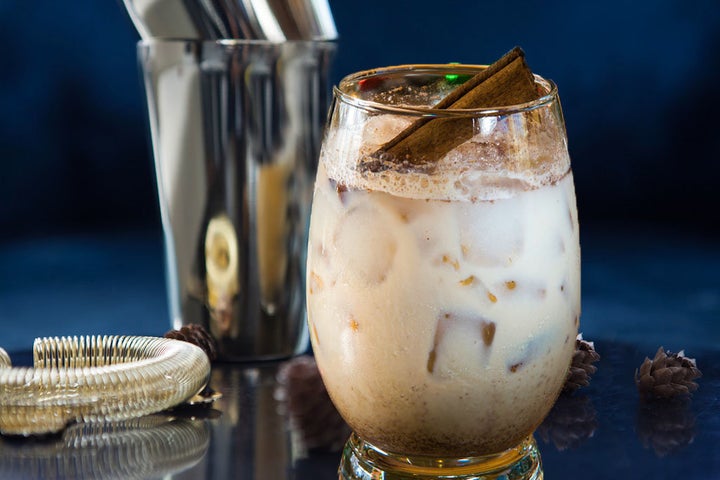 Monarch's Healthier Eggnog
Recipe from executive mixologists Ksenia Kulynych and Genese Perez of Monarch Rooftop & Indoor Lounge (New York City)
Coconut milk and oat milk play nicely with each other, giving you a rich, nog-like base for dark rum. Kulynych and Perez add pitted medjool dates to their version for a mellow sweetness, then jazz it up with Chinese five spice.
1/2 cup dark rum (Kulynych and Perez prefer Island Company Gluten-Free Dark Rum)
1/4 teaspoon powdered cinnamon
1 teaspoon freshly grated nutmeg
1 pinch of Chinese five spice
1 pinch Himalayan sea salt
1/2 cup pitted Medjool dates
1 teaspoon vanilla extract (they prefer gluten-free)
1. Add ingredients to a blender and blend for about a minute, or until smooth.
2. Pour into a pitcher and refrigerate overnight.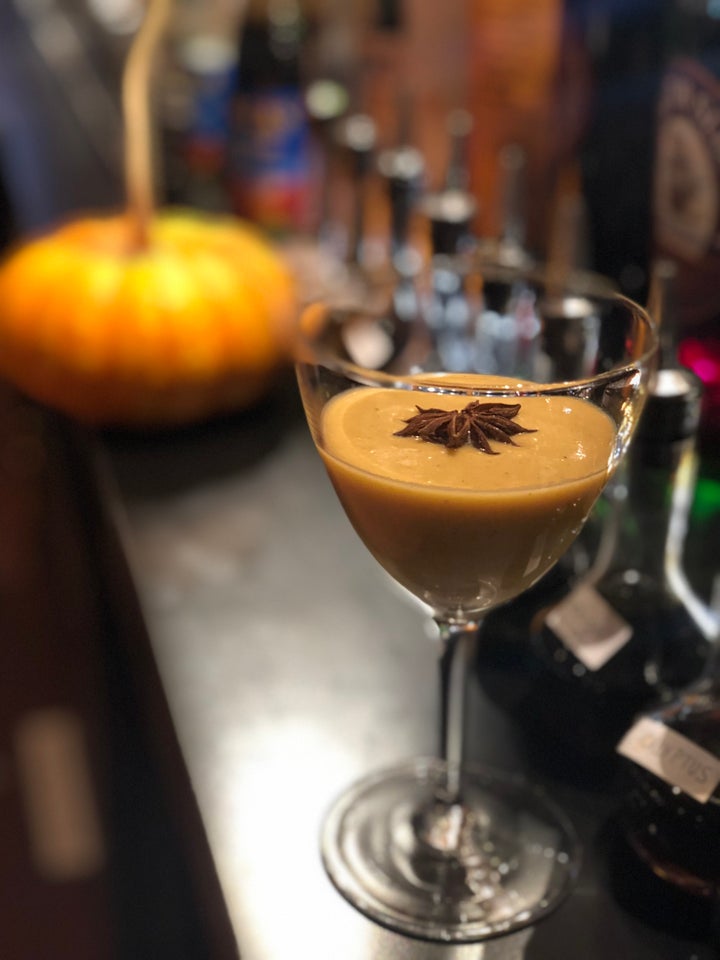 Ultimate Vegnog
Recipe from bartender Josef Letasi of Shiraz (Las Vegas)
For a molecular gastronomy-inspired, dairy-free and egg-free nog, try this inventive version. Letasi's creative process is far less intimidating than it sounds, and can be easily replicated at home.
1 can evaporated coconut milk, cooked in a water bath (with lid on) for two hours and cooled down
1/2 cup coconut milk powder
5 ounces erythritol (a sugar alcohol used as a sweetener)
1 heaping tablespoon peanut butter
1. Stir all ingredients on medium heat to dissolve.
2. When it starts to foam, that indicates it's starting to cook. Put burner on high and stir constantly to avoid burning on the bottom. If it foams too much, reduce flame and cook about 10 min or until the texture thickens.
3. Cool in ice bath, then add:
1/2 very ripe banana, smashed with fork into paste

7 1/2 ounces mango pulp (from can)

12 ounces spiced rum (Letasi prefers Captain Morgan)

8 1/2 ounces vanilla vodka (Letasi prefers Absolut)

1 1/2 ounces coconut vodka (Letasi prefers Circo)

1/2 teaspoon ground cinnamon

1/2 teaspoon ground nutmeg

6 dashes Angostura bitters
4. Allow to cool, then blend smooth in an electric blender. Pour in glasses and serve.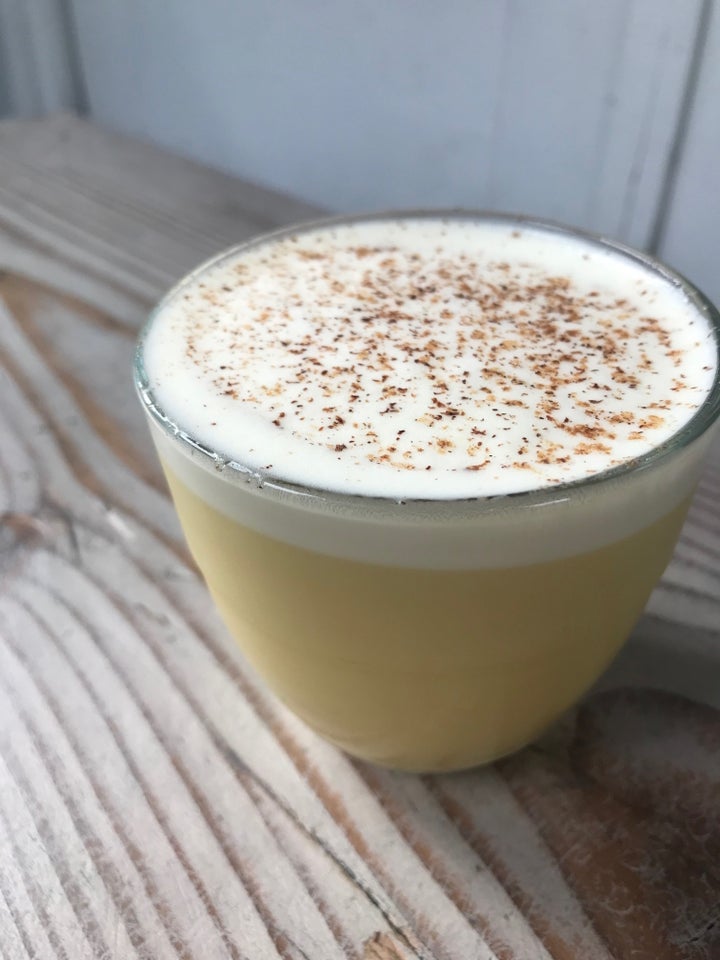 EggNog Anonymous
Recipe from chef Nick Korbee of Egg Shop (New York City)
When designing a lighter version of spiked eggnog, it's helpful to look to other cocktails for inspiration. This recipe uses the whiskey sour as a point of inspiration for a dairy-free boozy nog, cheekily named the EggNog Anonymous. He replaces whiskey with rum and gains texture by shaking the drink with a whole egg.
1. Combine ingredients and give them a vigorous dry shake.
2. Add ice and shake again.
3. Serve in a coupe and garnish with nutmeg and orange peel.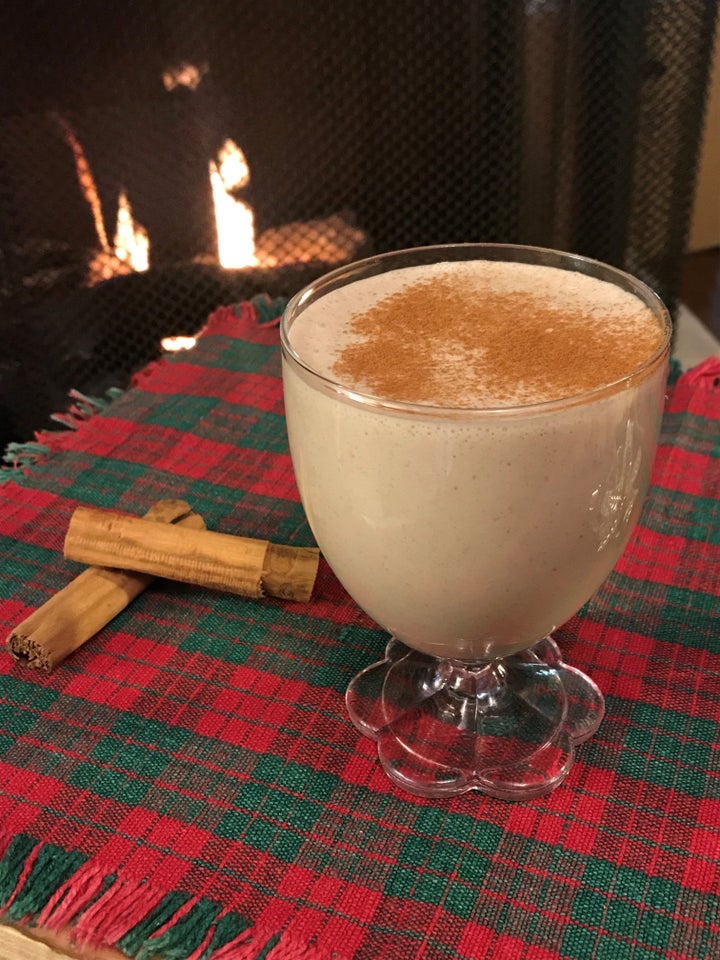 Vegan "Egg" Nog
Recipe from executive chef Glenda Galvan-Garcia of Granville Cafe (multiple locations in California)
Galvan-Garcia uses coconut milk for her dairy-free eggnog recipe, but for an extra dose of creaminess she stirs in blended aquafaba, the liquid found in canned chickpeas. Galvan-Garcia says "this recipe features some of my favorite clean-eating, plant-based ingredients. Natural sweetness comes from dates, and coconut milk (the canned kind) lends velvety richness, along with cashews and a hint of hazelnut. A splash of rum or bourbon makes it a bit more festive for the holidays."
1 13-ounce can of unsweetened full-fat coconut milk
1 teaspoon vanilla extract
1/2 teaspoon freshly grated nutmeg
Stevia sweetener as desired
1. Place nuts in a glass container and fill with hot water. Soak for one hour, drain and rinse off any skins. Nuts can also be soaked overnight.
2. In a high-speed blender, add soaked and drained nuts, dates, coconut milk and vanilla. Blend on high until smooth. Strain off any particles from the dates that do not process.
3. Add remaining ingredients and pulse to blend. Chill for 2 hours.
4. Blend aquafaba in blender until very frothy and white in color, about one minute.
5. Fold aquafaba froth into chilled eggnog. Sweeten with Stevia if desired.
6. To serve, pour into glasses and garnish with additional cinnamon and nutmeg.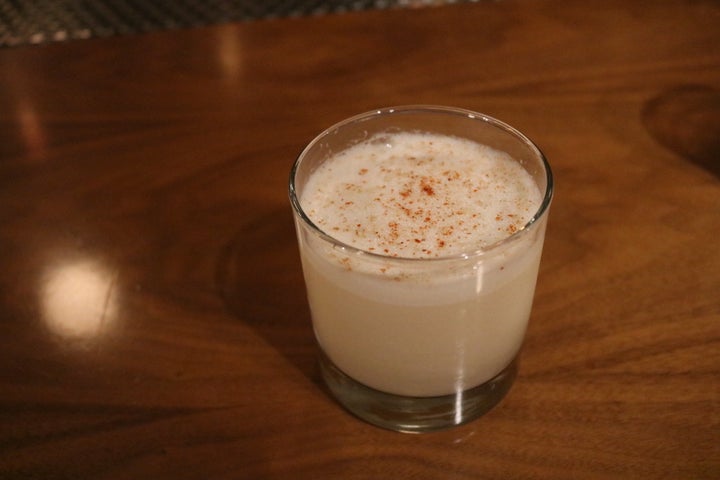 Christmas Palm Tree Eggnog
Recipe from bar manager Jake Larowe of Birds & Bees (Los Angeles)
If you want to get the mouthfeel and smoothness of classic eggnog with a vegan twist, coconut cream, coconut milk and coconut oil will do you right. At Birds & Bees, they use these tropical products and almond milk to create a "less guilty" nog with plenty of stage presence.
1 cup coconut cream (strain out liquid and use only the cream)
1 cup full-fat coconut milk
2 teaspoons vanilla extract
1. With a hand mixer, mix together coconut cream and sugar until well blended.
2. In a separate bowl, mix the almond milk, coconut milk, spirit of choice* and vanilla.
3. While combining the coconut cream and sugar with a hand mixer, add the mixed milks and blend until smooth.
4. Add the cinnamon stick and let sit overnight in the fridge.
5. The next day, take out the cinnamon stick and blend on high with a hand mixer to create a light froth.
6. Serve in small punch cups and top with fresh grated nutmeg.
*When it comes to choosing a spirit, Larowe said: "Pick either a nice cognac or a bourbon. A cheap brandy or bourbon will be harsh and will make the eggnog unpalatable. I would recommend either a VS cognac (Park, Remy, Hennessy) or a good mixing bourbon under 95 proof (Woodford, Buffalo Trace, Larceny, W.L Weller). A rye whiskey or anything high proof will overpower the softness of the coconut and almond milk and unbalance the eggnog."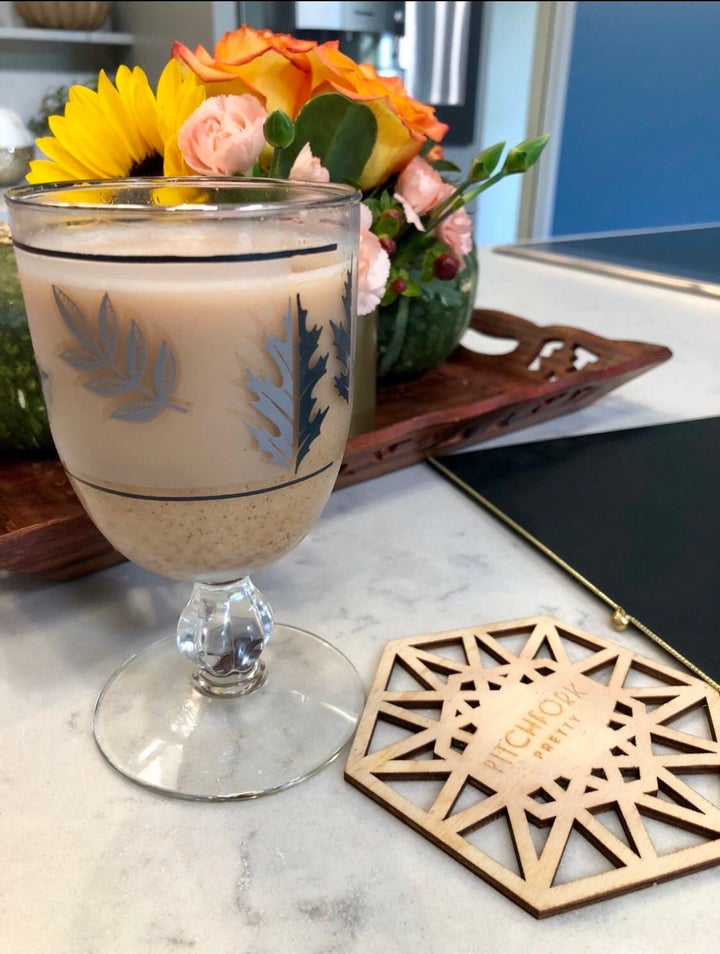 Fall And Oats
Recipe from beverage director Thomas De la Garza of Pitchfork Pretty (Austin, Texas)
Much of the high fat content in eggnog comes from the numerous dairy ingredients used to make the base. However, it's easy to sub in a nondairy milk alternative (like oat milk), giving you a much lighter (but still texturally consistent) take on the classic. De la Garza also uses egg whites instead of yolks, which ups the health quotient of his nog.
2 dashes black walnut bitters
3/4 ounce brown sugar or maple syrup
3 1/2 ounces toasted oat milk
1/2 ounce Amaro di Angostura
1 1/2 ounces bourbon (De la Garza prefers Wild Turkey)
1. Add oat milk, bitters, Amaro, bourbon, brown sugar and egg white to a shaker and shake vigorously.
2. Strain into a chilled stemmed glass.
3. Garnish with a dried orange wheel.
Before You Go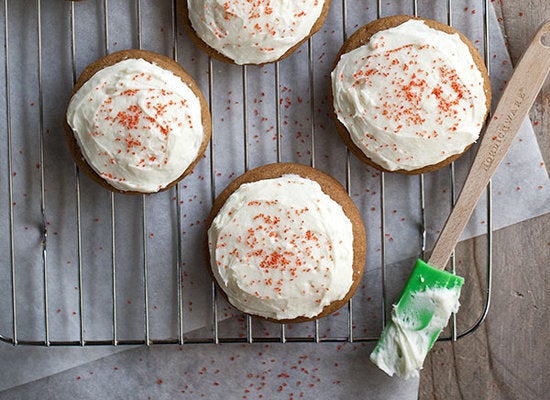 Eggnog Recipes