Our healthy jambalaya made with whole grain farro and succulent shrimp. Who could resist this spicy supper?!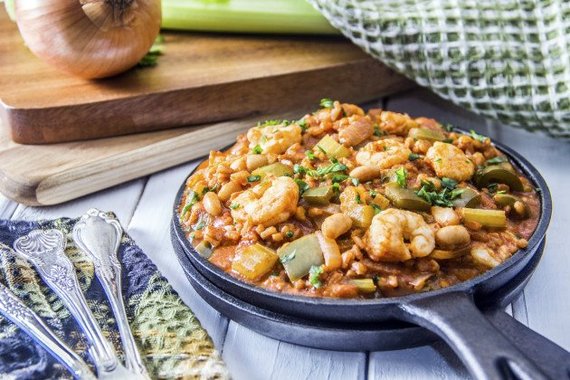 Especially during the cold months, I love cooking jambalaya, a classic Louisiana Creole dish made with rice and spices. I enjoy it so much mainly because it's an easy one-pot meal that tastes special and unique, with lots of rich and bold flavors.
In other words, it's a hot, delicious, and complete meal to enjoy without a lot of dishes to wash later – that's a win-win recipe in my mind!
The version of jambalaya that I've been cooking these days is sort of an update or "healthy makeover" to the classic dish, which is often filled with several meats such as Andouille sausage. To make my jambalaya lower in calories and fat, I use shrimp and white beans instead. These two ingredients are perfect, scrumptious complements to the rich spices and tomato-based sauce in this dish.
Also, instead of rice, I use farro. Farro is a grain that is very similar to rice, but it cooks faster and contains more healthy fiber and filling protein. I also prefer the taste of farro as compared to other grains such as rice – it has a chewy, nutty flavor that holds up really well in a one-pot meal like this one.
To make this dish rich in flavor, I begin by sautéing the classic Creole trinity of onion, celery, and green bell pepper.
Then I add the farro along with some chopped tomatoes, vegetable broth, and a special blend of spices (the spices are the key to unique and bold Creole flavor of this dish). The spice blend includes garlic powder, bay leaves, chili powder, and smoked paprika. Regular paprika also works well in this recipe, but I recommend smoked paprika if you can get your hands on it - it adds such a rich, savory flavor to the final dish.
When the veggies and farro have simmered away and are tender, add some cannellini beans and plenty of wild-caught shrimp (I use frozen uncooked shrimp that has been peeled and deveined to save lots of time and work – just toss the shrimp into the pot and it cooks in about 5 minutes!).
And the dish is ready to serve!
This jambalaya is savory, smoky, and richly flavored, with a hint of spiciness. And the fresh veggies and spices simmered in tomato broth are so delicious with the white beans and shrimp (and so packed with nutrition too)!
It's a complete, richly flavorful, healthy meal, all in one pot!