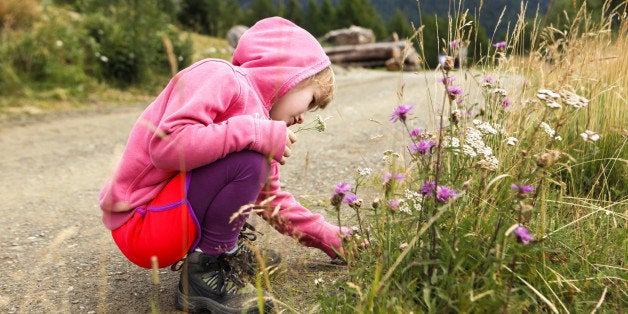 At 10 a.m. on any given morning, the kids at low-income San Francisco schools are starting to fidget. Their teachers report they're having trouble concentrating, asking how long 'til they eat. They're hungry. Most came to school that way -- they either didn't have enough breakfast or didn't have any at all. Lunch is, at best, a couple hours away.
Then the snacks arrive, delivered by volunteers from the San Francisco-Marin Food Bank. They serve string cheese one week; baby carrots, mandarin oranges or apple slices the next.
"It's getting fresh, seasonal produce into the classroom," says Sean Brooks, director of programs at the food bank. The center's Morning Snack Program, launched in spring 2009, serves 11,000 kids at more than 30 public schools every day. "It helps keep kids' attention on what's really important -- their education and their future," he says.
The low-income children at these schools come from families struggling to make ends meet in one of the most expensive cities in the U.S. The program, which helps meet their nutritional needs, is one reason San Francisco ranks well in America's 50 Healthiest Counties for Kids 2014-15, a U.S. News set of rankings now in its second year. The rankings were developed with the help of the University of Wisconsin Population Health Institute, which evaluates health data for the U.S. population as part of its County Health Rankings and Roadmaps program, a collaboration with the Robert Wood Johnson Foundation.
America's 50 Healthiest Counties for Kids represents a national, county-level assessment of how health and environmental factors affect the well-being of children younger than 18. It highlights counties that feature, among other child-friendly data, fewer infant deaths, fewer low birth weight babies, fewer deaths from injuries, fewer teen births and fewer children in poverty. Besides the data displayed here, the percentage of children without health insurance, air quality (except for Alaska and Hawaii), rates of adult smoking and adult obesity, and access to physicians and exercise opportunities also were considered. All the variables were equally weighted.
A healthy community isn't measured only by access to high quality health care, says the University of Wisconsin's Bridget Catlin, director of the county health rankings program. "When we get sick, health care is obviously very important to us. But there are so many things we can do in our communities -- outside the doctor's office -- to prevent illness from even occurring in the first place," she says. "You need to give people options to make the healthy choice the easy choice. That's why we think it's important to look at factors like people's behaviors, education and income, and making sure there are places to exercise."
But the data only tell part of the story. Here's a look at the innovative initiatives that -- like San Francisco's Morning Snack Program -- are helping make six counties among the healthiest for children:
Marin County, California. In this county just across the Golden Gate Bridge from San Francisco, 80 percent of electricity is powered by renewable energy sources. No surprise that's great for the environment, economy and nation's energy security. But it's good for kids, too. Renewable energy helps ward off air pollution that's linked to stroke, heart disease, lung cancer and respiratory diseases, including asthma. Yet Marin's foray into it is just one reason it ranks as the No. 1 healthiest county for kids. Numerous initiatives "boil down to creating an environment where it's natural and easy for kids to be active physically, eat well and have access to health care," says Matthew Willis, Marin's public health officer. One sign of how deeply the county values health, he says, is the bike racks that fill up quickly at schools every day, from kindergarten on up. "It's normal to bike to school in Marin, but this didn't just happen overnight," Willis says. That culture extends to county fairs, which conjure images of funnel cakes and corn dogs. At the Marin County Fair, though, food vendors are required to offer at least one healthy option. The first time around, the funnel cake vendor didn't bring a healthy option and ran out to the local market to pick up watermelon just to meet the requirement. "They were amazed when they ran out and had to go back to the store to buy more," Willis says. "They sold more watermelon than funnel cake." Perhaps it's not surprising, then, that Marin kids eat about half as much fast food as the average child in California. "The health of a community is most visible in the health of its children," Willis says. "We're preventing disease in routine everyday activities, and these kids won't need as much health care."
Santa Clara, California. In Santa Clara, there's a policy that 50 percent of food and beverages sold in countywide vending machines must meet stipulated nutrition guidelines. That means kids can choose from water, 100 percent fruit juice and non-fat and low-fat milk to drink, and if they opt for nuts or seeds, no more than 35 percent of calories will be from fat. Available options also include no more than 10 percent of calories from saturated fat, no trans fat and no more than 360 milligrams of sodium per serving. The policy, implemented in 2005, is based on guidelines set by Santa Clara's County Nutrition Standards Committee and is designed to improve access to healthy food – particularly important considering the area has lost nearly half its farmland to urban development. Fast-food restaurants dot Santa Clara's low-income communities, and one recent study by the county public health department found that only 18 percent of retail food outlets in largely Latino neighborhoods offer fresh produce at affordable prices. County health leaders hope that by banishing unhealthy options where they can, they'll make a dent in childhood obesity rates.
Washington County, Rhode Island. The county thrives at least in part thanks to Kids Count, a policy organization dedicated to improving children's health, education, economic well-being and safety. Over the past few years, the group has, for example, worked to promote health insurance for all children and pushed dental care for low-income children, a routine health checkup often neglected. "We're focused on the whole child," says Elizabeth Burke Bryant, executive director of Rhode Island Kids Count. "We know a child's education has an impact on his health, a child's safety has an impact on his health and education, and all children's issues are interrelated." And judging by the group's victories, such efforts are working: Between 2010 and 2012, 6 percent of Rhode Island's children under 18 were uninsured, compared with 9.4 percent nationwide. The state has also made progress improving access to prenatal care among low-income women, and the number of children with elevated lead levels in their blood -- thought to worsen academic performance in early childhood -- has steadily declined over the past decade and a half.
Howard County, Maryland. In 2011, Howard became the first county in Maryland to ban smoking at its 50-plus parks. "Our families are thankful for the policy – frankly, it's what they've come to expect," says county executive Ken Ulman. When he took office in 2006, his goal, he says, was to make Howard a "model public health community." Today, Healthy Howard programs certify schools, restaurants, workplaces and child care facilities -- designations that help people make the smartest choices about where to eat, live, work and play, Ulman says. Another pride point: In 2009, Howard became the first county in the nation to ban minors from tanning beds. "We had to fight the industry and those who said we were going too far," Ulman recalls. "But there's no need to expose our young people to those [cancer] risks. I'm heartened to think of the problems we avoided … we took some heat, but it was worth it."
Monmouth County, New Jersey. Maybe the urge to start a new book hits at midnight, or maybe at 3 p.m. when a preteen-sans-license can't find a ride to the library. No matter the time, Monmouth County libraries are always open -- in virtual form. Readers can check out and download digital media, such as e-books and audiobooks, 24/7. All you need is a library card to download titles to your PC, Mac or smartphone. At the end of the lending period, books are automatically removed from the device, which means there are never any late fees. Considering research suggests that reading helps combat stress, keeps your mind sharp, helps you sleep better and eases depression -- among a slew of other benefits – it makes sense Monmouth wants to encourage kids to turn some pages.
Middlesex County, Massachusetts. Middlesex is home to Cambridge, where phys ed classes are fun -- think ballroom dancing and cycling -- and healthy school meals celebrate cultural diversity. "There are more than 60 different languages spoken in our schools, so we offer healthy options tied to those ethnicities," says Claude-Alix Jacob, the city's chief public health officer, ticking off dishes from Ethiopia and Bangladesh. He further highlights the Let's Talk literacy campaign, which has one overarching goal: All children and families in Cambridge will be able to read. The campaign targets parents with kids age 5 or younger who live in public housing. And then there's Run & Ride, an annual event that lets hundreds of kids race -- on foot and bike -- through the local mall. It's called a duathlon, or an athletic event similar to a traditional triathlon but without the swimming.
Cambridge's healthy programs appear to be working: A 2012 survey found that just over 60 percent of Cambridge high school students report eating green salads, for example, up from 48 percent 10 years prior, while 69 percent say they drank tap water within the past day. "There's the African adage that it takes a village to raise a child," Jacob says, nodding to the partnerships between agencies from the library to the health department to local elected officials. "When resources are finite, you have to find a way to share and collaborate, and we're all part of an integrated system."