You know what being uncomfortable in your own body feels like. When you're aware of your flesh resting on other flesh, when your movements are governed by what you know will or will spill out from a garment when you turn. When your mind is foggy and unfocused. When you have a gnawing feeling in your chest and you reach for a cookie, a glass of wine or your cell phone to distract your mind from whatever feelings are trying to get your attention. When your joints ache and your mind races in bed at night. When you have trouble balancing and commanding your body to do certain things.
We have all experienced some form of these sensations. Sometimes this is due to physical ailment -- like being overweight, or sick -- and sometimes, it's emotional or psychological. In my experience, it's often multiple issues, both physical and non-physical. But regardless of what combination of issues are at the root of your discomfort, you deserve to feel vibrant, free and empowered in your own skin.
Wondering how that works? Me too. Because I still struggle with these feelings and have been on the roller coaster of self-medicating through unhealthy behavior. But I can tell you this: every time I've had an upswing in my experience with these issues, it's begun with a single, small decision.
Anyone can start taking amazing care of themselves IMMEDIATELY, even if you just downed a bag of potato chips or haven't used your gym membership in 7 months. There's nothing holding you back from putting down the donut and picking up a glass of water RIGHT NOW. That one step can totally change the game for you, if you want it to.
It takes effort to get more sleep, eat less sugar, be more active, do less lazing about, have more orgasms and consume fewer glasses of wine. But by placing the constraint of intentional self-care on your life, you are really liberating your body from the sludge of attempts to self-medicate through unhealthy behaviors. These things slow you down and dull your shine.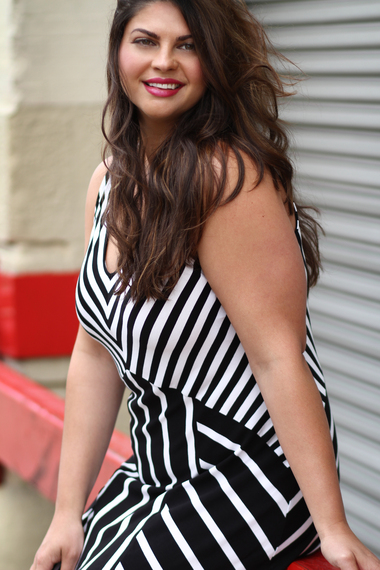 This photo was taken by photographer Jon Taylor, hair and make-up by Jane Meng of 25th and Jane. I love that Jon was able to capture this moment, with me looking very comfortable in my body.
As a Plus Size Model, I'm constantly interacting with other models on the basis of size. Sometimes I shoot with girls who are bigger than me, and sometimes with those who are slimmer. One of the big insights when you get behind the veil of the fashion world is that healthy people aren't always skinny. And skinny people aren't always healthy. The ones who show up on set and shine, consistently, are those that are fully inhabiting their body. As far as I can tell, the best way to ensure this is to put only awesome stuff into your body, so that the most awesome things can radiate out of you, from your core.
You might never be a size 2 (or even a size 6 or 8). But if you make taking great care of yourself a priority, you're going to look and feel better, and that's going to fuel all kinds of positive changes in how you approach your life. Living an amazing life isn't exclusively for thin people, it's for everyone. Whatever size you are today, you have to choose to take control of your body in order to begin living the life of your dreams.